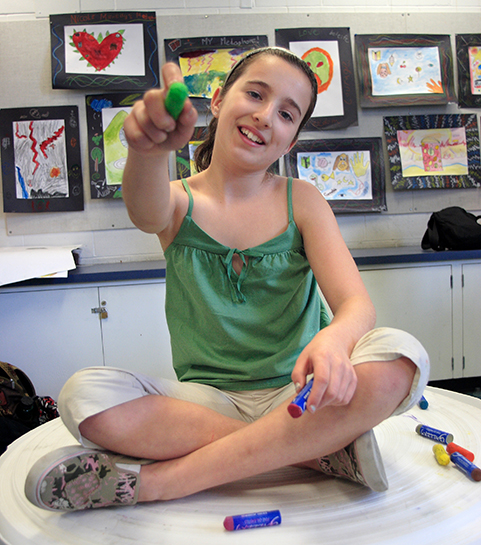 Every child is an artist
Artists for Kids
"Is that art? Or is it mass production?"
Instructor Val Batyi leads a group of students through the Artists for Kids Gallery in North Vancouver. They've just moved on from Ed Burtynsky's Oxford Tire Pile and are now considering Douglas Coupland's enigmatic six-foot-tall Toy Soldier.
Hands fill the air… Grade 5 students with frantic fingers, surprisingly mature answers and even more questions.
The walls of this converted gymnasium, covered in paintings and photos by some of Canada's top artists, can barely contain the bubbling energy and enthusiasm of these 20.youngsters. They peer up-close at works by Guido Molinari, Jack Shadbolt, and Gordon Smith. They wonder at Inuit art by Kenojuak Ashevak and the mixed media of Betty Goodwin. They're dying to touch everything. And given the chance, they crowd around Ben, a life-size calf by sculptor Joe Fafard – hundreds of little hands have rubbed Ben's bronze nose till it shines.
This gallery is not the staid mausoleum of "Shh" and stern glances from docents. It's a riot of colour and texture, a mash-up of styles from Bobak to Bateman, a noisy sampler of the best in modern Canadian art. This is where art comes alive for young people: where they get a personal tour of works by top artists; learn about perspective and shape and context; get a chance to see the best, question it and challenge assumptions and create their own masterpieces in the adjacent classrooms.
Collette, one of the students, loves the class. "I like coming here," she says in a brief moment of calm, between discussions of the works. "I like the part where we do artwork. I like to draw a lot at home. I painted an abstract painting for my grandma… When I grow up, I'd like to do something with the arts."
This is music to the ears of Bill MacDonald and the team of people who run the gallery. MacDonald is a local arts educator in North Vancouver and the driving force behind the Artists for Kids Trust (AFK) – a very successful partnership between many of Canada's finest visual artists and the North Vancouver school district.
He and his group have a unique mission: they are dedicated to bringing out the artist in every child. And the gallery is just one of the tools. There's a buzz in the place, an excitement, and an urgency to their work. The clock is ticking. Research suggests that ages 10.and 11 are critical for children and art appreciation. Miss that window and you miss an important educational opportunity.
MacDonald and his group have been running hard, determined not to miss that window. And now they're getting close to a major milestone in a journey that started 18 years ago.
In 1990, MacDonald approached artists Bill Reid, Jack Shadboldt and Gordon Smith with the idea of selling prints to raise money for arts education. Each artist had a background in teaching (in fact, Smith had taught MacDonald art at UBC the early 1970s) and it wasn't difficult to convince all three to participate.
Reid had recently created a ceremonial drum with an image of a grizzly bear painted in the traditional Haida colours of black and red. Smith suggested it might make a nice serigraph.
"Bill refined the design," says MacDonald, "and we made an edition of 300 prints. We sold.65 the first night they were offered, at $1,200.each. The final print in the series recently sold for $4,250.".
That was the start. Bill Reid's Xhuwaji/Haida Grizzly Bear drum is now part of the Artists for Kids permanent collection comprising more than 300 works of Canadian art valued at over.$2.5 million.
"We have more than 40 artist 'partner/patrons' coast to coast involved in the AFK program.- the biggest names in Canadian art," says MacDonald. Robert Bateman, Edward Burtynsky, David Blackwood, Molly Lamb Bobak, Douglas Coupland, Joe Fafard, Ted Harrison, Kenojuak Ashevak, Guido Molinari, Jack Shadbolt, Gordon Smith and Michael Snow (to name just a few) have published prints with AFK, and the program has supported each artist with a major purchase.
"We've found a way to print money," McDonald says, laughing. "Every year we publish three or four prints. We make $250,000 a year, and spend every penny."
Money from sales of these prints funds art education programs for 5,000 children every year. More than 60 classes a year from all over the Lower Mainland learn about the artists, work with the AFK collection, and make art themselves.
AFK runs an after-school program that reaches 600 students every year, plus a summer camp near Squamish. The program also sponsors master classes with patron artists and curates an annual exhibition for the public.
MacDonald is immensely proud of the fact that the program he started years ago is self-sustaining. But he's also looking at the bigger picture. He freely admits that, after years of selling prints, he can't keep doing this. "For 18 years we have been going hand to mouth, issuing prints, never sure if they're going to sell, and running programs. And every year we sit down and say. 'How do we make this go again another year?' We spend virtually everything we make. There's no putting anything away for a rainy day."
That's where Vancouver Foundation comes in.
Vancouver Foundation has given AFK numerous substantial grants in the past to support exhibition programs and specific projects. In 2006, for example, the Foundation donated.$30,000 for Vancouver School, a major installation in which Douglas Coupland, Angela Grossmann, Attila Richard Lukacs, Derek Root and Graham Gillmore literally took apart an unused school gymnasium and reassembled it in the Artists for Kids Gallery. The project challenged perceptions of art, popular culture and school. It got national media coverage and was filmed for a TV special that aired on Bravo.
"Vancouver Foundation has been great," says MacDonald. "But then they're not there every year to sustain us… I think the Foundation understands our mission of nurturing first-class contemporary art. They've been very supportive of our work hosting these huge shows, and instrumental in helping us achieve our goal of an intense, curriculum-based project.".
More importantly, though, Vancouver Foundation is providing the structure for an endowment that MacDonald hopes will secure the future of the Artists for Kids program. The Gordon and Marion Smith Foundation for Young Artists Fund is managed by Vancouver Foundation. There is $540,000 in the fund, and McDonald hopes to raise that to $5 million.
"The goal is to have an endowment that will make sure the work we've been doing exists in perpetuity," he says. "An endowment of $5 million will give us operating funds every year without touching the principal."
.According to MacDonald, the relationship with Vancouver Foundation is working well. "Through the Foundation, we received matching funds from the BC Arts Renaissance Fund, as well as a two-year operating grant from the Medici Fund (a Vancouver Foundation granting initiative) to hire a fundraiser… It's giving us a sense that there's light at the end of the tunnel."
The "end of the tunnel" is a brand-new, purpose-built Art Education Centre at 21st and Lonsdale in North Vancouver – 14,000 square feet of dedicated classrooms and a spacious new gallery for Artists for Kids (instead of the decommissioned school gym AFK has been operating out of for years).
MacDonald pulls out plans for the new building.- they're among a stack of prints leaning against the wall in his office – and puts them on an easel for a virtual tour. He is every inch the proud founder/teacher/.entrepreneur/funder and developer as he shows off the future home of the Artists for Kids program.
The site has been secured, money for the buildings set aside, and construction could start as early as late 2008. The plan is to open in the fall of 2010. For MacDonald, this will be the culmination of years of hard work – teaching, encouraging artists to take part, cajoling bureaucrats, selling prints, and keeping the program going on a shoestring.
Picasso once said "Every child is an artist…The problem is how to remain an artist once we grow up." Artists for Kids gives 5,000 young people every year the chance to learn about and make art In doing so, it is n