BEATS Magazine
A magazine edited and written by immigrant and refugee youth
It's hard enough finding your way as a teen and young adult--trying to figure out who you are, where you fit in. Immigrant and refugee youth do this while straddling cultures and dealing with racism. BEATS Magazine is a place to air their experiences, helping young people navigate their way to personal clarity within complex circumstances.
Overview
Program:
Fresh Voices, Small Grants
Organization:
Leave Out Violence (LOVE) BC
Project Details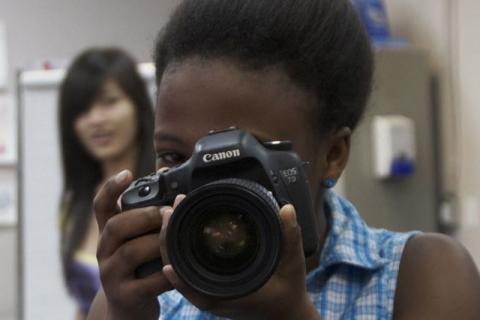 BEATS Magazine is an online and print publication for and by immigrant and refugee youth, containing stories, poetry and photography. It is a modern view on the experiences and obstacles of young migrants to Metro Vancouver. 
The content is unflinching and artistically presented, exploring topics such as human rights, racism, gender, sexual identity and body image.
Immigrant and refugee youth are often required to face significant personal, family and societal challenges as they find their way in Canadian culture. They may hover between worlds–their country of origin and the place they now call home–sometimes feeling they don't quite fit with either reality.
A Safe Environment to Express What's Really Going On
BEATS Magazine was created so these young people have a safe environment to express their experiences. It's a meeting ground for teens and young adults navigating similar circumstances.
The content is unflinching and artistically presented, exploring topics such as human rights, racism, and gender
Each issue is managed by an editorial team of six newcomer youth, with six to 18 contributors per issue. Young people acquire practical skills like project planning, Photoshop and Illustrator along the way. 
The magazine began in 2013. Funding from Vancouver Foundation was used to produce three new issues: spring 2017 (issue nine), fall 2017 (issue ten) and spring 2018 (issue eleven).
In issue nine, women contributors share stories of racism at home and in society. Issue ten included an article about the heart-wrenching reality of separation, when some family members migrate and others do not. Mental health was the focus of issue eleven.
Empowering Young People to End the Cycle of Abuse
BEATS Magazine is published by LOVE Society B.C. (Leave-Violence Out), a youth-led anti-violence organization that uses multimedia arts for youth expression. LOVE offers award-winning after-school programs for 13- to 18-year-olds who identify as having been affected by violence, as witnesses, offenders, or recipients.
The organization aims to empower young people affected by various types of abuse – from bullying and sexual abuse, to drugs and eating disorders. The intent is to help young people access support and acquire skills to live healthy lives and end the cycle of violence.
More than 4,600 youth have participated in LOVE B.C. programs. Ninety percent report a greater understanding of how violence affects the community. Ninety-eight percent of Media Arts program participants report that they feel supported to be creative.