Check Your Head: Youth Building a New Economy
Giving B.C. Youth the Tools to Advocate for Economic Change
Despite Canada's growing GDP, young people in this country struggle to make ends meet as they face high levels of unemployment and underemployment. Even though young people are investing more in education than previous generations, the majority aren't able to secure stable, well-paying jobs. In fact, quite the opposite is true. Many are working for little or no money for the sake of racking up experience.
Overview
Organization:
Check Your Head: The Youth Global Education Network
Project Details
Check Your Head is an organization that believes the time has come for young people to reimagine and rebuild our economic system, with a clear focus on economic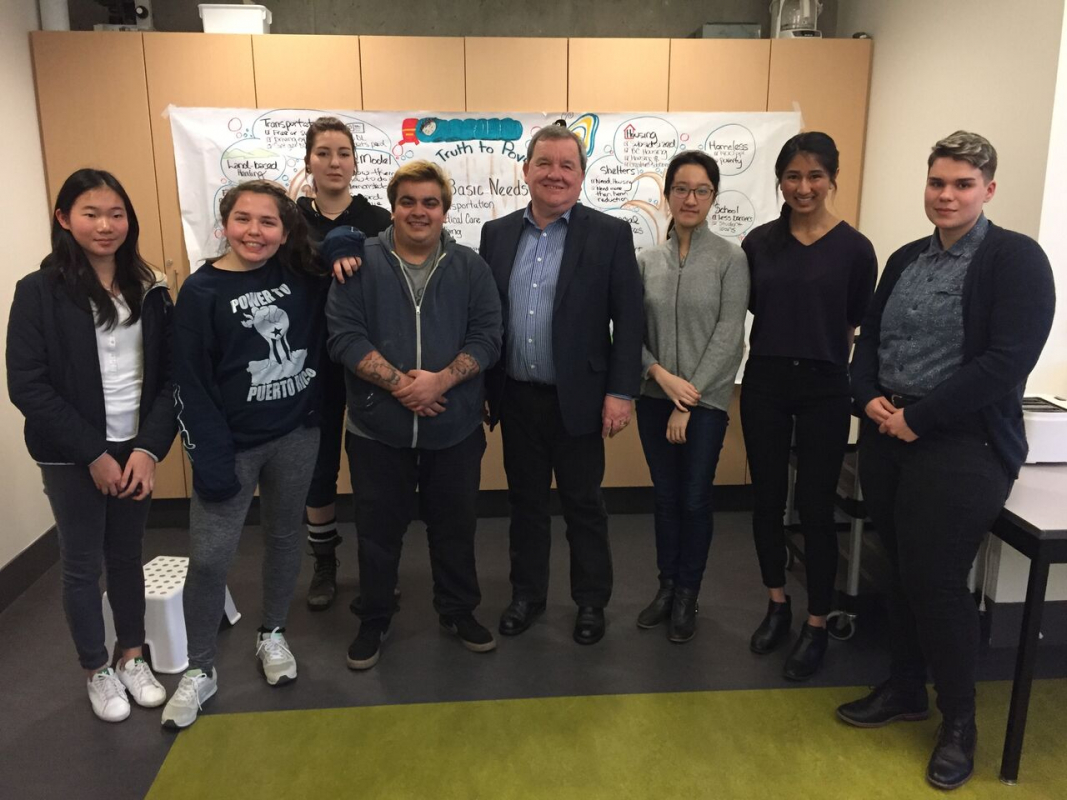 justice for all segments of society. With this ambitious goal in mind, it launched an economic justice leadership program. 
The first phase of this program was supported by the Develop grant and explored the model for engaging youth in the policy-making process on the provincial level. Seizing the opportunity presented by the Poverty Reduction Plan development, Check Your Head established key partnerships and secured opportunities for young people to participate in the policy consultation process in various capacities. 
In February 2018, an online youth survey was collected to identify youth priorities for poverty reduction. More than 700 young people responded, many of whom shared personal stories of hardship and missed opportunities. The results revealed that due to cost of living:
42 percent felt overwhelmed
25 percent reported sleeping less 
15 percent were skipping meals
Youth apply leadership and advocacy skills to create change 
Check Your Head-trained youth leaders held three youth consultations in Metro Vancouver to explore questions such as, "What are the biggest financial pressures youth face?' and 'What supports and/or services do youth need to live a full life?"
Check Your Head aims to reach 5,000 Metro Vancouver youth and increase the number of youth leaders to 100
In March, youth leaders met with influencers to discuss the findings of the survey and consultations. Participants included Shane Simpson, the Minister of Social Development and Poverty Reduction, Trish Garner with B.C. Poverty Reduction Coalition, and Deborah Irvine from the Vancouver Foundation. They also reflected on their experiences through Check Your Head's blog and engaged their peers in conversations around these topics online.
The findings from these activities were presented in the report which was submitted to the provincial government entitled, "Youth Priorities on Poverty Reduction".
This built the foundation for the full three-year program which supports 17- to 24-year olds in joining existing poverty reduction and other economic justice initiatives, while also reaching out to other youth through workshops and events to inspire a social movement for economic change. It gives young people the tools to be engaged, independent and active citizens.
With the program now well underway, Check Your Head aims to quickly reach 5,000 Metro Vancouver youth through workshops and events, and increase the number of youth leaders to 100.
In the Media
March 26, 2018 | CBC | Article