How One Charity Shifted its Thinking and Created a Perpetual Source of Funding
By Linda Morgan, Manager, Donor Services at Vancouver Foundation
Vancouver Foundation manages 700 endowment funds for 500 charities across Canada. We are honoured to support these charities with their long-term success.​
I recently sat down with Dee Dee Sung, Board Chair of Saint James Music Academy in Vancouver to learn about how their organization is benefiting from an endowment fund, despite initial concerns from their board, in the hopes that their experience will inspire others.
Born and raised in Vancouver, Dee Dee Sung is third generation Chinese-Canadian and has strong ties in the community. Dee Dee holds the role of Senior Associate Director, Gift & Estate Planning at UBC and, in addition, she is a certified executive and leadership coach. As current Board Chair of the Saint James Music Academy, she is committed to raising awareness of the music school's mission to bring social transformation through the power and love of music to the Downtown Eastside community and beyond. In her spare time, Dee Dee is passionate about playing guitar, traveling with her partner, pampering their two Cairn Terriers and spending cherished time with family and close friends.
How did the opportunity for creating an endowment fund for Saint James come about?
The Saint James Music Academy endowment fund at Vancouver Foundation was born from the idea of two of our committed and passionate supporters. They are people who had supported the academy for some time and really were of the ilk around supporting endowment funds with other organizations, and they saw the benefits of doing so for Saint James.
What would you say were your key elements of success around establishing an endowment?
In order to get everybody on board, it is often about painting a picture of what could be, now and in the future. My recommendation was to consider that to start, the income generated from the endowment fund be used to award the annual $1,000 scholarships to our students who are graduating from high school – and Saint James – to create a project that they believe will make a difference in the community because of their time at the music academy.
My point is, how do you paint a picture in a way that people can see the benefits? Simply saying the income of a $10,000 fund is $400 makes it daunting to think how that will make a difference in meeting the current operating budget. So, the funds that are generated and allocated to the music school from our endowment fund at Vancouver Foundation are now being purposed for that very reason.  And I think that it's just fantastic. It's something to get us on the road and it's a lovely story to share with our donors and supporters.
Another key for success is to paint a clear picture of how we raise money for current funding needs. And that's what I like to call expanding the pie of possibility. Instead of thinking the money that's being donated to the endowment fund will take away from our ability to raise money for operating funds, we see the endowment fund as a tool to give us the ability to look outside the box for new donors that we have yet to engage and introduce to the music school. So, I believe that's been a powerful positioning as well.
Staying aligned to the long-term vision of the organization is another element for success. It's a vote of confidence to know that we have an endowment fund which has been established at the Vancouver Foundation.
Moving forward, another key is making sure that the endowment fund is a valued pillar in the organization's fundraising plan.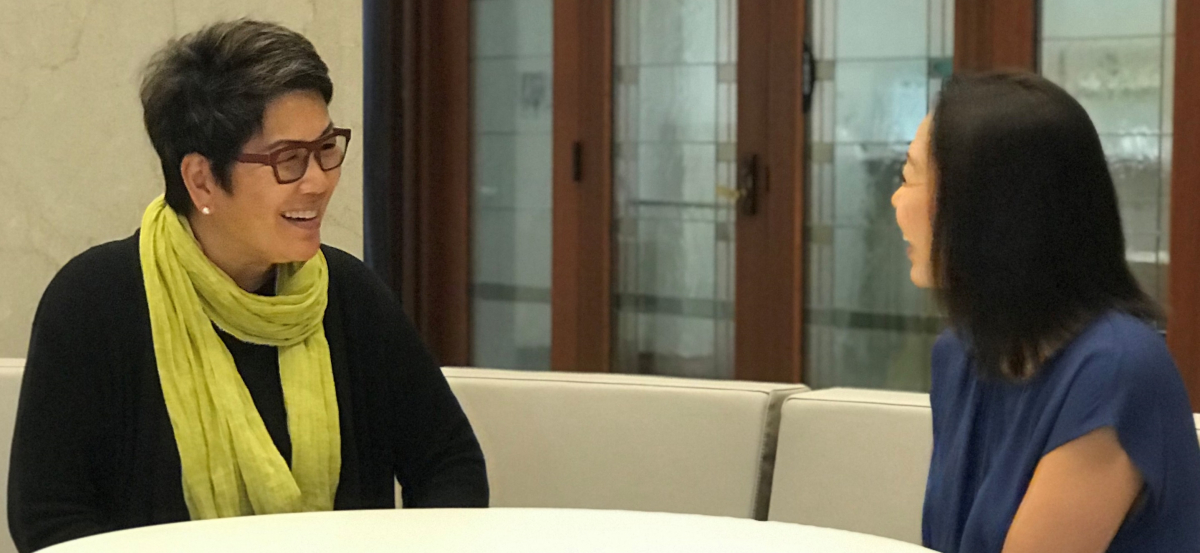 Dee Dee Sung (left), Board Chair, Saint James Music Academy talks with Linda Morgan, Manager, Donor Services at Vancouver Foundation
What were the learnings for Saint James?
We realized that knowing we have an endowment fund can instill a sense of confidence and it has done so for us at the board level and at the staff level as it speaks to the organization's long-term vision and viability.
It's been an exciting process and I think it has demonstrated for many of us on the board and staff that donors give in different ways. Each individual will have their personal philosophy of what giving in a meaningful way means and having an endowment fund with the Vancouver Foundation has certainly set the landscape, and shown us the importance of having different giving options available.
We have found that we are now being exposed to a pool of potential donors who believe in giving to endowment funds. And we may never have been in conversation with these people before.
How is the board involved in growing the fund?
As a board, we are similar to other organizations in terms of varying levels of participation and levels of interest. It really is about working closer with the board members who put their hand up to say I want to help with this initiative.
What advice would you give to other charities who are considering establishing or growing an endowment fund?
I am a big believer in blended gifts. It's about giving something now and giving something in the future and it really helps to enroll existing and potential donors in the mission of your organization. Blended gifts open up opportunities for ways in which people can give. I believe that to look at a blended gift is to have the ability to open up the conversation with your donors beyond the next year's gift. It's about asking them about their aspirations for your organization as well as their vision to be aligned with you well into the future.
For some it will be "I'm going to give through Vancouver Foundation". And some will say "I will leave any future giving directly to the organization". It's powerful that we have these options for our donors. It really is about expanding the pie, not shrinking it. It's a mindset and a perspective.
Start by identifying some of your loyal donors, be it annual long-time and/or major, and have a conversation with them. Tell them of your intent to establish or grow a fund and perhaps have them make a gift to start or grow the endowment fund. And then look for a few donors who would be willing to open their own pocket books and provide matching funds and/or open their networks. Perhaps, make it a team event and build a campaign around it.