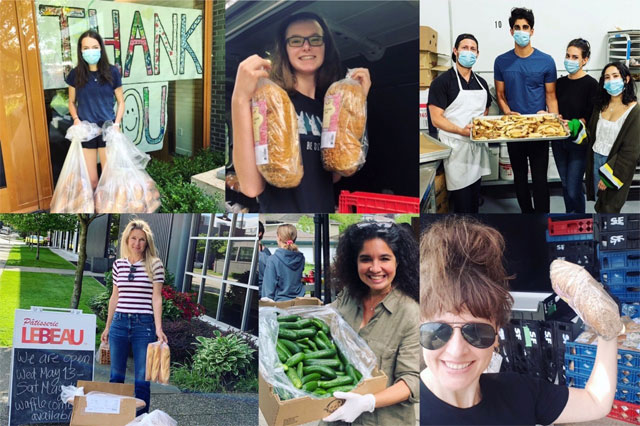 How Tech Innovation During COVID is Tackling Hunger and Food Waste
After more than a year of planning to launch, Vancouver Food Runners could never have anticipated all that hard work would culminate in responding to a global pandemic.
Vancouver Food Runners is a Vancouver-based non-profit organization aiming to address hunger in the city, minimize food waste, and offer easy and meaningful ways for people to support community.
The organization's model matches donations from food suppliers and distributors with the appropriate charity based on need and capacity to accept the donation. Then through a mobile app they've licensed through a Pittsburgh-based charity, anyone can volunteer to deliver the donation from the supplier to the charity by claiming a 'food run' up to 72 hours in advance. Volunteers can do a food run on their commute to work or while out running errands and the commitment can be one-time or ongoing.
Vancouver Food Runners intended to launch in mid-2020 but when the pandemic began in March, they knew there was an opportunity to support community. They had already begun building relationships with food suppliers and charities, but the app wasn't ready yet. With the urgency of the crisis, they decided to launch in March anyway and for the first two months—with just a team of two—they manually matched and coordinated donations and deliveries.
"When COVID hit, we didn't have the app. I was hesitant because I didn't want to get it wrong but when I realized how strong the need was and saw the lineup for food banks, I knew we just had to do something," says Tristan Jagger, Founder and Executive Director of Vancouver Food Runners.
Then in June, with the support of a grant from the Community Response Fund, they launched their mobile app. The real-time ability to move food quickly into community meant that charities could receive fresh food for their clients and not just canned goods and other non-perishables. This is especially important for vulnerable or immuno-compromised populations that need nutrient dense foods like milk, protein, and fresh produce.
To date, they've successfully redirected 119,199 lbs of food (equivalent to about 99,333 meals) to community and have grown to more than 240 volunteers.
"This has surpassed any vision I had for the first year. People have come together in community who are trying to help. It's the silver lining of COVID," says Tristan. "I see this across the board between volunteers, food suppliers wanting to make a difference, and all the charities who are helping people. Every single day I am blown away by how amazing the Vancouver community is and how people have come together to help."
And through the continued generosity of businesses like Fresh Direct and Terra Bread and non-profits and charities like Atira, KidsSafe, and local neighbourhood houses, communities will have ongoing access to fresh food which can make a crucial difference in times like this.
Vancouver Food Runners might never have imagined they would have to launch in the midst of a pandemic, but they faced the challenge head on and proved to be exactly what their community needed.
---
If you're feeling inspired to volunteer, you can download the app on your Apple or Android device.
You can also consider making a donation directly to Vancouver Food Runners or to the Community Impact Fund to continue supporting communities in BC through this pandemic and other emerging needs and priorities affecting our province.
Vancouver Foundation is proud to support a diverse group of organizations addressing food insecurity through the pandemic. This includes organizations like the Food Stash Foundation, Union Protein Project, and Quest Food Exchange.