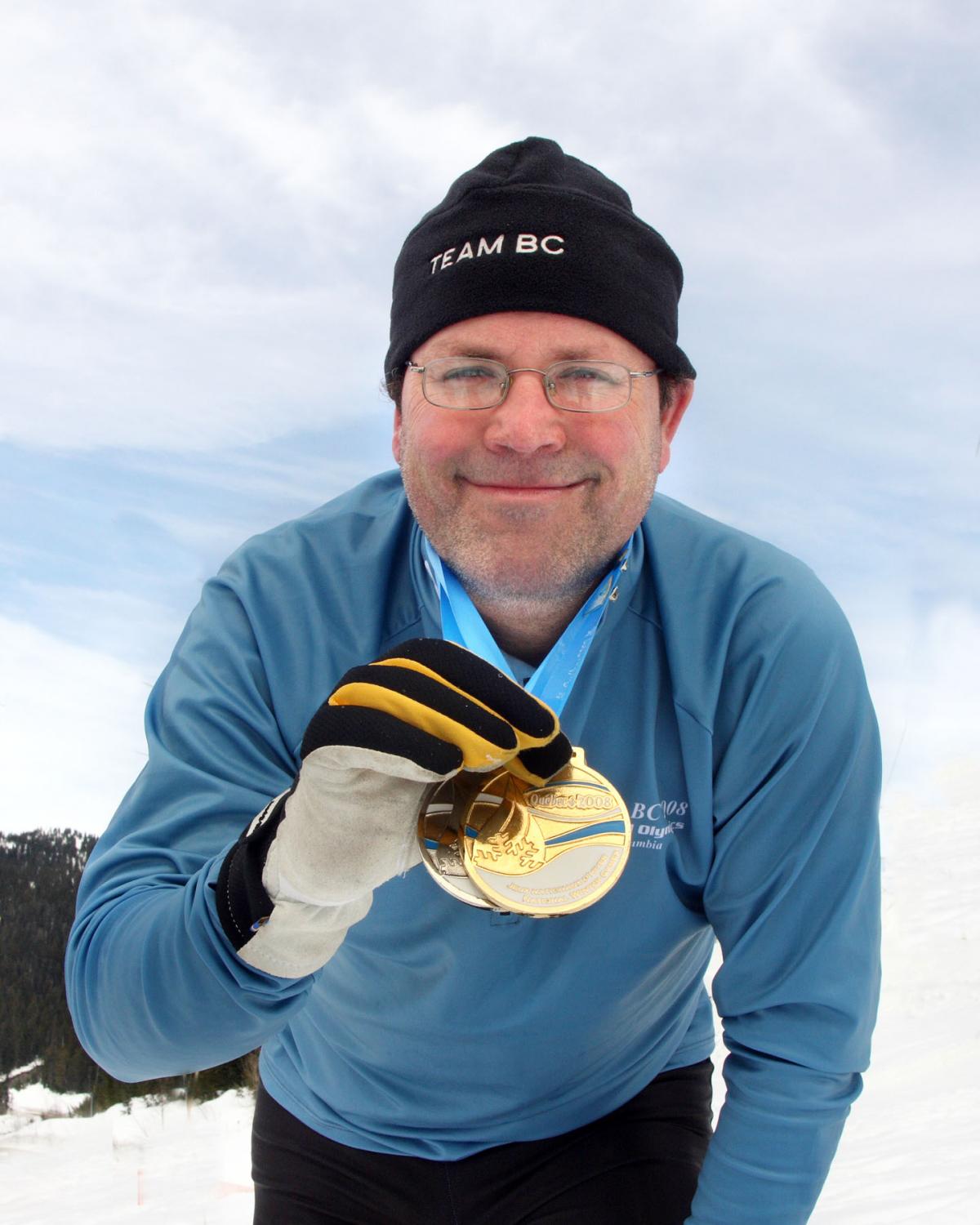 "I am an athlete"
Special Olympics BC
Special Olympics BC
Ken McLean doesn't mince words. He gets right to the point, with a sincerity that's unnerving and refreshing at the same time.
McLean is 44. He has a job that he likes. He has a girlfriend (Annabelle) who he really likes, and an apartment on Main Street. He likes to cross-country ski… fast … really fast. "But not so fast that you get too tired before the finish line. You have to pace yourself."
He's tall, muscular and carries himself with an easy grace. "I weigh 220 lbs and I've lost 50 pounds since I started cross-country skiing."
He wears a crisp white T-shirt, blue track pants and a ball cap, which he doffs to reveal sandy hair.
"I work as a shipper/receiver three days a week … I enjoy my job; it gives me independence, in earning money. That feels really good to be a taxpayer in a sense. Not that I want to pay taxes, but that's what everyone else feels. So I can feel the same way."
McLean's shy at first. But when he speaks, the honesty smacks you in the face …
"I was born in Kamloops in 1963 … I was given up for adoption in 1966 because my parents were told that they have a retarded son, which is myself… Throughout the years I didn't understand at all. It was just so foreign to me…I lived in various group homes and foster homes."
"I used to have a lot of self-esteem issues. I was very passive. I was very inactive. I used to sit on the couch and eat junk food."
That was before McLean was introduced to Special Olympics. An international organization dedicated to helping people with intellectual disabilities, Special Olympics celebrates the personal achievements of its athletes, and develops confidence and social skills through sport.
McLean joined Special Olympics BC (SOBC) in the fall of 2000, and started skiing that winter. As his skills developed, he started winning races, first at a local level, then provincial. He now competes at the national level. In fact, in the 2008 Special Olympic Canada Winter Games held in Quebec City, McLean took gold in the 2.5 km race and silver in the 5 km. These results mean that he may qualify for the Special Olympics World Winter Games to be held in Boise, Idaho in 2009.
McLean is one of 3,500 athletes supported by SOBC. The organization has 2,600 volunteers in 55 communities across the province and offers instruction in 18 sports — from curling, figure skating, and skiing in the winter, to aquatics, powerlifting, gymnastics, soccer, and track and field in the summer.
Dan Howe, President and CEO of SOBC, says, "Our goal is to provide individuals with intellectual disabilities an opportunity to enhance their life through sport. And that means we provide them with opportunities to improve their health, their fitness, their social interaction, and opportunities to be involved in their community. In doing all this, they become a better athlete, and they have greater opportunities to achieve their personal goals in the sporting arena, as well as in their personal arena. We like to say it allows them to win at sport and at life."
SOBC holds two funds with Vancouver Foundation. Both have the same goals — to allow this registered charity to deal with on-going, day-to-day needs, and prepare for the future with consistent resourcing.
According to Howe, "It's been a great relationship. It started because we didn't want to (and didn't have the skills) to manage our money in the way it should be managed … we went to the Vancouver Foundation because of the expertise we found there. And because of the way they could manage our money."
It takes a lot of money to support SOBC programs — $1.9 million actually. The majority of this money comes from private, corporate, or foundation donors, and special events. Ken McLean often volunteers to speak at fundraising events. He always thanks the many sponsors and volunteers that make Special Olympics possible. He speaks deliberately, and eloquently, about the changes in his life wrought by skiing and by participating in Special Olympics. He's proud that his race times have dropped consistently over the years, as has his weight. But the most dramatic changes in McLean's life are those you can't measure.
"Since joining Special Olympics, I've learned about who I am. I've learned to make better choices. I've learned to accept defeat (like when I came in last in swimming). I've learned to be a good sportsman… I feel like I'm a leader. I can show new skiers how to ski … I've gotten to know who Ken McLean is."
If you want to donate to either of the Special Olympics BC funds managed by Vancouver Foundation, go to www.vancouverfoundation.ca
(Story written: 2008)