At Vancouver Foundation, one of our priorities is to help build a more connected and engaged community. We support projects that help people become more connected and engaged to one another, to their neighbours and neighbourhood, and to their larger community. When we use the word "connection" we mean our relationships with others and the strength of those relationships. "Engagement" means our commitment to community and the willingness to take actions to solve problems or to participate in activities that make our community better. Connections and engagement -- two sides of the same coin. And both critical to creating healthy, vibrant and livable communities for all.
2012 Metro Vancouver Survey
In 2012, we surveyed 3,841 people across metro Vancouver to measure people's connections and engagement.
We explored people's connections to their friends, their neighbours and to the community-at-large. We looked at their engagement in neighbourhood and community life, and what prevents them from being more connected and engaged.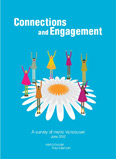 Connections and Engagement
A survey of metro Vancouver
June 2012
View the full report
Mini Reports
A Closer Look is a collection of smaller reports that explore, in more detail, some of the interesting findings from our Connections and Engagement Survey:
Small steps to big change
This mini report outlines the steps we, as a community foundation, can take to help people become more connected and engaged – with each other and in the life of our neighbourhoods and communities.
[Mini-report] [Full-report provided by Sentis Market Research]
When we feel we have nothing to offer
We were surprised to learn that the most cited obstacle to neighbourhood participation is that people feel they have little to offer. This report examines what is at the root of this sentiment. [More]
25 to 34-year-olds: Not exactly the time of their lives
Our survey consistently showed that those in the 25 to 34-year-old age group feel more isolated and alone in the community. [More]
The consequences of loneliness
In this report we take a closer look at the consequences of loneliness. What does the data indicate about residents who are lonely? How does this feeling impact how they view other aspects of their community? [More]
Respondents of Chinese descent
Here are the key finding on how people of Chinese descent answered the questions in our survey on Connections and Engagement. [More]
The experience of new immigrants
For this mini-report, we explore the experience of new immigrants in metro Vancouver – their feelings about their neighbourhoods, their levels of optimism, how those levels change over time, and more. [More]
The benefits of neighbourliness
Does connecting with your neighbour really matter? Results from our survey tells us that it does – more than you think. [More]
The effect of apartment living on neighbourliness
Find out if apartment dwellers are less trusting and more lonely. [More]