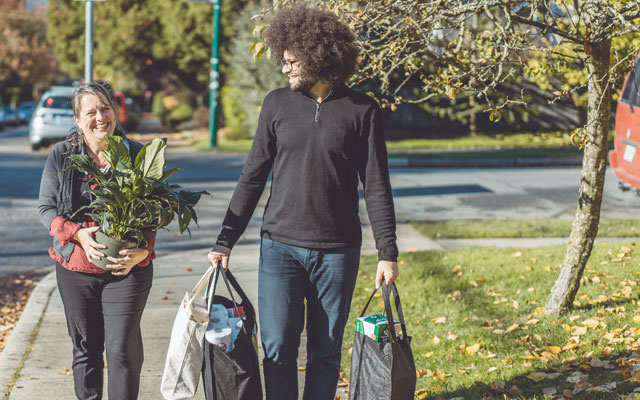 Inviting everyone to participate in community life more important than ever – according to 2017 Connect and Engage report
Vancouver, BC – According to new research published today by Vancouver Foundation, falling participation in community activities and greater vulnerability to social isolation among some groups means that now – more than ever – it`s time to invite everyone to take part in community life.
The new report measures the strength of connections and engagement among Metro Vancouver residents, building on the results of their 2012 study on the same topic. The 2017 Connect and Engage report finds resident's perceptions of social isolation are largely unchanged, but digs deeper on their sense of belonging, level of community participation, and the difference between loneliness and social isolation.
While only 14% of all Metro Vancouver residents report feeling lonely either 'almost always' or 'often', this figure rises to 30% among people age 18 to 24, and 38% among people living in households of less than $20K. Yet the same groups are also more likely to identify new ways to make friends, and highlight finding people with similar interests, more personal time, people being friendlier or more approachable, more community or common spaces, and having more financial resources as important factors.
The report also explores involvement in community activities, highlighting a major decline in people participating in more traditional community activities such as visiting local libraries, recreation centres, or attending religious services, but also finding a willingness to attend neighbourhood or cultural events.
"Our new findings show that while everyone experiences the same barriers to forging strong connections – work, school, financial constraints, and time pressure all play a role – some experience this more acutely," says Kevin McCort, President and CEO, Vancouver Foundation. "But what's encouraging to see is how open residents are to coming together as a community – even more so among those who have lived here for a shorter period of time." he adds.
The report indicates that nine-out-of-10 still have someone they can depend on, 86% have close relationships that provide a sense of emotional security and wellbeing, 60% prefer to connect with each other in-person over using technology, and that 49% would be likely to attend a neighbourhood social gathering.
"What inspires me about our findings is how neighbours would clearly like to develop deeper relationships – with the most popular activities including attending a neighbourhood social gathering or community event, and participating in a community project," notes Lidia Kemeny, Director of Grants & Community Initiatives, Vancouver Foundation. "Our results provide important insights for municipalities, urban planners, policy makers, and community based organizations looking for ways to embed a deeper sense of belonging in their community."
Vancouver Foundation is highlighting the report as an opportunity to build communities where everyone belongs, by making that all important first step – an invitation.
The 2017 Connect & Engage survey was administered to 3,785 Metro Vancouver residents in June and July this year. The full report is now available at: http://www.vancouverfoundation.ca/connectandengage
-30-