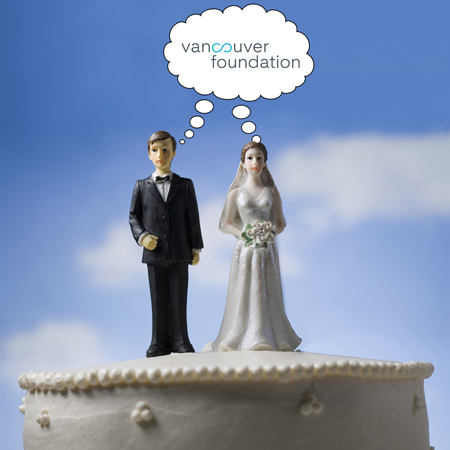 Learning the basics of philanthropy
Something old, something new
Something borrowed, something blue
And a silver sixpence in her shoe.
When Tom and Brittany decided to tie the knot last year, they wanted to put a new twist on this old saying. They wanted to do something a bit different, and use their special day as a way to give back to their community.
Both in their 30s, and having lived solo for a few years, they already had everything they needed to set up house. The last thing they wanted was yet another toaster oven or set of sheets.
So they set up a wedding fund. Instead of buying presents for the happy couple, friends and family were encouraged to donate to the fund. By the time the confetti had settled, they had raised $10,000 – enough for a start-up fund at Vancouver Foundation. The money is invested by the Foundation, and the returns are distributed to the charities of Tom and Brittany's choice.
According to mycanadianwedding.com, the average cost of a wedding in Canada is $20,000 to $30,000 – even higher if planned in a major city such as Vancouver or Toronto. Given that expense, many couples are looking at ways of incorporating their ideals and values into their special day, and weddings with a cause are becoming increasingly popular. Websites such as justgive.org offer many ideas for newlyweds who want to make their ceremony more socially responsible.
For Tom and Brittany, starting a new life together was more than a chance to share their love; it was an opportunity to share their good fortune, and to put that silver sixpence to good use for the community at large.