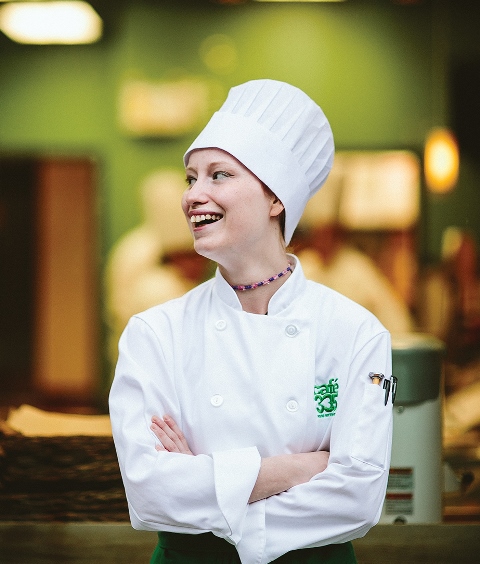 Let's Get Cooking
A brand-new culinary training program is giving at-risk youth the skills, experience and confidence to transition back into the mainstream workforce
A new café has popped up in downtown Vancouver, serving up hot entrees, sandwiches, soups and salads to a busy lunch crowd. While ordinarily this wouldn't be news, Café 335 is different: the affordable social enterprise eatery is staffed by graduates of the Culinary Skills Training Program, a collaboration between Coast Mental Health and Vancouver Community College (VCC). And the café, located at 335 West Pender Street in a retail storefront at Pacific Coast Apartments, stands as a tangible mark of the program's success.
The Culinary Skills Training Program, which began its inaugural run June 9, teaches cooking skills to young adults aged 19 to 30 who are struggling with various barriers to employment, including mental health issues and addictions. Taught by a VCC instructor, it covers the first third of a 12-month VCC diploma program, including theory and kitchen time, and the skills are directly transferable to the job site for positions such as line cooks.
"We were looking at the people that really needed the support, who really needed a chance," explains Tracy Schonfeld, director of community services with Coast Mental Health, who worked for nearly three years to get the program off the ground. Funding to the tune of $100,000 from Vancouver Foundation allowed Jason Payne, youth program co-ordinator, to be hired on early in 2014 and the ball was rolling in a matter of months.
The program initially received 34 applications, far surpassing Payne and Schonfeld's expectations. "It was very obvious as we started to recruit applicants that there's a real need for this age group to find something meaningful, but not being able to really plug into anything because they've been out of it for so long," Schonfeld says. "These are folks in their mid-20s who have been struggling with mental illness, who have probably done quite a bit of work in their early 20s, with not much to recommend them on a résumé because they've been doing their own work getting better and getting healthy.
"Some of them weren't able to finish high school because their illness would have started in their late teens. They don't have strong relationships with their peers because of their illness – they kind of get marginalized. Oftentimes they don't have strong family connections or they've dropped out a little bit because they've had addictions issues, or their mental illness had cycled before it got stable. There's fear, shame, all the things that go along with being disconnected from normal community."
After conducting one-to-one interviews, Payne and Schonfeld put together a group of 14 that they felt would benefit the most. Classes run five days a week, five hours a day, for five months. A few months in, they were left with a core group of 11, a figure that amazes Schonfeld. "We really did pick people who were quite vulnerable. I was going to be happy to have six left, if that, because we're asking so much of them," she says.
One of these 11 participants is AJ Willan. As she steps out of class to chat for a few minutes – it's theory this week – her enthusiasm is infectious. The program has been a life-changing experience for the articulate 24-year-old, who was previously a peer support worker and struggles with social anxiety and depression. "I feel like I've learned so much. It's helped me to push myself and really do something that I love," she says, smiling. "It's actually helped with my social anxiety quite a bit because I have people here who really value me as a person and the skills that I bring to the table."
Besides learning the basics of cooking, sanitation and knife skills, the students cook a daily meal for the hundred or so residents of Pacific Coast Apartments, a supportive housing site managed by Coast Mental Health. Willan and a few others often stay afterwards, volunteering their personal time to serve the meal. "This building houses many people that struggle with mental health issues and a lot of them are my peers who I've worked with before. I know all their faces, I can say hi to them – it's just another way to support my community," Willan says, adding, "The residents have been coming to us and telling us how awesome the food is, which is great. We brought the level up."
Early on, one of the biggest challenges for the program was attendance – a huge factor for a group that may have medical or other life issues that make getting to class on time difficult. "The majority of them were late, missing days, leaving early, things like that. But once they started to settle in and realize that we're supporting them in the long run, attendance has been unbelievable," says Payne.
Now, near the end of the program, most students arrive half an hour early to have breakfast together and chat. "It's been incredible to watch the growth, just being able to watch them have that connection and make those friendships and feel confident," Schonfeld says.
That sense of support and community is something Willan feels strongly as well. "Since we've been working together, we've all become good friends. It's like a little family now," she says. "It's built a lot more of a routine. It's really been beneficial to me, to get me motivated. I want to wake up and come here every day."
She feels similarly about the social enterprise café, which opened September 24. It's a low-cost grab-and-go option with seating for 12, serving the downtown lunch rush between 10 a.m. and 2 p.m., Monday to Friday, with a menu based on the successful Broadway VCC campus café's offerings. With its cheerful green walls, spacious kitchen area and shining new stainless steel appliances, the café gives the students another opportunity to learn, shine and earn a living – shifts here are paid, just like any other job.
In addition to providing Willan with a job to transition into, the program has opened doors that she'd never before dreamed of. The pride in her voice is palpable as she reveals her plan to complete the culinary diploma program as a full-time student at VCC and the steps towards this goal she's taking right now. "It's so exciting. I would have never thought that I could do this," she says. "A couple years ago, I would have never even thought that this would be an option for me."
| | |
| --- | --- |
| Story By: Robin Schroffel | Photos By: Claudette Carracedo |
Read more stories from the Fall 2014 Vancouver Foundation magazine, Building an Empowered & Vibrant Future.