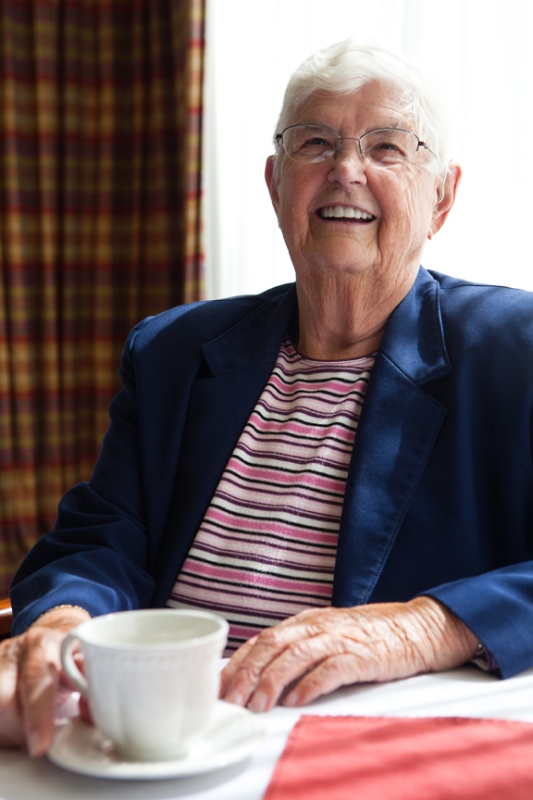 Life Lessons
Wilson, June
June Wilson taught school for 48 years, most of them at Elphinstone Secondary in Gibsons, B.C. Now in her 80s, she taught generations of children on the Sunshine Coast. "When I came, I taught the kids there. Then when those kids grew up, I taught their kids. Then I even taught some of the grandchildren of that first round of kids!" she says in her mild English accent. "And one family even named one of their boys Wilson, after me!" she says delightedly.
June came to Canada from England after World War II as an exchange teacher. She stayed despite the cultural differences. "At first I was teaching gym class, but the kids had to teach me how to play volleyball and softball – all those sports," she says, shaking her head and laughing.
She soon got her bus driver licence so she could take her kids on trips. "We took them to sports competitions, and to Whistler, and to Bard on the Beach in Vancouver," she recalls. She also shared her passion for English literature with her students. "I would read to them every day," she says fondly. "We would read all the good books. Jane Eyre, that kind of thing. They were always asking, 'Miss Wilson, when are you going to read to us?'"
Although teaching 10,000 kids might have burned out some people, June didn't find it a chore. "Oh no. I found the kids very amusing. They are very responsive. If they love you, they really love you. I guess it was just what I was supposed to be doing."
Although she retired a few years ago, Wilson is clearly still loved and remembered in Gibsons, where Elphinstone Secondary recently named its library after her. "People still send me nice letters. Last Christmas, one mother sent me a photo of her child graduating from UBC. When he was in my class, that boy was having a lot of trouble in school. He was not going to pass Grade 7! So I used to drop in after school and tutor him. He'd have to make me a big pot of tea and we'd practise writing. And now he's graduated from university!" she says, proudly. "They're all like my children."
In fact, June has also set up and contributed to Registered Education Savings Plans for 10 children on the Sunshine Coast. Photos of those kids, and kids she's taught over the years, are carefully pasted on the wall of her Burnaby home.
But June's not content merely with giving while she's alive; she's also set up a legacy fund at Vancouver Foundation to continue giving after she's gone. It will fund scholarships or bursaries for post-secondary education to students graduating from Elphinstone Secondary.
"I know Vancouver Foundation will do a proper job and follow my wishes. And when I don't need my money anymore, why not give it away? I have no children. Indirectly, I'm giving to myself because it makes me so happy to do it. I get a lot of pleasure in giving my money away."
June regards her impressive collection of stuffed bears, which covers her dressers. Some she made herself, others were gifts. She pulls out one bear at the back whose fur is almost completely worn off. "This bear is as old as I am," she says gently, giving the bear a little squeeze and softly brushing his near-bald pate. "I had him when I was born. And he's nearly worn out with all the hugs and kisses he's given and gotten over the years." She carefully puts the oldest bear back in his place.
"I have had a very happy life. But I'm nearly worn out too, you know," she confides. "I have some money left over and what use is it to me? So I'm giving it to the kids. And the kids are very good, you know. They give back too. That's how it works, doesn't it? By giving, we keep the good things in life going, on and on."VF
For more information on how you can contribute to the charity of your choice, through an endowment, a legacy fund, or a variety of other options, call Vancouver Foundation's Donor and Development Services at 604-688-2204
Comments:
February 6, 2012
This story reminds how life was so simple growing up in a small school system, in a small community Fleetwood, Surrey BC. Brings back great memories of the teachers that had to deal with Me. Wow Wonderful. Pat
Pat Short, Dauin negros Oriental Philippines
December 2, 2011
Ms Wilson not only taught me English but she mentored me through my university education. She always welcomed me back with open arms into he classroom so that she could check my essays and make sure I was doing her proud. When I graduated with a B.Ed. and got a job in a small private school in Gibsosns she mentored me through my first year of teaching, even giving me some of her resources on loan so I could do my best possible job. When I left to begin teaching overseas I felt like I needed her blessing to go and she gave it with encouragement and the promise to help if I needed it. Ms Wilson made me laugh in high school, taught me to love literature more than I already did, gave me help, encouragement, and confidence and gave me wings as a teacher. Thank you Ms Wilson!
Angela, Ankara
December 2, 2011
June Wilson taught me in high school, perhaps grade 10 or 11, around the year 2000. I remember her vividly asking about my last name (Petersen with an 'E') and if I was related to x, y and z. She listed every one of my aunts and uncles and cousins who had attended her class. That was, and still is, a profound recollection. It was as if she knew elements of my personality (or at least my family character) without having met me. Thanks June for your genuine nature and longstanding commitment to education. Take care, Ross P.
Ross, Burnaby
December 2, 2011
June Wilson taught me at Elphinstone in the 70's and my daughter had her a a teacher the year she graduated and June retired. She is and always will be part of our high school memories. This woman is the definition of the word Teacher but she was also a friend, she cared about kids and teaching wasn't just a job to her, it was her passion. She is a jem!
Gail Whiting, Gibsons