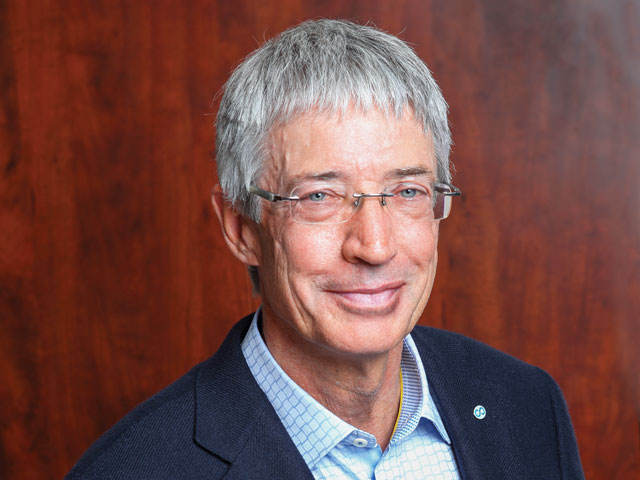 Long-Term Vision
Tom Bradley discusses how Vancouver Foundation manages its endowment in order to support community projects of today and tomorrow
For almost 75 years, Vancouver Foundation has depended on the prudent management of its endowment—$1.1 billion as of 2016—to help fund its work across the province. And few know the challenges of managing the funds—the unpredictability, uncertainty and lack of guarantees—better than board member Tom Bradley, the President and Co-founder of Vancouver- based Steadyhand Investment Funds. A 30-year veteran of investment management, Bradley started his career as an equity analyst at Richardson Greenshields in 1983, before going on to spend 14 years at Phillips, Hager & North, where he served as President and CEO from 1999 to 2005. The investment firm has long helped Vancouver Foundation manage its funds, and Bradley became very familiar with the Foundation's work. The experience drew him in. In 2009 he joined Vancouver Foundation's Investment Committee, where with his fellow committee members he sets the priorities on how the Foundation's endowment fund is invested. Now a board member and chair of the Investment Committee, Bradley offers a unique perspective on a side of the world of non-profits that is often overlooked.
Can you describe the role that the Investment Committee plays within Vancouver Foundation?
The investment side is critical because the Foundation has to generate income on the money that's been donated to the endowment funds that have been established. The money has to be managed so that it generates a return, not only to pay out money this year and next year, but in perpetuity. Our objective is to earn inflation plus 3.5 per cent. We're not going to do that every year, but we try to do that over periods of five years or longer such that the Foundation does not lose ground to inflation. We have to make sure that the money is earning something so that it's there for future grants.
When it comes to your day-to-day responsibilities as a committee member, do you actively look at how and where the Foundation's money is allocated, or do you take more of a backseat role and let that be the purview of the fund managers who you work with?
There's both an active and a passive role. The committee is very active in setting the asset mix—the stocks, bonds, real estate and other asset classes—and the proportions we think are going to generate longer term returns. We're also the ones who pick the firms we want to work with and the people we want picking the stocks and bonds. However, once we've put a manager in place we let them do their thing. If they want to buy a stock, they do that on their own accord.
How does the committee select the money managers?
We focus on the four "Ps": their investment philosophy, how they're going to make money for the donors; their process of making decisions; the people—making money is all about the people you have doing it; and finally, performance—how have they done in the past and do we think it's sustainable. We focus on those criteria because we think they're better predictors of future returns rather than what the managers have done lately. We have long-term relationships with our managers and ultimately we hope these factors lead to superior returns, and for the most part, I'd say that's been our experience.
You have your own fund at Vancouver Foundation, WhytePine. Why did you choose to set it up in the way that you did, with funds going towards the more general granting programs, to be used at the Foundation's discretion, as opposed to towards a specific cause?
My wife Lori and I have been involved in other philanthropic endeavours, and in particular, organ transplant research. I was a liver transplant patient back in 2007—so that's obviously of interest to us, and we've spent a fair amount of time learning how and where we could give back in that community, and transplant research was one area. However, when it came to giving back to the community we live in, we wanted our impact to be very broad, and there's no organization in the province that can do that better than Vancouver Foundation. WhytePine allows us to do that. We let the Foundation's granting committees determine where the money is most needed—it's unrestricted. We rely on them to determine where the money will be granted every year. Moreover, they take care of everything; it's all set up, the money is well managed and the fee is reasonable. It's a very good combination.
I've been proud to lend my expertise to Vancouver Foundation over the past seven years and I feel confident that the organization is well positioned for the future.
| | |
| --- | --- |
| Story By: | Jacob Parry |
| Photos By: | Tiffany Brown Cooper |
Read the latest edition of Vancouver Foundation magazine – The Nature of Belonging.