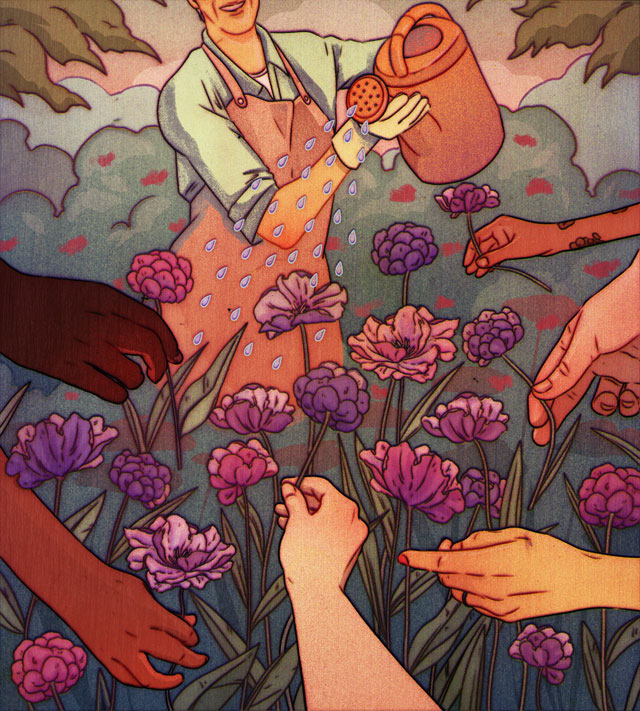 Mary McGivern Nurtures Youth Empowerment with the Bright Futures Education Fund
Story by Stacey McLachlan
Illustration by Maria Nguyen
She may have retired from her work in the non-profit sector, but Mary McGivern can't help but help. And with her Bright Futures Education Fund, which finances post-secondary education for young women in need, she's doing just that. "In my last year before retirement, I started to think about what I could do in retirement aside from helping other non-profits," she recalls. A conversation with Nicole Jeschelnik (a Manager of Donor Services at Vancouver Foundation) got her wheels turning, and soon, the mother of three found herself with a rare opportunity to make an indelible and direct impact on others' lives — not just through charity, but through empowerment.
With the help of Bright Futures, current mentees of Big Sisters of BC Lower Mainland who might otherwise be unable to finance a post-secondary education, have the chance to pursue their schooling goals and, McGivern hopes, carve a new path for themselves. "Education is the most important thing," she says. "It's an opportunity to break out of the rut and set themselves in careers where they make a good living and have choice."
For McGivern, providing funding to young women with financial need is a way to redistribute wealth and change the cycle of poverty. Vancouver Foundation helps with guidance and administration, but with a donoradvised fund, McGivern and her husband can advise on how the money is used.
"So many [girls] want to tackle big programs, so many are impressive young women," she says. "But they don't always have family support — and we have a soft spot for those ones, too." Though McGivern's fund may be modest, she's still making an unforgettable impact, one student at a time (that's seven per year, to be exact). Using her retirement time and her resources to make a difference has been everything McGivern hoped it would be. "We added a little bit to the fund this year, and we're considering extending it so we can sponsor a few young, single moms, who might otherwise not have a chance to gain an education," she says. "We're so blown away by these girls."
Want to start giving back like Mary? Learn more about starting a donor advised fund with Vancouver Foundation.