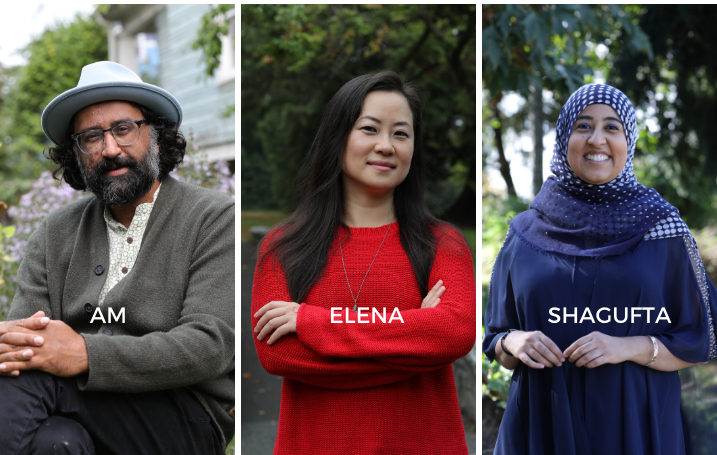 Meet Our Grant Advisors: Am Johal, Elena Yugai, Shagufta Pasta
Meet three experts in community that advise us on where funding needs to go next.
Written by Meera Eragoda. Photos by Marina Dodis.
Above: Am Johal (left), Elena Yugai, and Shagufta Pasta.
Am Johal is Director of SFU's Vancity Office of Community Engagement. Serving on Vancouver Foundation's CRF grant committee, Am Johal was able to use his connections with community organizers, some of which go back two decades. Johal sits on various boards, has previously worked in the Downtown Eastside, and has also worked with various levels of government.
These relationships have a twofold benefit: 1) During committee meetings, it enabled Johal to maintain a dialogue about frontline needs; 2) Johal was able to ensure that his networks knew funding was available to those who needed it most.
"When an emergency unfolds, our network of civil-society organizations tend to start doing the work of triage on the frontlines. They don't necessarily have the time to look around for new funding streams," says Johal.
Elena Yugai is the founder of OLENCHA, a consulting practice and incubation lab for social entrepreneurship.
As an expert in impact investing, Elena Yugai is well-versed in the "full cycle of an organization." Bringing this experience to serving on the Systems Change granting committee allows Yugai to evaluate how best to support projects and add social value while ensuring financial stability.
Complementing this expertise, Yugai draws on her personal experience as an immigrant navigating unfamiliar systems, and then uses this knowledge when reviewing applications aiming to serve Newcomers to Canada.
Yugai also spent time volunteering with immigrants—particularly women— and her goal is to provide a "perspective on how [organizational] work might impact newcomers and women."
Shagufta Pasta is the principal of Seriously Planning Consulting, which supports organizations with JEDI-informed (Justice, equity, diversity and inclusion-informed) educational programming.
Equitable philanthropy has always been an area of fascination for Shagufta Pasta, an advisor on Vancouver Foundation's Systems Change granting committee. As the interview unfolds, she shares her history of critical thinking on systems that aim to provide change.
For Pasta, being a racialized, visibly Muslim woman on the committee provides both a lens in understanding what a project would look like "on the ground," and signals to people in the community that they are represented, thereby increasing the accessibility of applying for grants.
Pasta adds, "Amalgamating all of our expertise helps the alchemy of philanthropy happen."