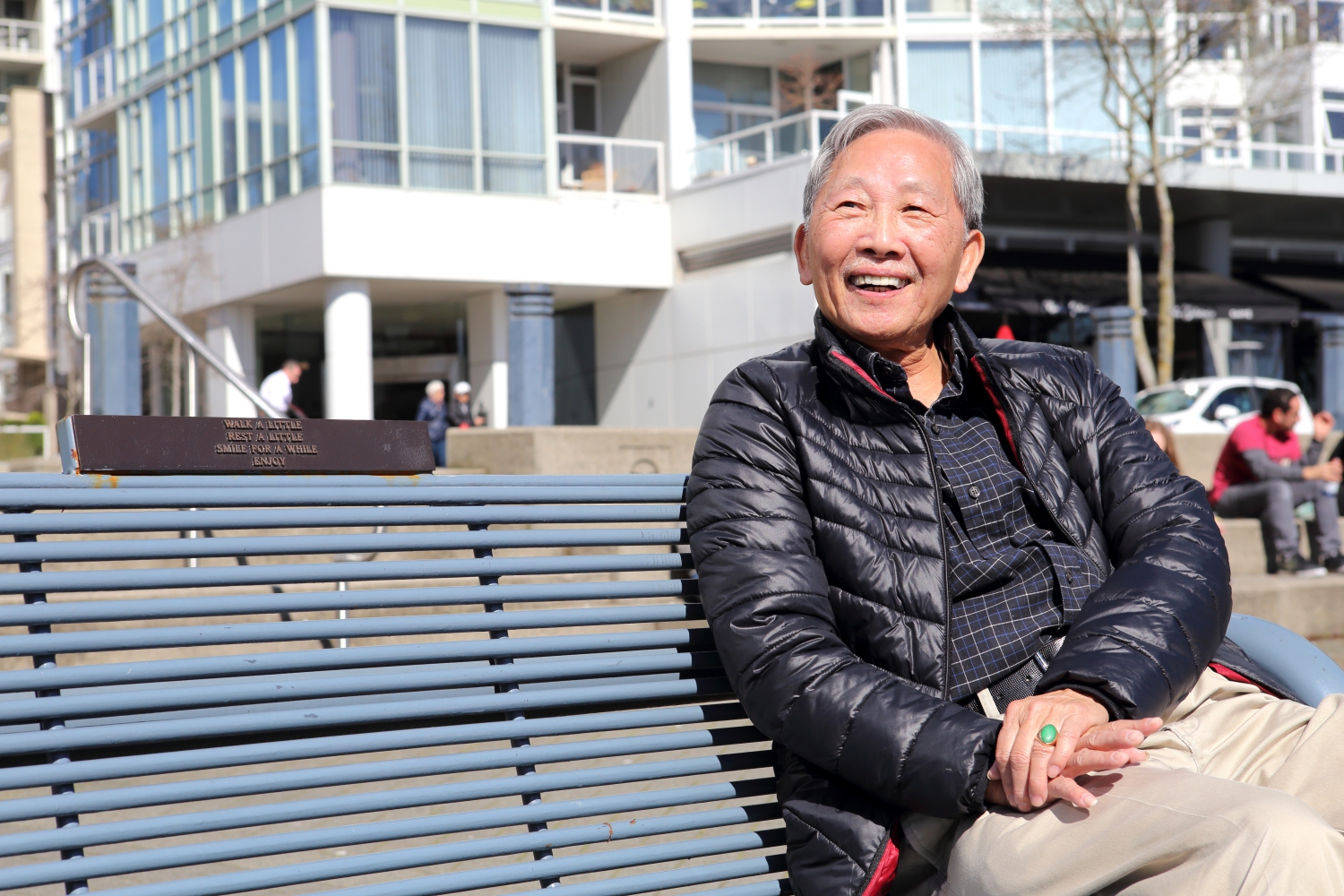 Monty Jang | Donor Stories
"Walk a Little, Rest a Little, Smile for a While, Enjoy"
This poem is placed on a park bench on the Vancouver seawall donated by philanthropist and Vancouver Foundation donor Monty Jang. Right next to it sits another bench dedicated to his late wife, Kay.
"Kay did everything to support the family and I wanted a permanent way to remember her," says Monty. "It's also a way for me to give back to the community that has been my home for so long."
Born in China in 1936, Monty immigrated to Canada in 1950 and has lived in Vancouver ever since. He met his future wife Kay at Strathcona School and they had five children – three daughters and two sons. For 43 years, Monty owned Chopstick's restaurant and, during that time, obtained his undergraduate degree from Simon Fraser University.
I see an effective way to give while making a lasting impact in my community.
Following the restaurant business, Monty started to invest in property and still manages buildings today. Now partially retired, Monty is able to focus more time on enjoying life, and as a grandfather and great grandfather, he's particularly excited about spending more time with his family.
As Monty reflects back on all his years of hard work, he remembers not having any time to spend the money he was earning. "I now have time to do more good things for the community," explains Monty. "And I've even got time to take a vacation with my family."
Monty has been involved with the Lions Club for many years, including serving as President of Vancouver's Chinatown chapter, district Governor and finally Council Chair for the Pacific Northwest region. He has also been involved with several other organizations including the Chinese Cultural Centre and Chinese Benevolent Association.
While working with the Chinese Cultural Centre, Monty learned about Vancouver Foundation and, in 2001, set up a Donor Advised Fund. Through the fund, Monty provides support to hospitals, medical research, children's education and other causes.
"We set up the fund because Kay and I wanted to leave a lasting legacy for the community," says Monty. "It enables me to make grants to charities during my lifetime but will also provide support for generations to come."
While his children were growing up, Monty regularly reminded them that people are stronger when they work together. "You can break one chopstick, but put five chopsticks together and you cannot break them," he would say.
Monty applies this same philosophy to his fund at Vancouver Foundation, adding "I'm just one person, but when we all contribute to causes together, great things can happen."
And it's through the collective impact of philanthropists like Monty that others can truly smile for a while.
Thinking of starting an endowment fund just like Monty?
Learn more at our Start a Fund page.
You can also go right ahead and contact our Donor Services department at info@vancouverfoundation.ca.
This story was first posted in the 2016 issue of our Vancouver Foundation Magazine.