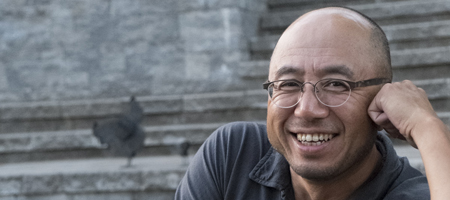 New money, traditional values
"I live to give, do good, thank God, and play golf"
"Retired." It's definitely not a word you would use to describe Jack Gin – although it's been more than five years since he drew a paycheque or drove to work. "I guess I'm a really busy retiree," he says with a wide grin. In fact, Gin's day is just as full of projects and meetings as before, but instead of working to earn money, now he's working to give it away.
Gin was born and raised in east Vancouver, and has many fond memories of growing up in the '60s and '70s. He remembers catching tadpoles in the ponds on Terminal Avenue (now a parking lot for Home Depot) and playing soccer and street hockey 'til dark. At 10, he started working in the family business. "My father ran a Shop Easy grocery store. I remember delivering groceries to seniors and getting stuck in their apartment because they wanted someone to talk to. I'd get a 10-cent tip. One of the benefits of working then was learning to engage with other people."
Gin went to John Oliver High School, then earned an engineering degree from UBC. He and his wife and children have lived in the same modest house in Burnaby for 26 years.
In 1997, Gin founded a technology company that specialized in security surveillance equipment. The business prospered globally and, after 11 years of long hours, hard work and endless travelling, he sold it to a large technology conglomerate.
Then Gin took some time off to rest, play a little golf, and plan what should happen next. One of the first things he and his family decided to do was give more to the community that they still call home.
"We thought about setting up our own family foundation to expand our giving," says Gin. "But it takes a long time – about a year – to do that. Thankfully, we got connected with Vancouver Foundation."
In the last five years, through a donor-advised fund they set up with Vancouver Foundation, the Gin family has supported dozens of charities. They regularly donate to Seeds of Hope Children's Ministry, an international charity for orphaned children. Locally, the family supports the Neighbourhood Small Grants program out of South Burnaby Neighbourhood House, as well as various health care and educational institutions, and faith-based organizations that help people in poverty.
"It took some time to get over the shock of selling my business," says Gin. "But now I have a new mission statement. It's my 4G rule: I live to give, do good, thank God, and play golf." Ever the engineer, Gin is also still hungry to create, to discover and to solve problems. He sits on the boards of several startup companies, and works with others consulting on international business development. One company is using pheromones to control pests instead of insecticide. Another is perfecting a low-energy, high-tech desalination process that uses solar and waste energy to produce potable water. "Just imagine what that could do for some of the drought-stricken areas of the world!"
Talking about these projects, Gin gets so excited he almost vibrates. And his enthusiasm is infectious – anyone within hearing distance can't help but be swept up in his excitement.
Harnessing enthusiasm like Gin's is one of the challenges facing non-profits these days. Jack Gin is "new" money. He is sharp, informed, and used to moving quickly in a rapidly shifting technological world. He also expects accountability, performance and results.
But useful metrics in the world of philanthropy are hard to come by. After all, measuring the success of a youth homelessness initiative is not the same as counting widgets rolling off a factory production line. Many of the charitable projects the Gin family supports could take years to show results.
Gin is especially proud of two particular projects they have supported, and not just because both can be measured for success. One is to build a small dam and irrigation system near Siem Reap in Cambodia. When completed, the dam will contain extreme-weather flooding that has destroyed crops and caused uncertainty for more than 20,000 residents. This is a project with a huge impact on a poor and vulnerable community. The other project was much closer to home.
Two winters ago, a local TV station sponsored a "12 Days of Christmas" campaign. Children wrote in with their wishes for the season, and the TV station chose 12 that it would help to make happen.
One of the chosen wishes was from a student at Admiral Seymour Elementary School in east Vancouver. She asked for a new swing set for her school. There weren't enough swings at the school to go around, so the kids had to line up and wait to play on them. The TV station contacted Vancouver Foundation, and the Foundation in turn connected with two donors.
One of those donors was Jack Gin. When he found out that this young girl was a refugee from Africa, he knew he had to get involved.
"I was taken by her selflessness, and was happy to meet this young person. She lives in the same area where my great grandfather's house once stood.
"I went to the cheque presentation," says Gin. "But I couldn't attend the official opening . . . You know, to this day I still don't know who the other donor was."
There weren't many people at the official opening for the new swing set at Admiral Seymour Elementary that drizzly February day two years ago. But the rain didn't dampen the children's spirits. They squealed and swung on the new set; laughed and posed for the TV camera; swung; ran and twirled like dervishes; and swung some more.
Their smiles were matched by two people. One was Jack Gin, who, later that day, listened intently on his cellphone as Peter Jackman from Vancouver Foundation described the children's reaction and the success of the event.
The other person was at the opening, a lone figure in dark fleece standing at a discreet distance, watching the children swing, hearing their squeals of unbridled joy, and beaming with delight. VF
If you would like to experience the joy of giving, whether anonymous or not, call Peter at Development and Donor Services at Vancouver Foundation at 604.629.5357, or visit vancouverfoundation.ca/give
Vancouver Foundation magazine Fall 2013

By Paul Heraty

Photos Vincent L. Chan