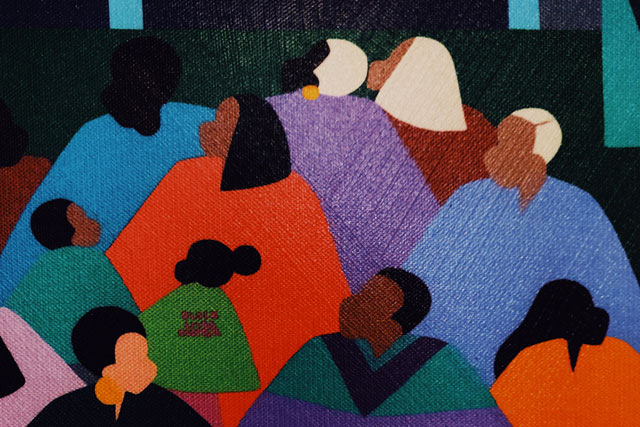 One Year On, How We've Done Better
33 ways we're shifting and sharing power in philanthropy
On June 10, 2020, Vancouver Foundation pledged to do better. We made five commitments to racial justice as protests in support of Black Lives Matter and other movements spread across the globe. Against this backdrop, we stepped up efforts to shift and share our power — particularly with people who are most affected by issues in our community.
One year on, it's time for us to be accountable to you for how we've lived into these commitments. Here are 33 things we've done at Vancouver Foundation to become more equitable and inclusive.
Most of these ideas are not original to us. They have come to us through community consultations with marginalized groups, from Indigenous and racialized youth, from our peers in the philanthropic sector, and many more in our communities.
By showing you what we are doing, we hope to encourage others in philanthropy to continue their own learning journeys, knowing that we are doing it together.
At the same time, change can feel difficult and uncertain – even when it's progress. For people and organizations that have started a fund here, we remain committed to helping you achieve your philanthropic goals. You can always reach out to talk to us: info@vancouverfoundation.ca.
Granting & Community Initiatives
Our grant programs account for about $20 million each year going out into community. We're building relationships with Black, Indigenous, and racialized communities so that we can support marginalized groups through philanthropy that is based on trust. Here is what we've done to deepen relationships with Black, Indigenous and racialized people and organizations:
1.    We focused on funding organizations led by Black, Indigenous, and racialized leaders in two main ways: one was offering operational grants through LEVEL BIPOC Grants (BIPOC stands for Black, Indigenous, People of Colour), and the other was through developing granting rubrics to prioritize organizations that both served and were led by BIPOC communities.
2.    In 2021, we granted $3.05 million to Indigenous-led organizations, and almost $1 million to Black-led organizations.
3.    We will start to ask our staff, board, and other volunteers to self-identify demographic data about themselves. This will help us understand how well-represented different groups are in our work so that we can improve our accessibility and diversity.
4.    The Neighbourhood Small Grants program is building relationships with organizations supporting Indigenous people, LGBTQ communities, people with disabilities, newcomers, and youth so that we can reach more underserved communities. A youth-led Neighbourhood Small Grants will be piloted in certain Metro Vancouver communities later this year.
5.    Grant advisors recommending applications for Gender Equality Grant funding used a rubric to help prioritize organizations that considered how gender intersected with other types of identity, such as race, sexuality, or having a gender identity outside of the gender binary.
With support from a Gender Equality Grant, @RiseWomensLegal's pro bono clinic provides inclusive legal services to self-identifying women in the Downtown Eastside while offering opportunities for senior law students to deliver community based legal services. #GrantAtAGlance pic.twitter.com/cOHhyiRNTz

— Vancouver Foundation (@VancouverFdn) May 6, 2021
6.    We have recruited a Director, Indigenous Priorities to our organization to develop a strategy to advance Indigenous Priorities.
7.    We are testing out and evolving how we practice more decolonial introductions, considering feedback that both a traditional "professional" introduction, as well as decolonial introductions when led by a colonial philanthropic institution, have the potential to harm racialized communities.
We tried to make it easier to apply for our grants and lessen the power imbalance between Vancouver Foundation and the organizations we fund by trying out some initiatives that are core to the trust-based philanthropy movement:
8.    We worked with a donor to direct a $500,000 gift towards funding more organizations that had applied for the LEVEL BIPOC Grants. Now we continue to find new ways to engage people with donor advised funds at Vancouver Foundation to join us in funding marginalized communities.
9.    We developed "Flipping Logic" cards for our Systems Change grant advisors who review and recommend grant applications. This card deck helps advisors keep in mind eight common biases that we found in previous grant application reviews:

10.    We also tried out some ways to make applying for grants easier by revising the questions we ask and no longer requiring organizations to submit a budget for shorter-term Systems Change Develop grants.
11.    For the first time, we accepted oral grant applications through the LEVEL BIPOC Grants, which took place in the form of a conversation with our LEVEL granting team staff and grant advisors. This led to deeper relationships with each organization, and allowed for greater trust and accountability. In addition, the LEVEL BIPOC Grants offered unrestricted funding, meaning that it could be used to cover any type of expense, not just expenses of a specific project.
Alejandra, Abeer, & Joey from the @level_vf team share their reflections on what they've learned through the process of incorporating conversations instead of written applications to the LEVEL BIPOC granting stream: https://t.co/pvauCAepIb pic.twitter.com/HbBLAzVMmB
— Vancouver Foundation (@VancouverFdn) April 8, 2021
12.    We now remove applicant names on scholarship awards that Vancouver Foundation selects recipients for to minimize unintentional bias.
Changing Government Policy
Our work is limited by and influenced by many other systems, such as policy and legislation. That's why it's important for us to influence change in those systems through advocacy and engagement as well.
13.    We're advocating for changes to the Lobbyist Transparency Act that would help BC non-profits and charities to advocate for policy change with fewer administrative burdens.