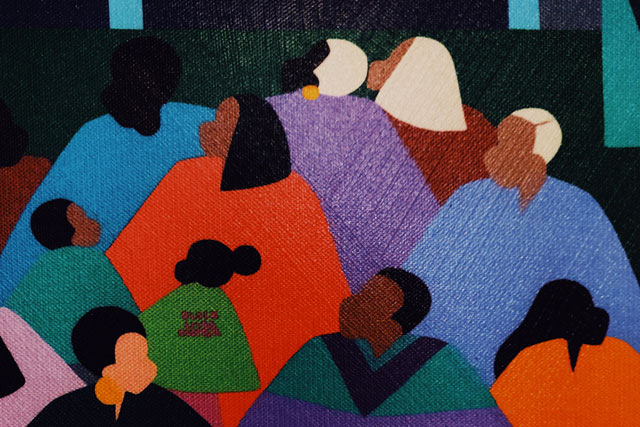 One Year On, How We've Done Better
33 ways we're shifting and sharing power in philanthropy
On June 10, 2020, Vancouver Foundation pledged to do better. We made five commitments to racial justice as protests in support of Black Lives Matter and other movements spread across the globe. Against this backdrop, we stepped up efforts to shift and share our power — particularly with people who are most affected by issues in our community.
One year on, it's time for us to be accountable to you for how we've lived into these commitments. Here are 33 things we've done at Vancouver Foundation to become more equitable and inclusive.
Most of these ideas are not original to us. They have come to us through community consultations with marginalized groups, from Indigenous and racialized youth, from our peers in the philanthropic sector, and many more in our communities.
By showing you what we are doing, we hope to encourage others in philanthropy to continue their own learning journeys, knowing that we are doing it together.
At the same time, change can feel difficult and uncertain – even when it's progress. For people and organizations that have started a fund here, we remain committed to helping you achieve your philanthropic goals. You can always reach out to talk to us: info@vancouverfoundation.ca.
Granting & Community Initiatives
Our grant programs account for about $20 million each year going out into community. We're building relationships with Black, Indigenous, and racialized communities so that we can support marginalized groups through philanthropy that is based on trust. Here is what we've done to deepen relationships with Black, Indigenous and racialized people and organizations:
1.    We focused on funding organizations led by Black, Indigenous, and racialized leaders in two main ways: one was offering operational grants through LEVEL BIPOC Grants (BIPOC stands for Black, Indigenous, People of Colour), and the other was through developing granting rubrics to prioritize organizations that both served and were led by BIPOC communities.
2.    In 2021, we granted $3.05 million to Indigenous-led organizations, and almost $1 million to Black-led organizations.
3.    We will start to ask our staff, board, and other volunteers to self-identify demographic data about themselves. This will help us understand how well-represented different groups are in our work so that we can improve our accessibility and diversity.
4.    The Neighbourhood Small Grants program is building relationships with organizations supporting Indigenous people, LGBTQ communities, people with disabilities, newcomers, and youth so that we can reach more underserved communities. A youth-led Neighbourhood Small Grants will be piloted in certain Metro Vancouver communities later this year.
5.    Grant advisors recommending applications for Gender Equality Grant funding used a rubric to help prioritize organizations that considered how gender intersected with other types of identity, such as race, sexuality, or having a gender identity outside of the gender binary.
With support from a Gender Equality Grant, @RiseWomensLegal's pro bono clinic provides inclusive legal services to self-identifying women in the Downtown Eastside while offering opportunities for senior law students to deliver community based legal services. #GrantAtAGlance pic.twitter.com/cOHhyiRNTz

— Vancouver Foundation (@VancouverFdn) May 6, 2021
6.    We have recruited a Director, Indigenous Priorities to our organization to develop a strategy to advance Indigenous Priorities.
7.    We are testing out and evolving how we practice more decolonial introductions, considering feedback that both a traditional "professional" introduction, as well as decolonial introductions when led by a colonial philanthropic institution, have the potential to harm racialized communities.
We tried to make it easier to apply for our grants and lessen the power imbalance between Vancouver Foundation and the organizations we fund by trying out some initiatives that are core to the trust-based philanthropy movement:
8.    We worked with a donor to direct a $500,000 gift towards funding more organizations that had applied for the LEVEL BIPOC Grants. Now we continue to find new ways to engage people with donor advised funds at Vancouver Foundation to join us in funding marginalized communities.
9.    We developed "Flipping Logic" cards for our Systems Change grant advisors who review and recommend grant applications. This card deck helps advisors keep in mind eight common biases that we found in previous grant application reviews:

10.    We also tried out some ways to make applying for grants easier by revising the questions we ask and no longer requiring organizations to submit a budget for shorter-term Systems Change Develop grants.
11.    For the first time, we accepted oral grant applications through the LEVEL BIPOC Grants, which took place in the form of a conversation with our LEVEL granting team staff and grant advisors. This led to deeper relationships with each organization, and allowed for greater trust and accountability. In addition, the LEVEL BIPOC Grants offered unrestricted funding, meaning that it could be used to cover any type of expense, not just expenses of a specific project.
Alejandra, Abeer, & Joey from the @level_vf team share their reflections on what they've learned through the process of incorporating conversations instead of written applications to the LEVEL BIPOC granting stream: https://t.co/pvauCAepIb pic.twitter.com/HbBLAzVMmB
— Vancouver Foundation (@VancouverFdn) April 8, 2021
12.    We now remove applicant names on scholarship awards that Vancouver Foundation selects recipients for to minimize unintentional bias.
Changing Government Policy
Our work is limited by and influenced by many other systems, such as policy and legislation. That's why it's important for us to influence change in those systems through advocacy and engagement as well.
13.    We're advocating for changes to the Lobbyist Transparency Act that would help BC non-profits and charities to advocate for policy change with fewer administrative burdens.
14.    We're advocating to unlock more funding for charities through BC's "dormant assets" program. Dormant assets are sums of money held by public and private organizations that have been forgotten by their rightful owner but can be put to work in the community via the BC Unclaimed Property Society.
15.    We are active on a federal advisory panel on the charitable sector, which has recommended changes to the Income Tax Act and Canada Revenue Agency practices that would increase engagement and relationships between charities and organizations that do not have charitable or "qualified donee" status. For many marginalized groups, registering for charitable or "qualified donee" status is a major barrier that delays or prevents access to funding.
Hiring & Recruitment
How we hire and recruit can change who we end up welcoming through our doors. These are a few policies and systems we've put into place to become a more inclusive workplace:
16.    We conduct a pay equity audit every three years. Our last pay equity audit was conducted in 2018 to address a gender pay gap, and our next one will happen in 2022. As we collect more demographic data on staff, we can also address any racial pay gaps that persist.
17.    We publish salary bands in all job postings that narrow the role salary negotiations play in our hiring process. Research shows that women and racialized candidates tend to be penalized when negotiating for salary. We also no longer require certain levels of education or Canadian work experience to apply for a role, except as required by law for the job duties.
18.    We ensure diverse hiring panels for job interviews, inviting outside panelists when we do not yet have the right set of lived experience and skill sets for an inclusive interview. For example, we invited:
A Systems Change grant recipient onto our hiring panel for our Director, Systems Change contract position
Three Indigenous people with experience in grant making and philanthropic foundations to our hiring panel for the Director, Indigenous Priorities position
Communications & Storytelling
With more than 441,000 website visitors a year and a magazine that lands on 100,000 doorsteps in the Lower Mainland, Vancouver Foundation can shape people's perceptions through representation. Here's what we have done in our communications and storytelling:
19.    We give the people we interview more power over how they are represented by returning stories to them for review and approval before publishing it.
20.    We revised our media waivers that narrow the purposes for which we can use images and videos of someone, how long we can keep the image or video on file for and offer media waivers in plain language. We must get permission to use the photo or video in another context.
21.    When developing our Vancouver Foundation Magazine, we redirected 70% of our creative budget to racialized freelancers, and continue building new relationships with racialized creatives, or agencies that are led by racialized people.

22.    We adapt granting equity rubrics from our Grants & Community Initiatives colleagues for storytelling. For example, as we develop an editorial calendar, we consider whether an organization is also led by people from the communities it serves.
Investing Our Endowment
How we invest and manage our endowment, which has crossed the $1 billion mark before, can ensure we align our investments with our purpose, just like our grants.
23.    As a signatory to the Canadian Investor Statement on Diversity & Inclusion, we are engaging our investment managers in conversations about how they incorporate Environmental, Social, and Governance (ESG) factors as well as diversity and inclusion into their organizational strategy in order to help share knowledge in the industry.
24.    We are preparing to launch a new impact investment stream that will be available for donors to provide capital to fund initiatives that create a positive social or environmental impact. The financial return created on the capital can then be re-invested into other initiatives.
25.    We are auditing our endowment's carbon footprint to see how we align with the Paris Agreement targets on climate change. In addition, we are looking at how sustainable the companies we invest in are, measured against standards developed by the UN Sustainable Development Goals.
26.    Today, 94% of our endowment is invested by managers committed to the UN Principles for Responsible Investment.
Learning and Unlearning
To underscore and support the development of new processes and policies, we've also made time to learn about concepts and ideas in reconciliation, anti-racism, anti-oppression, and JEDI (Justice, Equity, Diversity, Inclusion) throughout the year.
27.    In an all-staff training, we broke down the traits of what we considered a "normal" and "professional" work culture (a white-dominant culture) and learned about alternative and more decolonial ways of working together.
28.    Formed a "Purpose Team" made up of six staff, which examines the purpose and role of philanthropy through a JEDI lens and develop a learning plan for the organization.
29.    Six staff enrolled in The Circle on Philanthropy and Aboriginal Peoples in Canada's Partners in Reciprocity program, a year-long fellowship to practice reciprocal and decolonial ways of philanthropy.
30.    Formed a staff-led JEDI Committee, which has a mandate to shift organizational culture to support our commitments to change. The committee includes two board members and three members from executive leadership.
31.    To create more time for learning and developing new systems in our Granting & Community Initiatives department, we granted out our entire Systems Change and Participatory Action Research grant budget in one cycle, rather than two cycles as in past years.
32.    Introduced meeting-free and email-free time in staff calendars where our colleagues have self-directed time for reflection, learning, and strategizing.
33.    Our executive leadership and board of directors will receive 1:1 coaching to learn, heal, and build skills for inclusive and transformative management so that they are equipped to support Vancouver Foundation to meet our commitments.
What's Next?
Philanthropy's role is changing. As a community foundation, we're committed to understanding how power and systems intersect in our communities to create unique barriers for people and act accordingly. We must grant in a way that recognizes this. And we must do our part to change the systems that limit our work.
We cannot ignore that it has been six years since the Truth and Reconciliation's Calls to Action were released and that few have been completed.
We cannot ignore that it took the tragic discovery of 215 children at the site of a former residential school to bring the remainder of the "Missing Children and Burial Information" Calls to Action to the top of the government's to-do list.
We cannot ignore police brutality, which disproportionately affects Black and Indigenous people.
We cannot ignore the surge in hate crimes since the start of the pandemic, bringing Vancouver to notoriety as the anti-Asian hate crime capital of North America.
These actions are steps in Vancouver Foundation's journey. We're grateful to each one of you who have called on us to do better for marginalized communities. To see our potential for good, for healing, and for real change, as a community foundation. To shift and share power with our communities, so that we can move to a future where everyone belongs.