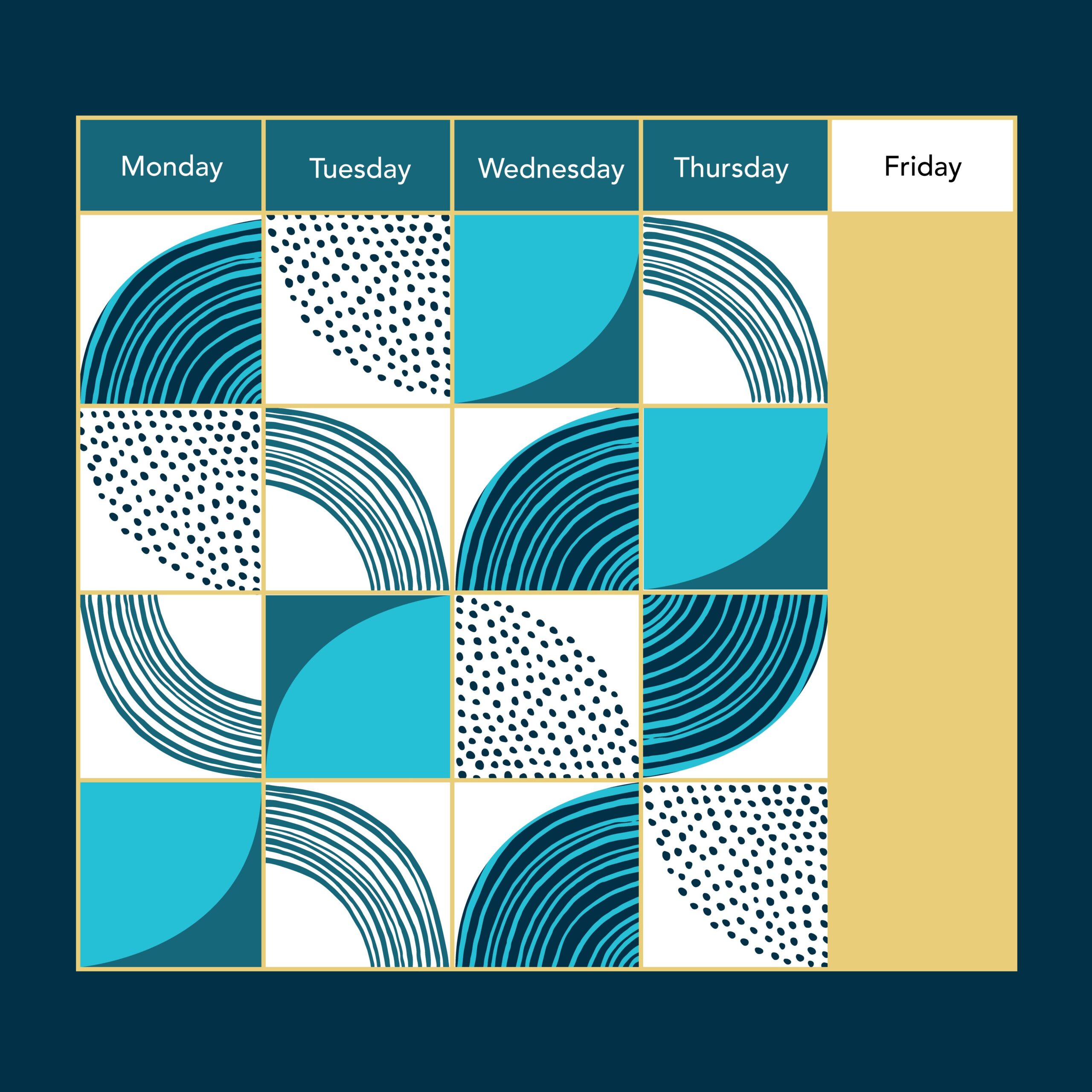 We're Piloting a Flexible Four-Day Work Week
Vancouver Foundation's opening hours are changing as we begin piloting a flexible four-day work week. This means our offices will be open for longer hours Monday through Thursday, and closed on Fridays. Tomorrow is the first Friday our offices will be closed.
A growing body of evidence shows a four-day work week leads to increased productivity and creativity in the workplace and happier and healthier employees.  
We've reviewed the research, and become convinced we should give it a try.  
Our pilot will run from March until September. Along the way, we will be working with an external evaluator to assess outcomes for our employees, donors, grant-seekers, business and community partners. Our goal is to improve the day-to-day experience of our team while maintaining a consistent level and quality of service for our donors and grant-seekers.  
Our front desk will be open 8:00am to 4:30pm, Monday to Thursday. Each employee may start and end their days a little earlier or later than our front desk.  
The biggest difference for our donors, grantees and other partners is that our offices will no longer be open on Fridays.  
Online resources for donors and grant-seekers will be available 24/7.  This means if you have a fund with us, you can access information about your fund through The Hub 24/7. And if you're applying for a grant or want to check on a grant application, our grant application system will also be available to you 24/7.  
We believe this shift in our work week will support our employees in better managing their time. The reduction in total hours worked will be small – about nine hours a month – while giving our team more time to spend on professional learning, with their families, or giving back to their communities. 
Why Give Employees Fridays Off?
We believe that employees are more likely to be at their best if we give them more time to recharge.    
Testing this pilot is the next step in our plan to create stronger work-life harmony at Vancouver Foundation. We just secured a spot as one of BC's Top Employers for the third year in a row and want to keep raising the bar on what makes a great place to work. That's why all employees start with 15 days of paid vacation plus 10 personal and sick days, and we give people as much choice as possible about where they want to work.  
"We're looking for ways to create a workplace that recognizes employees as whole people. That means supporting them to thrive both in their careers and in their personal lives," says Kevin McCort, CEO & President. "A modified work week is one of the best ways to do this. Vancouver Foundation is glad to lead the way." 
For the pilot, we will move to a 32-hour work week. Our employees will take an additional three hours of training once a month on Fridays but will not be expected to respond to calls or emails on those days. Our employees will continue to receive the same pay, benefits, and amount of paid time off. 
We'll be trying out this flexible four-day work week for six months, ending in September. At the end of the pilot, we should better understand if it led to better outcomes for our employees and the communities we serve. Employers, particularly charities and non-profits, may learn from our experience as we'll share back what worked for us.   
"A four-day work week is a kind of systems change policy. It could significantly improve workers' health and well-being," says McCort. "The current 40-hour, five-day week model started with one company. It's time to adapt that model to the realities of today's workers." 
Do you have a question or comment about Vancouver Foundation's flexible four-day work week? Please let us know: info@vancouverfoundation.ca.