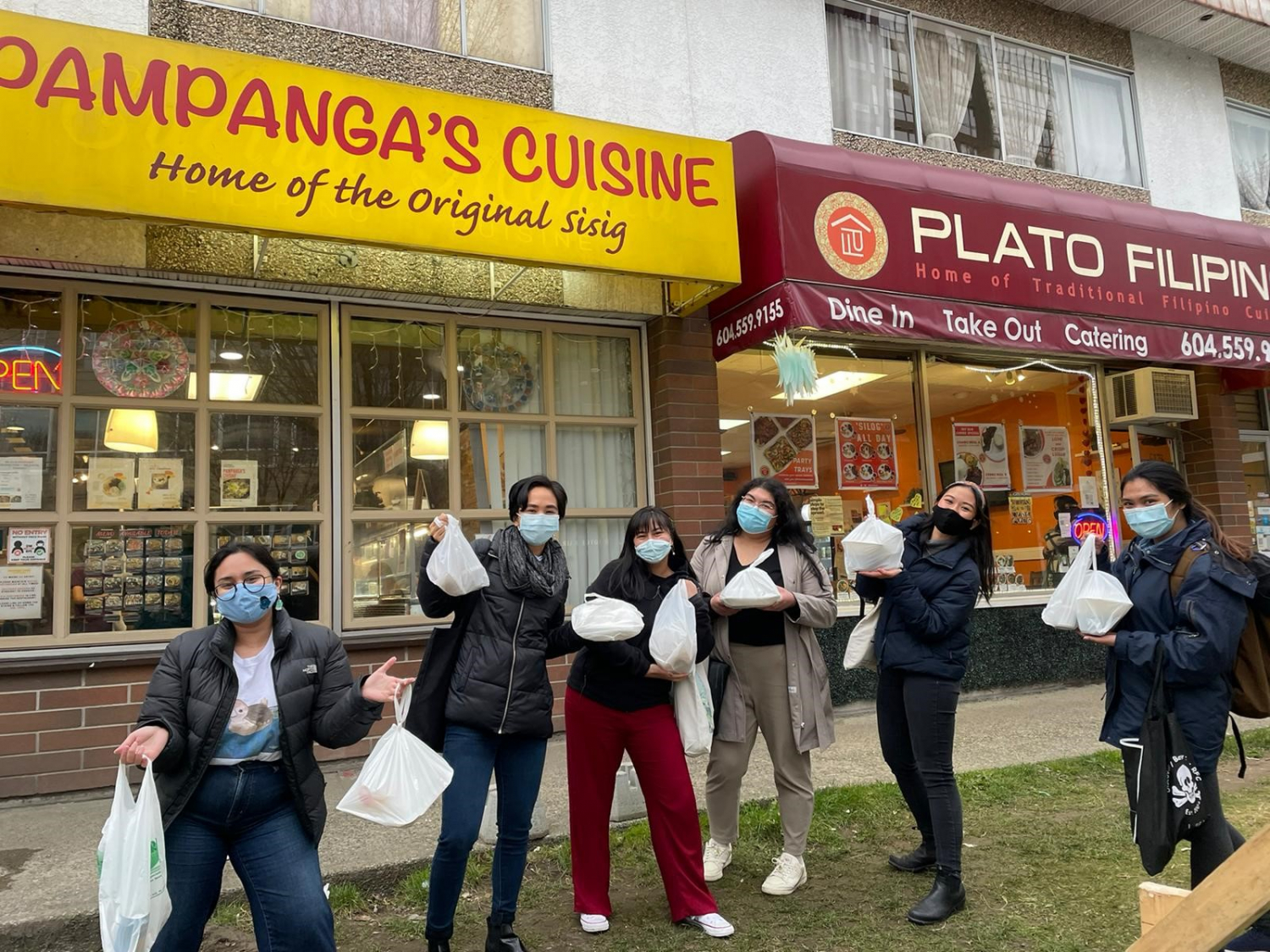 Racial Justice Means Protecting Grocery Stores and Restaurants
Earlier this month, Vancouver was declared the anti-Asian hate crime capital of North America. It's a shameful recognition of what our communities have long been experiencing—including many of our own colleagues, friends, and family.
Vancouver has one of the largest populations of Asian people in North America and what we're seeing is that cultural diversity isn't the antidote to white supremacy. Tackling the root causes of systemic and institutional racism is at the heart of advancing racial justice—work that can sometimes unfold in unexpected places.
Grocery stores and restaurants as cultural food assets
When Sliced Mango Collective, an arts group made up of Filipinx* youth, heard about a proposed mixed-use condo development in Vancouver's Joyce-Collingwood neighbourhood, they worried about how it would affect their community.
The neighbourhood is currently home to small businesses, including grocery stores and restaurants, that serve Filipinx and Tagalog-speaking communities. It's a hub where people can access culturally specific foods, gather together in safe spaces, and connect with one another. Sliced Mango Collective and the hua foundation calls these kinds of places "cultural food assets." With a Skytrain station nearby, it's also easy to access.
Photo from James Infante.jpg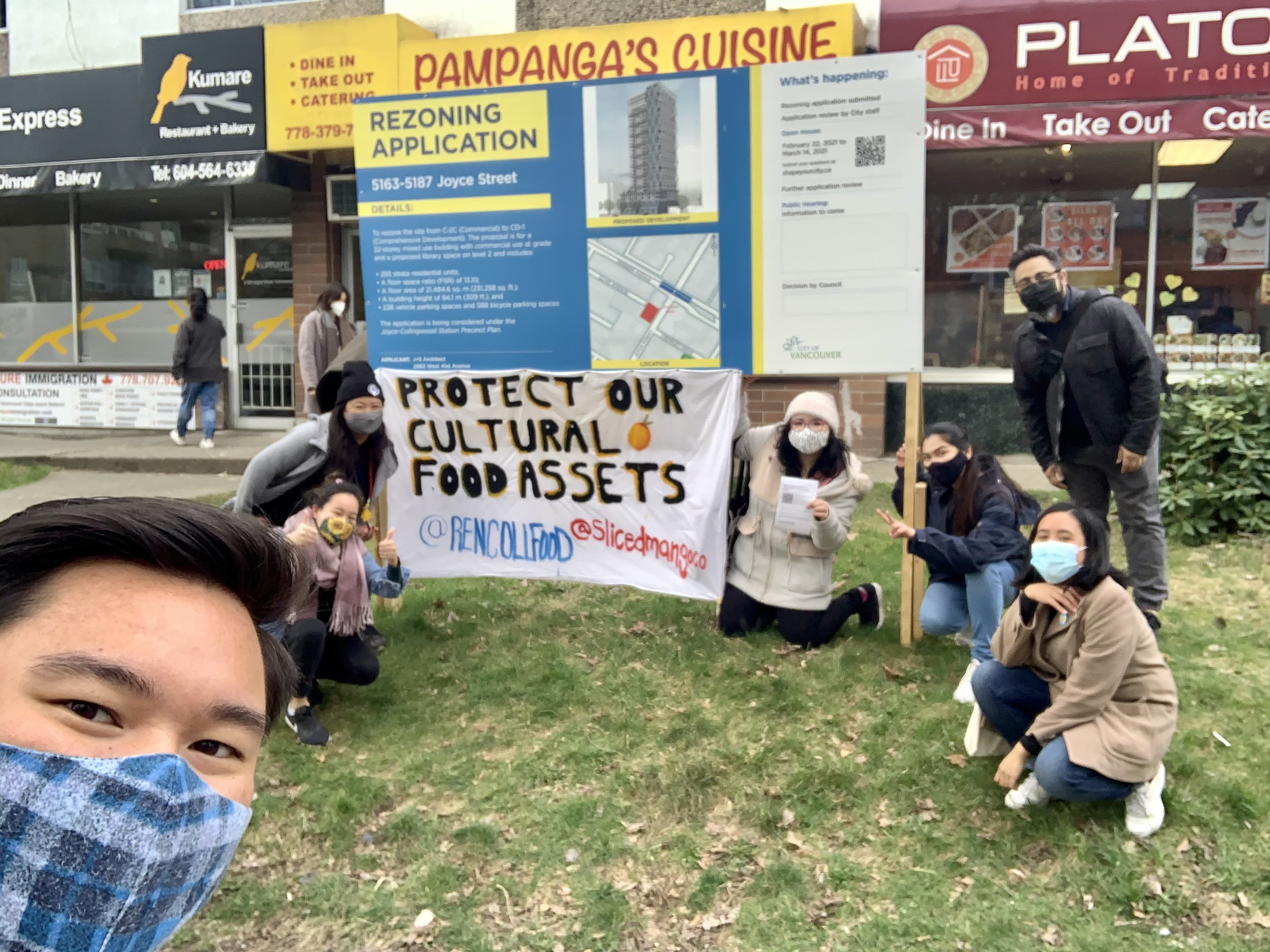 Photo by #SliceofSupport supporter James Infante.
The proposed project would include a 32-storey market condo tower with large retail space below that would be divided into two units where the small businesses are located.
"The development would displace these businesses. There are restaurants that people go to after church and be together in community. It's a cultural food hub. Lots of Filipino people live in the area and for those who don't, you can just take the Skytrain," says Jocelle Refol, member of the Sliced Mango Collective. "In Vancouver, [the Filipinx community] is split up. We don't have a lot of space to gather. This place at Joyce is familiar; people know it exists."
City didn't consult the community on proposal
But the Collective was frustrated because they felt their community wasn't properly consulted. Jocelle explains that many of the resources about the project were either offered in English or poorly translated. There were insufficient opportunities for the community to understand and weigh in on the future of their neighbourhood.
Groups like the Tulayan Filipino Diaspora Society, Renfrew-Collingwood Food Justice and Vancouver Tenants Union, formed a coalition with Sliced Mango Collective, building on the organizers' existing relationships. This collaboration helped mobilize the campaign quickly by drawing on every group's expertise in organizing and advocacy.
With the support of these groups, the Collective created the #SliceofSupport toolkit in English, Tagalog, and Chinese for people to learn more about the project, how it will affect the neighbourhood, and ways to support the community.
What's next for Sliced Mango Collective
The city's consultation phase for the development has ended. Now, the Collective, along with other members of the coalition, wait for the public hearing as their next opportunity to voice their concerns to the city.
Together, they're advocating for:
the protection of the Filipinx community's cultural resources and assets such as these businesses
more affordable housing in the Joyce-Collingwood neighbourhood
the protection of renters from evictions as a result of the redevelopment.
Ultimately, they're seeking to amplify the community's needs and voices to those who hold decision-making power.
"This could happen again because the structure that's in place isn't meant to be accessible. It's important for all communities to come together to address development projects but the bigger issue is advocating for more equitable systems that include intentionally listening to community," says Jocelle. "Working across community is better for the long run and creates more lasting change. We can't do this for every development, but we can continue pushing for bigger change."
–
*"Filipinx" (pronounced "filipin-ex") is a gender-neutral way to describe a person of Philippine descent. It is intended to include trans and non-binary identities.