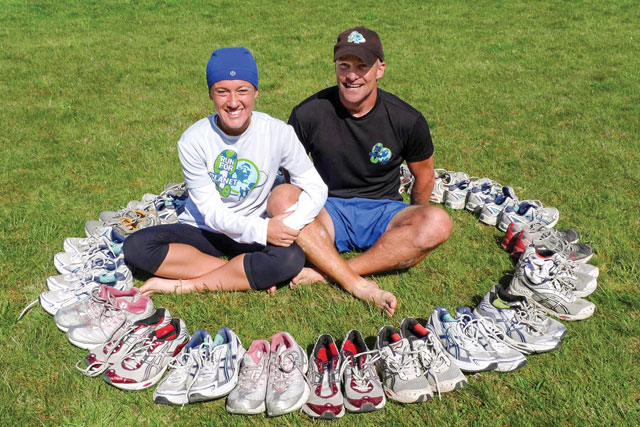 Small Steps, Big Goal
Matt Hill and Stephanie Tait reflect on their Run for One Planet, and what it means today
Ten years ago, Matt Hill and Stephanie Tait laced up their sneakers and left Vancouver to run a marathon. The next day they ran another, and then another – and about a year later they had completed 369. Over the Rockies, through the Maritimes, across Louisiana's bayous and stretches of the Arizona desert, they ran a total of more than 17,700 kilometers. A few times a week, they stopped at elementary schools for rallies with students. "There were a million reasons that it wouldn't work out," says Tait, "but when you're in the moment, you just sort of do it."
The idea was initially sparked back in 1980, when Hill was 10 years old, and he watched on television as Terry Fox struggled to complete his Marathon of Hope. It had a profound impact on Hill, eventually inspiring him to devote himself to a similar adventure that could inspire positive change.
But it would be many years before his own epic run. After finishing high school in Tsawwassen, Hill launched into a film career, appearing alongside Jackie Chan in Shanghai Knights, as well as in Steven Spielberg's Taken. Later he played the character of Raphael in Teenage Mutant Ninja Turtles III and then many roles as a voiceover artist. Throughout his career in television and film he retained a deep passion for endurance sports, completing eight Ironman triathlons. In 2006, he met Tait, a motivational speaker and business coach who had also grown up in Tsawwassen. The two shared a passion for running – a bond that would be key in the years to come.
It's all about empowering youth to believe in their dream, to believe it's achievable.
Flying to Detroit in 2006 to attend a fan expo, Hill was struck by the immensity of the landscape below him. He began thinking about running across North America. Eight months after connecting, he and Tait decided that they would do it. "We definitely set our goals high," says Hill. "We wanted to inspire the whole continent."
The pair founded Run for One Planet (R41P) and set to work organizing the run. Hill had a deep interest in environmentalism and in working with youth, so the pair settled on those two themes for their journey. Nine months of planning followed, and they retrofitted an old RV with a worm composter and solar panels. Then, with the support of family and friends, they hit the road. On May 4, 2008 they set off east along the Trans-Canada Highway. Accompanied by a small crew, they ran together each day, clocking at least a full marathon. There were two early goals: to inspire school children to be more proactive environmental citizens, and to show them that through small steps, they could achieve a larger goal.
It would be a trying 369 days. They followed a route through the Rockies, across the prairies and into northern Ontario before crossing through to the Maritimes and Newfoundland. Then they traced their way down the east coast of the U.S. and across to California, before turning northward for their final stretch back to Vancouver. They would run an estimated 22 million steps and speak to 30,000 kids in more than 240 schools across the continent.
Their travels offered them a perspective of two countries in a time of great tumult: the financial crisis of 2008. "Little did we know that we were entering the worst economy since the Great Depression," says Hill, describing the high number of property foreclosures in the neighbourhoods they passed through. They could see the effects in the schools they visited, and they resolved to remain positive. "We focused on what we could control," says Hill. "We could keep running a marathon every day, and we could keep reaching out to people."
There were also more immediate problems. "We faced challenges every step of the way," says Hill. "If we had an encounter with a wild animal, our attitude was to just take the next step and find a way. If the RV broke down, we just had to take the next step and find a way." They saw their journey as a metaphor for life.
The tour eventually raised $120,000 for the Run for One Planet Legacy Fund that they created at Vancouver Foundation, with a long-term goal to raise $1 million. Today the fund provides grants to small grassroots initiatives, like schoolyard gardens, local fruit orchards, solar projects and bike programs for children – endeavours that build on their theme of small steps.
Their run continues to echo in their lives. Tait, who now lives in Toronto and welcomed her first child in August 2017, continues her involvement in the assessment of grant applicants. Hill still lives in B.C. and serves as spokesperson for the Run for One Planet Legacy, speaking to companies and organizations as well as at youth leadership conferences and schools. "It's all about empowering youth to believe in their dream," he says. "To believe it's achievable."
Story By: Jacob Perry
A Donor Advised Fund at Vancouver Foundation is an excellent way to provide long-term support for your favourite charities. For more information, call Kristin in Donor Services at 604-629-5186 or visit vancouverfoundation.ca/give.
Read the latest edition of our magazine – – The Gifts of Inclusion