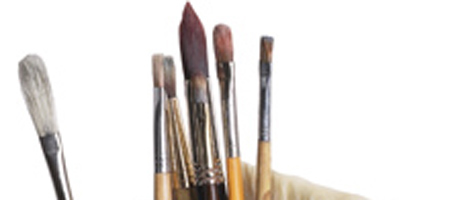 The art of planned giving
Life is brighter around some people. Things seem more interesting, more colourful when you are near them. It's as if these people radiate enthusiasm; their zest for life spills over and suddenly you become more acutely aware of the clouds … the delicate colour and beauty of a flower… the delightful smell as you walk past a bakery and, uncharacteristically, immediately drop in for croissant and coffee. With some people, you find yourself overwhelmed by the friendly enthusiasm of the moment, carried along by the flood of their fervour.
The French have an expression for this — joie de vivre — a feeling of healthy and exuberant enjoyment of life. The people who have this are rare, and it's a gift to be around them. Life-affirming. E.J. is one of these people.
With her shock of white hair, fashionably cut, yet tousled, E.J. seems both in vogue and beyond trends. She loves jazz and art, speaks rapturously (and with no small knowledge) about Oscar and Ella, and the work of local visual artists.
She makes an art of the tangent ― her conversation is unpredictable ― you never know where it will go. You might start with the view ― a tangled nest of boats in False Creek, her beloved Granville Island framed by mountains in the distance. "I never tire of this vista…. it's somehow renewing." And then it veers off in another interesting direction.
But the subject will always come back to something artistic ― theatre, dance, music, painting. She is passionate about the arts, and education. She has loved the arts since childhood. And after a career in teaching, is determined to make sure that others have the chance to learn and appreciate the arts. Through Vancouver Foundation, E.J. recently began making her support more tangible.
"I grew up thinking that my family was poor. But because we were real penny-pinching people and worked hard, we ended up not poor. I learned about philanthropy from my father. He started to give away his money and I realized that's what people do."
My father was proud of the fact that he came to Canada with nothing and built a life here. I think he was very grateful to this country. Even though I was born here, I also feel that way. "So a few years ago I looked at what I had. I guess when I realized I could afford to give, I just started to."
"I feel I've been very lucky. It's been hard work as well, but I'm in a position now where I have enough. I'm not wealthy, but I have enough, and I've decided to share what I have with others."
She is going to do that through a carefully crafted program of legacy giving to various schools, and to Vancouver Foundation.
"I have endowed scholarships for the arts at SFU, UBC and Emily Carr. I give to Langara through Vancouver Foundation. And I used the Foundation's Book of Opportunities to donate to a project performed at the Vancouver East Cultural Centre. The Book is better than any shopping catalogue," she says. "It's a very good idea."
(The Book of Opportunities is a collection of innovative community projects that are seeking support. Put together by the Foundation, it gives donors access to hundreds of pre-screened community proposals they might otherwise never hear about.)
E.J.'s association with the Foundation has been positive, and she is modifying her will. "Over the years, I've realized that the Foundation manages donated money very prudently. There's also a transparency that has created a comfort level and confidence for me. I really like the way they're so accessible. You can talk to them. They listen. I can allocate according to my wishes. That to me is the easiest way of writing out a will. You don't have to go to your lawyer every time you change or add another charity."
She stops the conversation with a delighted explosion. "Look at this." She bends to hold a brightly coloured flower at the edge of the seawall, as if it were a masterpiece. "It's amazing. Look at that colour!"
"There's a lot to be said for getting older," she muses. "I do like to smell the roses. It's wonderful."
E.J.'s enthusiasm and her planned gift to Vancouver Foundation will ensure that students for many years to come can experience the moment, and create art for the community to enjoy. That's a legacy worth planning for.
*        *        *
If you want to discuss the many options available for legacy giving, contact Vancouver Foundation's Donor Services at 604-688-2204.