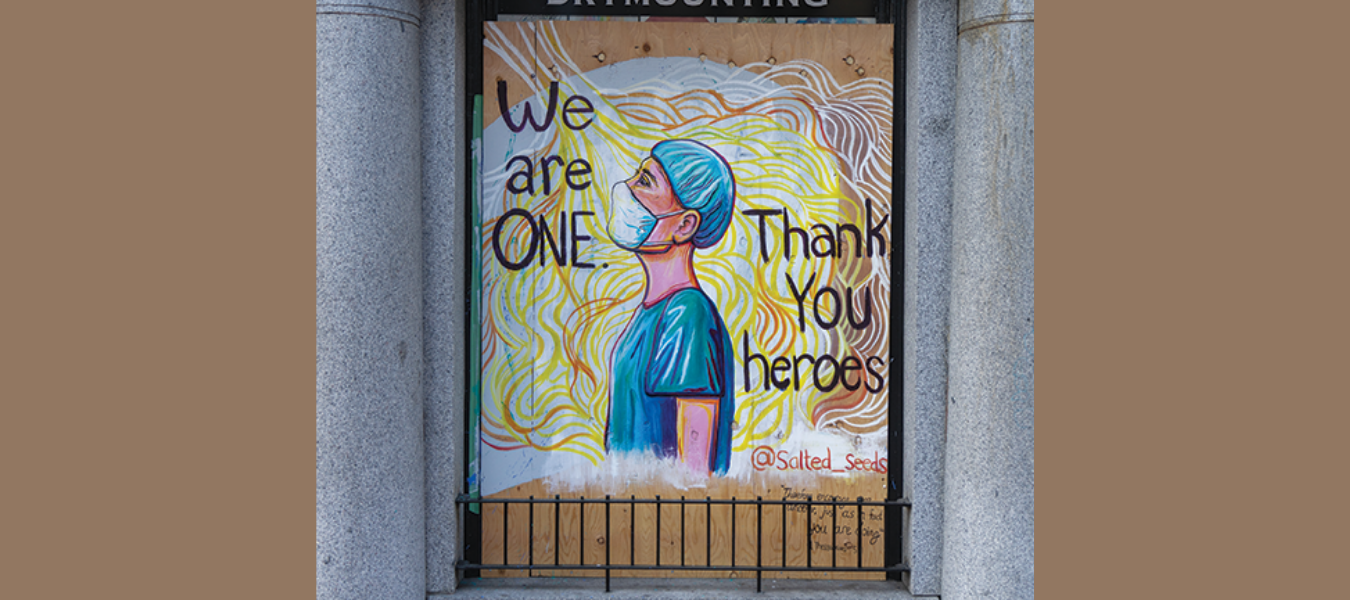 The Start of the Community Response Fund
In just a week, we launched an essential source of pandemic relief for charities
Photo: We Are One is a mural in Gastown by artist Marina Ross. Courtesy of Joel Schat.
Written by Stacey McLachlan
When our leadership team gathered in President and CEO Kevin McCort's office on March 16, we had no idea it would be their last time in the same room. The executives had exchanged increasingly alarmed emails all weekend: Dr. Bonnie Henry just announced BC's 73rd case of COVID-19. What exactly would — or should — come next?
As a community foundation, the team's thoughts turned to how non-profits would make it. "We've got a specific mandate to support the community," says Dara Parker, vice-president of grants and community initiatives. "We asked ourselves: How can we do this best in a time of deep need?" We knew we had to get money out into the community — fast. "We didn't know what shape or form, but we knew it had to come together quickly," says Craig Hikida, vice-president of donor services.
We quickly allocated a million dollars to seed some sort of aid, but if we were going to pull this off, we'd need help: partners. Big partners. So McCort picked up the phone. In a matter of days, Vancity committed a million more, United Way of the Lower Mainland chipped in $500,000, and the City of Vancouver was eagerly contributing knowledge and charity resources. Meanwhile, Parker's team was pulling together a granting model and recruiting advisors to help determine where the need was greatest. The finance team was "shaking the couch cushions," re-purposing funds from other initiatives. Long-time donors unlocked hundreds of thousands of dollars from their funds at Vancouver Foundation.
As staff transitioned to working from home, their hustle continued. By the end of the week, we performed a veritable miracle: cutting the first cheque from the brand-new Community Response Fund (CRF).
A new application process allowed for nimbleness: just two simple questions and contact information. A typical grant cycle usually takes six months to a year. But in response to the pandemic, $19.2 million was distributed in three months. "It was like building a bike while riding it," says Parker. With a rolling deadline, the team immediately started making decisions with community advisors from across the province, who were adjudicating two or three times a week.
The CRF supported everything from health and social services, to arts and culture, offering necessary coverage between the early days of the pandemic and government relief. "We launched before rent relief, we launched before CERB," says McCort. "We have no illusion that we're replacing public support, but we did get to provide an essential bridge."
The pandemic isn't over, but the initial panic has eased. "We can't stem the global crisis. But we can show folks we have their back," says Parker. "We're an enduring institution, we will be here even in times of crisis. We're in this together."
The CRF is no longer accepting donations. If you would like to support our work in responding to pressing community needs, please donate to our Community Impact Fund. Thank you.