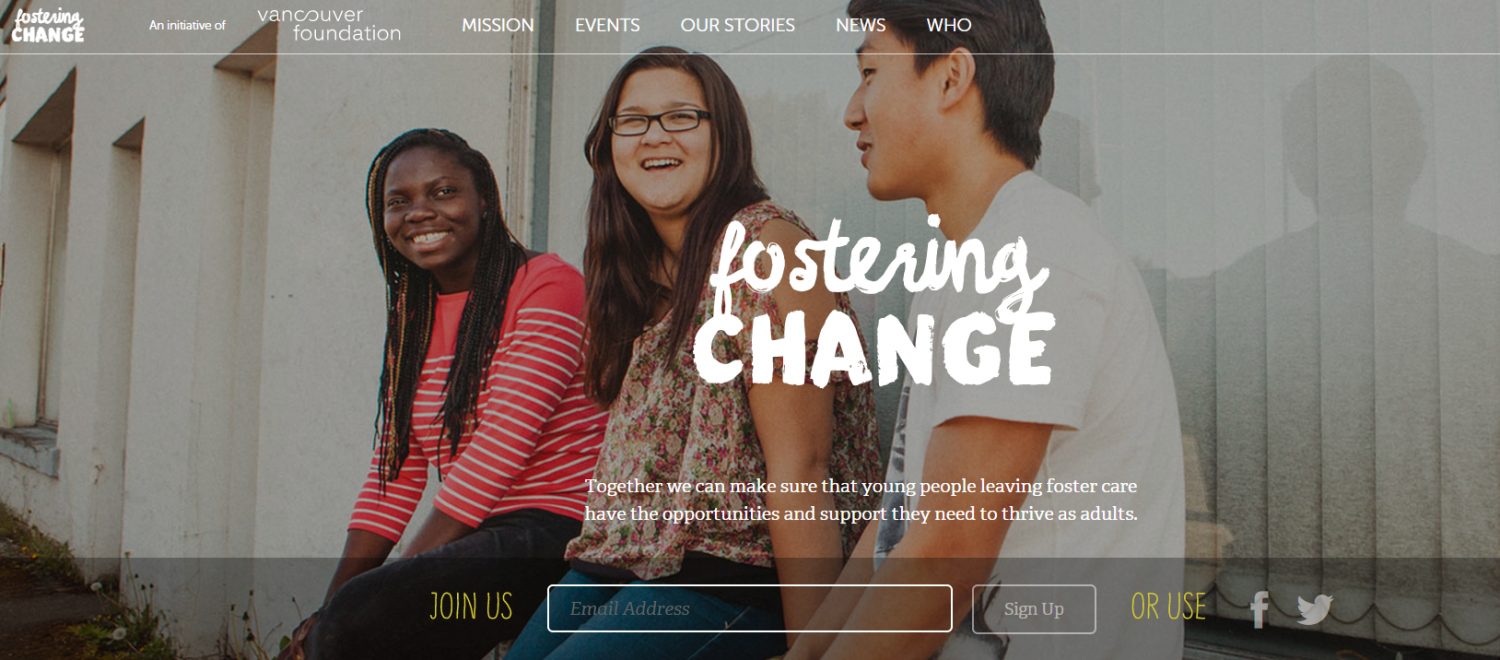 Vancouver Foundation launches 'Fostering Change' initiative to support young people leaving foster care at age 19
Vancouver Foundation Launches Fostering Change Website
We are extremely proud to launch www.fosteringchange.ca today – a website to support our vision that young people leaving foster care have the opportunities and support needed to thrive as adults. But how did we get here? Find out more about why we are taking this path, and how you can get involved.
The Challenge
This year in British Columbia, 700 youth in foster care will be cut off from housing, services, care-givers, and the people in their lives when they turn 19[1]. It is no coincidence that over 40% of homeless youth have been part of the child welfare system including adoption and foster care [2]. Together with a growing community of partners and allies, Vancouver Foundation aims to raise awareness and find new ways to prevent this from happening.
How Vancouver Foundation can help
Since 2008, Vancouver Foundation has made grants of over $5.9 million to organizations that provide services and support for homeless youth. However, research and evaluation showed there was more the Foundation could do to prevent homelessness from occurring in the first place.
Fostering Change will address this through improving policy, practice and community connections for young people transitioning from foster care to adulthood. The initiative will invest time, leadership, and community grants to organizations already working in the field. In addition, the initiative will engage young people to participate in decision-making, strengthening the capacity of community services and partnerships, creating new knowledge, and increasing the public will for change.
"We have a collective responsibility to support young people leaving foster care on their journey to adulthood," – Vancouver Foundation President & CEO Kevin McCort.
Our research shows that more than 80% of families in BC with kids ages 19-28 provide financial and material support for their children," says McCort. "Young people from foster care deserve the same support as everyone else, and Fostering Change is one way Vancouver Foundation can help make this happen," he adds.
How you can help
Sign up at www.fosteringchange.ca to become part of a vibrant community working together to support young people leaving foster care. You will hear stories from young people and support organizations, be invited to events, receive news and research updates, and be asked to help create the next steps of the initiative.
For more information on Fostering Change, and to join in, visit www.fosteringchange.ca
[1] Ministry of Children & Family Development, Performance Management Report, Volume 4 (2014). http://www.mcf.gov.bc.ca/about_us/pdf/mcfd_pmr_2013_14.pdf