'What Does Open Mean?' an Idea Jam with our Staff
Our second post in a series on Working Openly at Vancouver Foundation
Welcome to our second blog post in a series designed to share our highlights (and some of our challenges) as we move closer to defining our Open Licensing Policy, due to launch in January 2017.
As we mentioned before, we are engaging in multiple stakeholder meetings with staff, advisory committee members, grantees, our Board of Directors and the public for ideas, support and feedback as we shape our policy.
One of our first forays into 'What does 'open' really mean?' took place at Vancouver Foundation in the form of a lunchtime Idea Jam for staff members, not all of whom had a clear idea on this themselves!
We began the Idea Jam by providing a little background and context for where we are in our development process. For more information on how we got to here, please read 'Open Policies Unlock Our Full Potential' and 'Why We're Working Openly on our Open Licensing Policy'.
How did we get started?
We began by explaining that the specifics of our open content policy are not fully decided yet.  We know that we want sharing to be the default choice for products produced by our Field of Interest grantees, but we want to protect the rights of our grantees to earn revenue or access funding from other sources. We also want any changes we make to our granting cycles to fit within current granting processes, not to add another layer of administrative burden to our staff and our grantees alike.
With all that in mind, we asked 13 staff members to dig into their lunches and into what we *think* we know about our newest initiative.
Our underlying motivation was to discover what kinds of words, ideas and concepts around the idea of 'sharing' resonate most with people who aren't that familiar with the Creative Commons or what 'open licensing' is.

What was our process?
Facilitator Trina Isakson divided up staff into two-person groups and asked them to explain at a very high level, "What's going on with Vancouver Foundation and open licensing?" The groups were switched up again and again until the answers got shorter and clearer over the course of the hour.
The opportunity and challenge of being asked to listen, learn, and pitch new ways to understand and explain open licensing to each other gave us a huge working library of ideas, language and concepts that most resonated with staff – who are our best possible champions of this key initiative going forward.
Each staff member had the chance to share back what were the most clear and articulate examples they would choose to use, should they find themselves explaining to people in the community what we mean by open licensing, and more so, what are the benefits of such a choice?
What did we learn?
Calling our work an 'open licensing initiative' focused the attention on the licenses, and not necessarily on our overall goals for making this choice
When we talked to each other about 'why sharing is good for everyone' the storytelling became much easier for everyone – getting tripped up in the details tended to add to confusion
Terms like 'creative commons' and 'open licenses' weren't very familiar to staff, but terms like 'community knowledge' and 'knowledge sharing' resonated as terms most foundations would understand and approve of
Positive language such as 'benefits' 'learning' 'sharing' and 'impact' resonated strongly, and negative sentiment language such as 'competition', 'paywall', 'oversharing' and 'plagiarism' emerged, which we have encountered again in later stakeholder sessions.
The main takeaway from our first session was that the better we could tailor the language we use to explain and promote the open licensing policy by using language and phrasing that Foundations are familiar with, the easier it will be to build a policy that synchronises smoothly with our work, as opposed to feeling like an abstract concept or technical overlay to the work we already do to support great ideas created by and for British Columbians.
We will be using what we've learned in this first session with staff to help us shape clearer and more compelling communication materials about our plans.
What's next?
Throughout our development process we will continue to host monthly 'lunch and learns' with staff, where we explore theoretical and practical ideas such as a 'How to add a CC-BY license to my awesome thing!' workshop, and 'What really could go wrong/What could go right?' to explore possible unintended consequences of our new policy.
For now, please enjoy the word cloud developed at our first Idea Jam.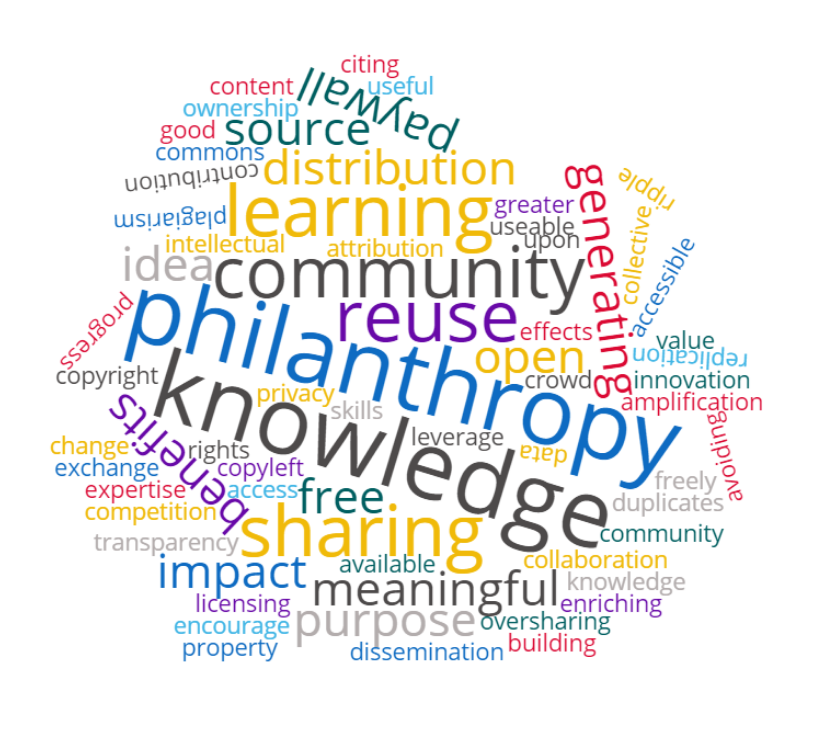 "CC Wordcloud" by Vancouver Foundation is licensed under CC BY 4.0
We have licensed our word-creation on Flickr with a CC-BY license – meaning anyone can now use it if they wish, they simply need to tell people Vancouver Foundation made it. Click here to read about how to share your own work.
Get Involved!
Join our Open Licensing mailing list to read each upcoming blog post & to share your thoughts on our process:
Join our Open Licensing mailing list!
Rebeccah Mullen joined Vancouver Foundation via Mozilla Foundation and has a passion for all things 'open'. She will be blogging on behalf of Vancouver Foundation as project lead for 2017's Open Licensing Policy Implementation.
Trina Isakson is an independent strategist, researcher, and facilitator with a focus on the future of the nonprofit sector, and a convener for nonprofit sector leaders in BC interested in open data. She will be leading overall project strategy and planning, as well as facilitating stakeholder engagement sessions.
Have a question? We'd love to hear from you!
Connect with us at: communications@vancouverfoundation.ca
Read our entire series on 'Working Open' in our Open Licensing Policy