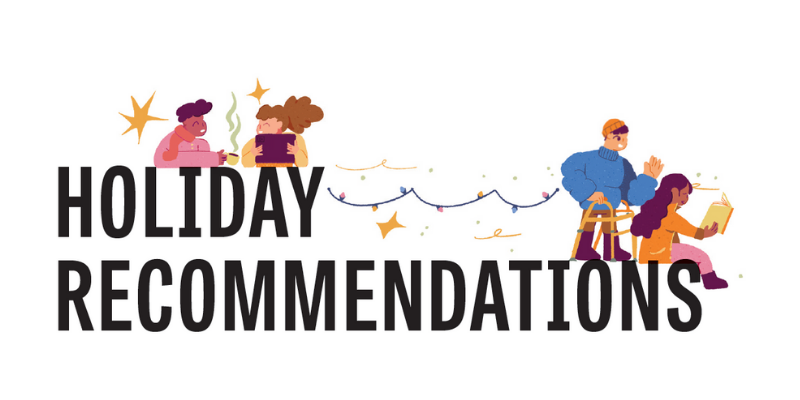 What to Read, Watch and Play This Holiday Season
Whether you've got a full holiday break or a couple of quiet hours to yourself during the seasonal rush, find inspiration or insight from these powerful books, games, and films:
Braiding Sweetgrass
By Robin Wall Kimmerer (Milkweed Publishing, 2013)
In 2013, Kimmerer — a trained botanist and member of the Citizen Potawatomi Nation — brought her story of reciprocity and giving to the world, interweaving reflections from her life as an Indigenous scientist and woman. In a new, beautifully illustrated, reissued, hardcover edition, her argument for awakening our ecological consciousness is more powerful than ever.
Crip Camp
On Netflix
The award-winning 2020 film documentary (executive producers Michelle and Barack Obama) celebrates the origins of the disability revolution, tracing the movement from its humble origins at a Woodstock-era summer camp for disabled teens to the captivating, chaotic fight for change in Washington, DC.
The Marrow Thieves
By Cherie Dimaline (Cormorant Books, Inc., 2017)
Though Métis writer Dimaline's latest novel is technically young-adult fare, the dystopian fantasy story offers a timely, captivating read for adult fiction fans, too. The Marrow Thieves tackles heavy subject matter — colonialism, residential schools, global warming — to weave a cautionary tale that readers of all ages ought to experience.
Spirit Island
At your local game store (Greater Than Games, 2017)
While many other board games put the player in the role of the colonizer, game designer Eric Reuss offers a clever twist: In his cooperative strategy game, players take on the role of a spirit to drive Invaders off of their island.
Decolonizing Wealth: Indigenous Wisdom to Heal Divides and Restore Balance
By Edgar Villanueva (Berrett-Koehler Publishers, 2018)
A fascinating guide to unpacking and grieving our relationship with wealth, giving, and charity. In its second edition, the book digs deeper into the colonial and racist dynamics in the one-trillion dollar philanthropic industry — and how altruism can have a dark side.
There's Something in the Water: Environmental Racism in Indigenous and Black Communities
Book by Ingrid Waldron (Fernwood Publishing, 2018), Documentary on Netflix
Netflix documentary directed by Elli