You are here
Act of Faith
Shazia Suleman and her Muslim friends decided to talk to their neighbours about the hijab—and they were overwhelmed by the response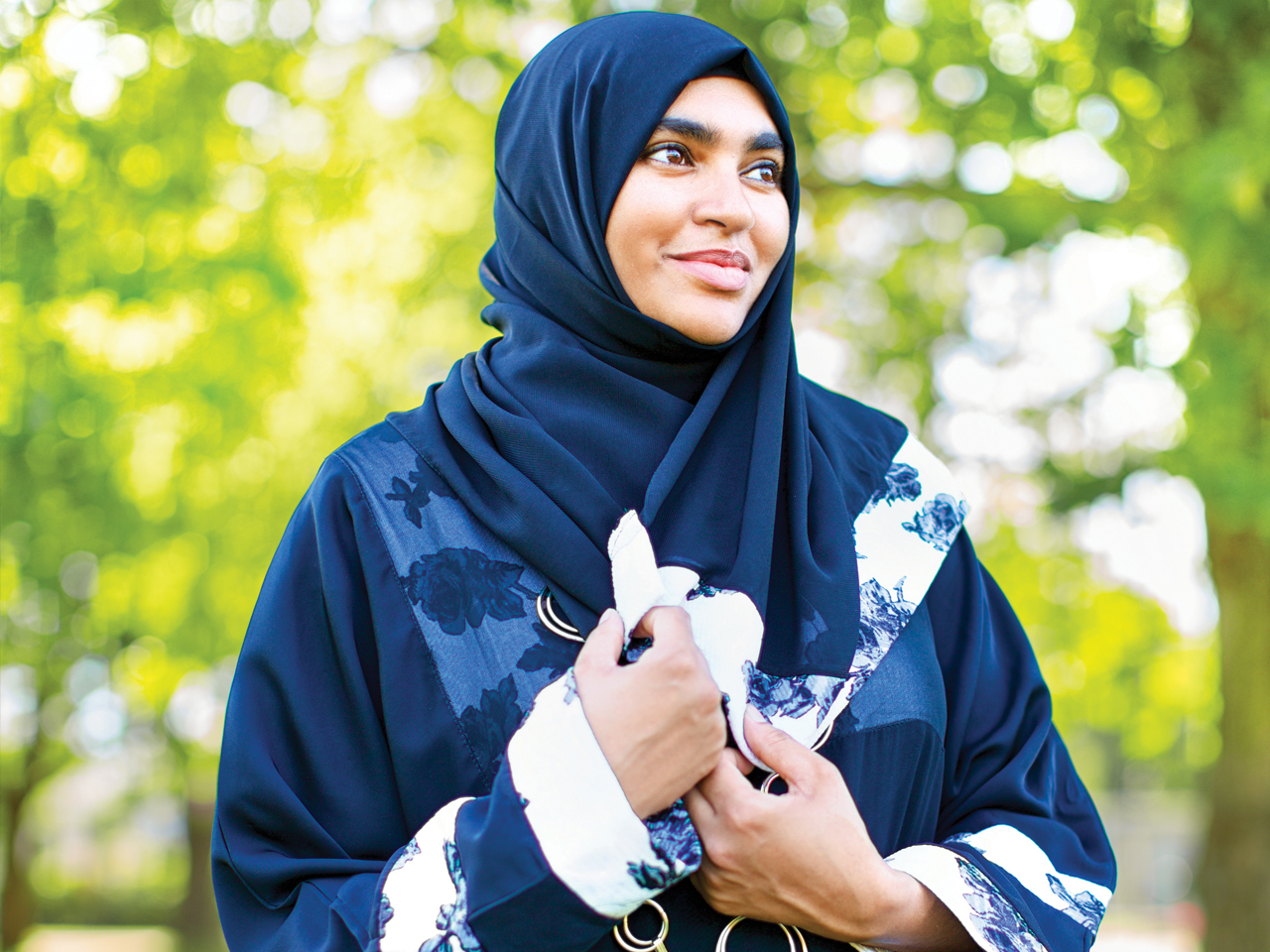 One day soon after the November 2015 terrorist attack in Paris, Shazia Suleman was walking home from a neighbourhood park with her two young children when a man started yelling at her. "Go back to your country! Go back to your country!"
"He's right behind us and yelling," she says, recalling how she and her children hurried to cross a street in Victoria's Hillside Quadra neighbourhood. "I was feeling really scared. I was afraid for my children. For the first time in my life I felt unsafe because of the way I dressed."
Suleman was wearing a hijab, the head covering that many Muslim women wear. But instead of retreating in fear or getting angry that no one else on the street that day intervened on her behalf, Suleman decided that she should do something to make a difference. Acknowledging that non-Muslims can find women dressed in hijab intimidating, she says matter-of-factly, "We can't blame the people if we're not doing anything about it."
Around the same time, another member of Suleman's Muslim community saw a poster advertising Neighbourhood Small Grants, a program offered by Vancouver Foundation in partnership with the Victoria Community Foundation. "I told myself, 'this could be it,'" Suleman recalls. "This could be our way of expressing ourselves. We were so excited about it."
Suleman's idea, developed with other local Muslim women, was to organize an event that would educate their non-Muslim neighbours about the hijab and why women wear it. She applied for and received a Neighbourhood Small Grant for $500.
"For me it is a way to express myself as a Muslim woman."

- Shazia Suleman
Hijab Awareness Day was the result. Prior to the event, Suleman's group put up posters around the neighbourhood, alerted media and created a short film from interviews in which they asked people on the street what they knew about the hijab. The event itself, held in January 2016, was everything they hoped for. "Oh my goodness, it was over 200 attendees. Over 200," she says.
When people arrived at the local community centre that day they were given a hijab and invited to visit 10 stations where local Muslim women from countries as diverse as Bangladesh and Turkey explained how and why they wear it.
"By the end of the 10 stations, they realized all the women wear it for the same reason," says Suleman, explaining that it is a way to show their faith. "The only difference is how they wear it." Later that afternoon, 30 Muslim girls and young women modeled hijab fashions on a runway for a female-only audience.
"For me it is a way to express myself as a Muslim woman," says Suleman, who emigrated to Canada from Taiwan five years ago after completing a degree in chemical engineering. "I don't have to—if I'm uncomfortable in a situation—explain myself over and over."
Hijab Awareness Day is notable for another reason. It's the first time Vancouver Foundation has partnered with an organization outside metro Vancouver, in this case the Victoria Foundation, to co-fund a Neighbourhood Small Grants project and the first time the partner has contributed half the budget.
"It's an exciting milestone," says Lidia Kemeny, Director of Grants and Community Initiatives for Vancouver Foundation, of the new co-funding model. "By engaging partners to co-fund their Neighbourhood Small Grants programs, we'll be able to expand to more communities across BC. This partnership is the beginning of a grant-making movement across the province."
Neighbourhood Small Grants was created in 1999 to address specific needs in Vancouver's Downtown Eastside and has grown organically since then, with people in other communities wanting to see their own neighbourhoods more engaged and strengthened from the ground up. In 2015, Vancouver Foundation received over a thousand applications and 974 projects were supported in partnership with 18 community organizations.
With Hijab Awareness Day behind them, Suleman and her group are keen to engage more with their non-Muslim neighbours. They've already applied for and received approval for another Neighbourhood Small Grant, this one to help organize an event for youth called Unity in Diversity. "It's open to all youth from every single background," she explains, as enthusiastic as ever.
| | |
| --- | --- |
| Story By: | Susanne Morphet |
| Photo By: | Nik West |