You are here
Against all odds
Youth Philanthropy Council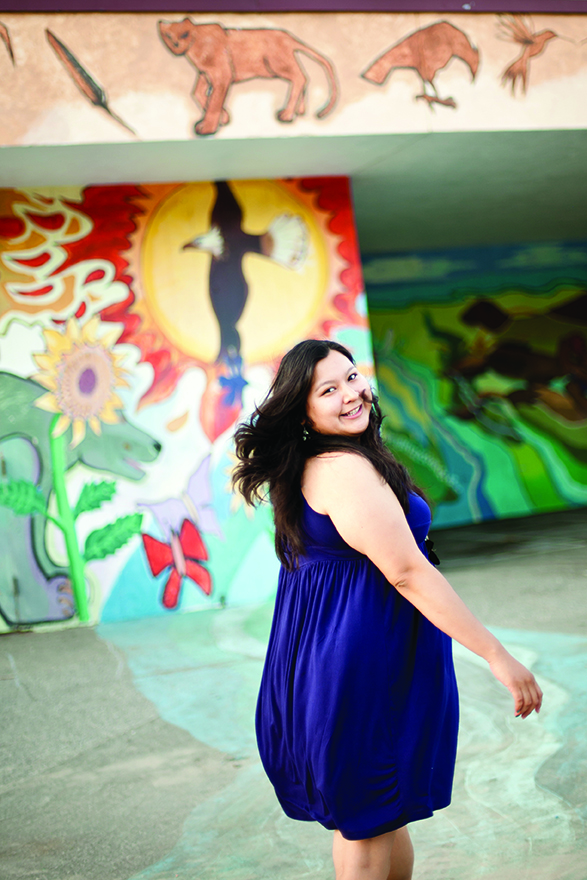 It's hard to believe that Cia Ramirez is 23 years old, much less the mother of a seven-year-old girl. With her wide, cherub face, warm eyes and infectious giggle, Ramirez could easily be mistaken for a high school student.
"My mom is Cree, from Saskatchewan and my dad was Mayan, from Guatemala," she says proudly when asked to explain her last name. "I am a true, full aboriginal."
Ramirez is one of those miracles; someone who, against all odds, has not only survived, but excelled. Someone who mixes passion with compassion.
She volunteers with Vancouver Foundation. As a member of the Foundation's Youth Philanthropy Council (YPC) – an advisory committee of young people – she helps review and recommend which youth-focused projects should receive a grant.
Last spring, she sat on the Generation Green Awards jury and helped select the winning youth ideas to green Vancouver's neighbourhoods (see pages 24-25). She even spoke on behalf of the jury at an event where Mayor Gregor Robertson unveiled the winning projects.
And in 2008, Ramirez was presented the Youth Leadership Award of Excellence by B.C.'s Representative for Children and Youth. The award recognizes people and organizations for their efforts benefiting children and youth around B.C.
Ramirez's journey has not been easy. The odds have always been stacked against her.
"My mother was in residential school on the reserve in Saskatchewan," she explains.
The experience had a devastating effect on her mother and consequently on Cia and her five older siblings. It one point, her mother struggled with drug addiction. Home life was chaotic. Moving was common and money was scarce. Her father even robbed a bank to buy groceries for the family and ended up being deported.
Ramirez remembers that last day with her father as though it were yesterday, "He was eating pumpkin pie and told me he was leaving. He promised that one day he would come and find me. That was Thanksgiving Day, 1994. I haven't seen him since."
Ramirez is matter-of-fact about the ups and downs of her life. Only when she talks about her experience in school does her cheerful demeanor melt away. "I had a hard time in school. I was aboriginal. I was also dyslexic," she recalls and starts to fidget with her hands.
The bitter taste of some memories never fades. Ramirez describes an incident in a Vancouver elementary school where she was the only aboriginal child in her class.
"I remember I was in Grade 2, and on Valentine's Day all the other kids got Valentine cards from each other. But no one gave me a card. And nobody wanted the cards I made for them."
The tears begin to flow down her soft, round cheeks. "Even though I was in Grade 2, I was forced to play with the kindergarten kids because no one my age would play with me."
She moved from school to school. It wasn't until Ramirez switched to Grandview Elementary, off Commercial Drive in Vancouver, that she started to feel comfortable. With a large urban aboriginal population and activities geared to incorporate aboriginal culture, the inner city school slowly helped her build confidence. She no longer felt alone. She had a community to support her.
Today, Ramirez sends her daughter, Tikiya, to Grandview Elementary and has made education a priority for her child.
"Since I didn't do well in school, I am happy my daughter loves school. I feel proud about that. She even likes math! I sent her to summer school."
Ramirez not only has ambitions for her daughter, she has dreams for herself. "One idea is to work in health care or education, with youth and children."
Her volunteering with the Foundation is part of her desire to gain experience and understand the needs of the community. She is one of two aboriginal youth on YPC; the other is her sister-in-law Kim Webster.
"Kim has been a big influence in my life," Ramirez says with a big smile. "She is the one who got me into volunteering in the first place. I love her."
Day by day, meeting by meeting, Ramirez is gaining confidence in her abilities and in her voice. At the Foundation, she asks tough questions of those applying for grants. And speaks her mind if she doesn't think a grant request is worthy of support. Her biggest dream? "I want to be mayor one day." When she is ready for that, Ramirez will certainly have our vote. VF