You are here
Beauty Night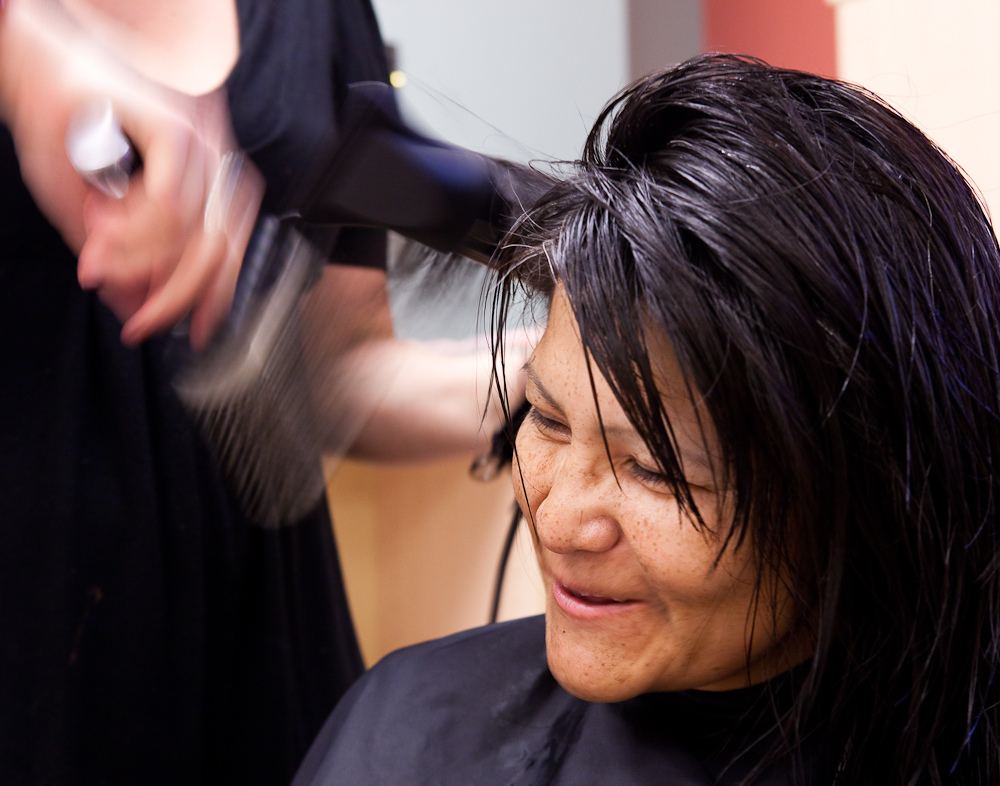 It's a warm August evening in the Downtown Eastside, and a community room at the Portland Hotel Society is filled with women being pampered with haircuts, manicures, massages, makeup applications and facial scrubs. In the middle of it all, Cherryse Kaiser is finishing up a reiki treatment. She's as luminescent as the cherry red tights, orange polka-dotted blouse and bright pink flip-flops she wears.
She wasn't always that way, though. Growing up in a conservative Christian family in Southern Alberta, Kaiser was born male but always felt she was destined to be a woman. It wasn't until she began attending Beauty Night two years ago that she was able to fulfil her enduring dream of being accepted as a woman.
"I came to realize that beauty is not skin deep. It goes right down to the core of your deepest inner soul. Right to who I am," she says. "I've had such a wondrous inner blossoming."
This is the healing power of Beauty Night Society, a non-profit that provides makeovers, life skills programming and fitness services to marginalized women. Its clients range from sex workers and seniors to women and children, along with a small percentage of transgendered women like Kaiser.
"What Beauty Night did for me is – every week – nurtured me in the most quiet, unspoken, no-pressure way, treating me special," she says softly. "For the first time in my life, socially, I fit. I've got a group of people I can relate to, and who finally give me the feedback that they relate to me. It's amazing."
Beauty Night Society is the brainchild of Caroline MacGillivray, who began the organization after an experience she had volunteering in the Downtown Eastside at the WISH Drop-in Centre.
A sex worker had arrived at the centre after a bad day, feeling downtrodden and upset. The woman was trying to curl her hair with a donated curling iron, but was having trouble, so MacGillivray offered to step in – and then had an unexpected revelation.
"It started feeling like the way it did when I'd go to a high school dance, or when you're getting ready to go out with your girlfriends," MacGillivray says. "Just that sense of camaraderie when you do each other's hair and makeup and then go out for a night on the town. All of a sudden it wasn't about the fact that I was terrible at doing her hair, it was more about the fact that we were just two individuals having a really good time."
After that, MacGillivray got so many requests from WISH clients for hairdos, she knew she was onto something. She canvassed hair stylists, beauticians and massage therapists to volunteer their time for an official Beauty Night in December 2000, which was attended by more than 70 women.
The non-profit blossomed from there by word of mouth. Downtown Eastside women told other agencies how great the program was and, before she knew it, MacGillivray was doing "makeover outreach" all over the city. Now, the program has expanded to Toronto and Victoria and includes a literacy component, fitness classes, artistic activities and a Christmas stocking drive in addition to makeovers. All of the programs are run entirely by more than 400 dedicated volunteers. In the last 10 years, they've given more than 11,000 makeovers.
Makeovers are a great method of reintroducing touch to women who have experienced violence, and they can make a huge difference to their health and self-esteem, says MacGillivray. "The power of touch – it blows me away to this day how important that is," she says. "Especially after hearing the women saying things like, 'People are touching me and they're not afraid to touch me,' or 'They are touching me and they don't want anything from me.'"
A Vancouver Foundation grant of $45,000, allocated over the next three years, will allow Beauty Night to hire a full-time co-ordinator to provide more support to women and ensure the organization grows in a sustainable way.
For Teresa Fosbrook, who has dealt with an alcohol addiction, Beauty Night is a welcome weekly reprieve, a pleasurable diversion from her troubles. "I come to Beauty Night because it's fun and it makes me forget about things," she says. "I usually feel better when I go home. It takes me away from some of my problems. It just makes me feel happier."
MacGillivray has seen many women walk out of the program with an improved attitude and become motivated to take better care of their health at home. "Being able to create an environment where [the women feel safe, where they feel good about who they are, I think that's really empowering," she says. "And when you feel good about yourself, you start believing anything is possible. To see people taking care of themselves, where they feel that they're worth taking care of, it's really exciting and very beautiful."
To find out more about Beauty Night, visit: www.beautynight.org
Click here to see the video on YouTube
To donate to this or other Vancouver Foundation-supported programs, contact Donor Services at 604-688-2204.