You are here
Beyond Bars
Students in the Inside-Out Prison Exchange Program discover the transforming power of education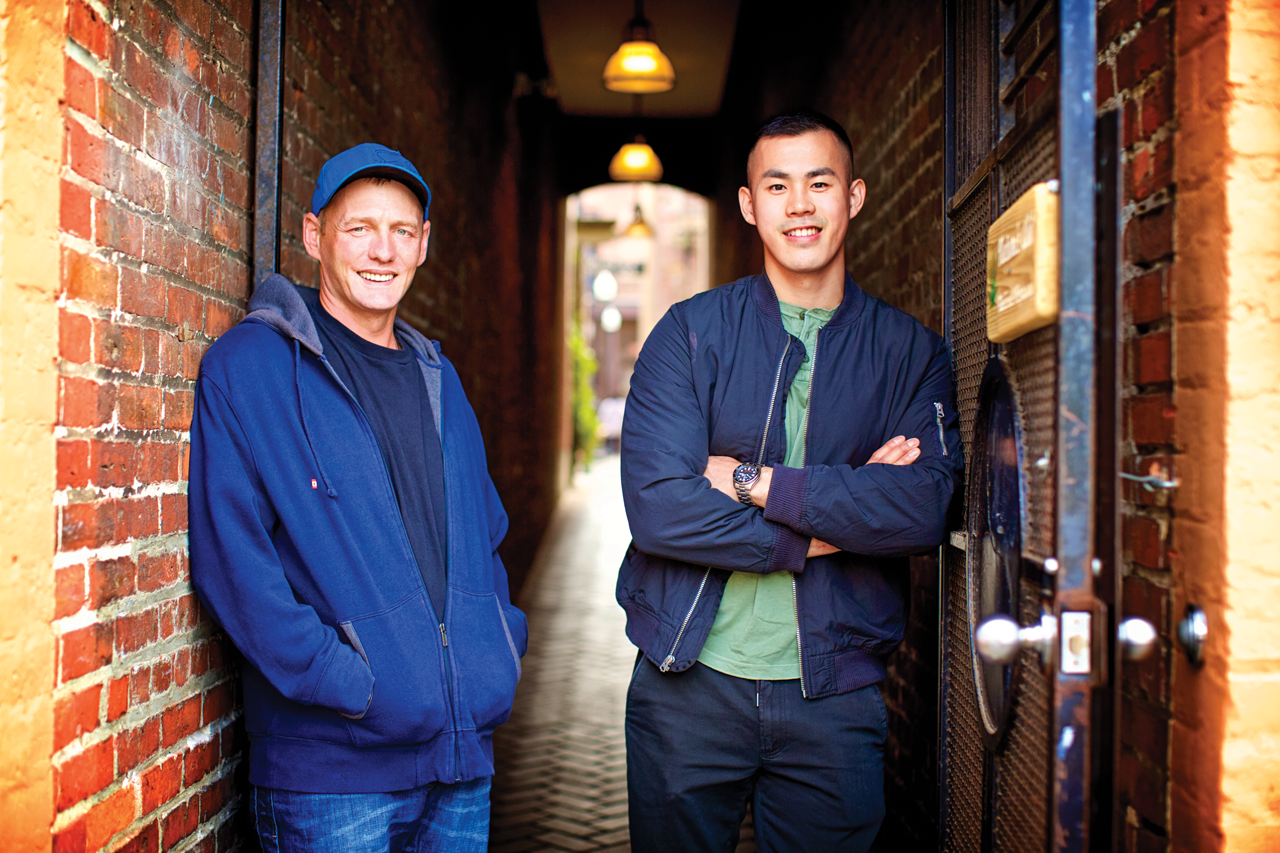 In January 2016, Kevin Wong was a 23-year-old criminology student who, inspired by cop movies, wanted to become a police officer. Ian Desrosier was a 41-year-old inmate at the Nanaimo Correctional Centre (NCC), nearing the end of his two-year sentence for breaking and entering. Both were nervous as they showed up for the first class of a unique course called Social Exclusion and Marginalization offered by Nanaimo's Vancouver Island University (VIU). Over four months of attending weekly classes, they both realized their lives had changed.
They were participants in the Inside-Out Prison Exchange Program, in which university students like Wong are Outside learners who study alongside imprisoned students, the Inside learners. The two groups met for three hours every Monday evening at the NCC, where everything from privilege and counter- culture to sexual orientation and masculinity were discussed in a setting where barriers disappeared and students became intellectual equals. "When you read about things like poverty, addiction and disabilities, you're desensitized. You don't care," Wong says. "After talking to guys like Ian, you learn about their struggles. You get more empathy, compassion. Ian has taught me a great deal about resilience over the short time that I've known him. He is someone who has been through a lot in life, yet he always seems to have a positive attitude, even in the darkest of times."
Their professor, Joanne Falvai, brought the innovative program to VIU. The Inside-Out Prison Exchange Program was developed in Philadelphia in 1997 by Lori Pompa, a Temple University criminal justice professor who spent time with a man serving a life sentence. She wanted post-secondary students and incarcerated men and women to learn from one another and work together as peers, not as groups divided by race, educational backgrounds or economic circumstances. Now, Inside-Out is offered by more than 140 American colleges and universities. Falvai heard about Inside- Out at a conference in Winnipeg in 2014, and was intrigued.
"After talking to guys like Ian, you learn about their struggles. You get more empathy, compassion." – Kevin Wong
For several years, she'd been taking her criminology students to Guthrie House Therapeutic Community program at the NCC. There, 40 male inmates get strong support to help conquer their addictions. Sitting in a circle of interaction, students and residents shed tears, inhibitions and misconceptions as the students got raw insight into the causes of addiction and crime. "The students would be so moved by their time there. It was the highlight of their degree," says Falvai, 41, who has been teaching criminology at VIU for 15 years. She saw Inside-Out as a way that she could expand the brief but impactful encounters her students experienced at Guthrie House.
Over three months, Falvai and fellow VIU criminal justice professor Elizabeth McLin developed curriculum that included group discussion, written reflections, activities and plenty of reading. By fall 2015, Falvai applied for a grant from Vancouver Foundation and was awarded $30,000 over three years, to fund the program's operating costs. Now, VIU is one of seven Canadian universities to offer the program.
Vancouver Foundation's support meant much to Falvai. As a criminologist, she frequently feels as though she's fighting an uphill battle because people can be quick to dismiss efforts to transform the lives of incarcerated men and women. She says the assistance from Vancouver Foundation sent the Inside students a new message: you are worthy, you can change your life. "The grant also made the Outside students feel validated because it meant that other people believed in what we were doing, that others also believed that transformation through education was possible."
On the first day of the class, both groups—15 Guthrie House students, and 16 VIU students—sat down together with an air of anticipation. "It was like a middle-school dance. The energy, the volume, just skyrocketed," Falvai recalls.
One of those Guthrie House students was Desrosier, who was born and raised in Ontario. From 1992 to 2002, he lived in the U.S. Then he moved to B.C., where he spent years in and out of jail for offenses including theft and breaking and entering, crimes that paid for his heroin and amphetamine use.
"I was in and out of addictions for a long time," he says. "I made poor choices. When I was arrested in 2015, I thought, I'm getting too old for this. I was sick of the life, where it was taking me." Also contributing to Derosier's decision to overcome addiction was his 16-year-old daughter Daylin, who lives in New York State. "I want to be around for her. That's why I went to Guthrie and the course was just that extra push to change my life."
Derosier was so committed to change that he opted to enroll in the course instead of applying for early parole. "I was nervous," he recalls, "but I was ready for it."
Derosier earned As, and the class was an empowering experience that revealed his potential, Falvai says. He devoured books, including In the Realm of Hungry Ghosts, Gabor Mate's wide- ranging look at addiction. On weekends, he and the Inside students organized study sessions.
Wong, a self-described introvert, attributes some of his reserve to a less-than-ideal childhood. "I can only recall a few occasions where we were all genuinely happy to be with each other. My parents fought a lot. Money came and went, but it was the latter I remember the most. When I was in high school, they divorced and my mom worked three jobs to put food on the table."
Unaccustomed to sharing his feelings, Wong, who had previously studied criminal justice at Victoria's Camosun College, was initially unsure about taking the Inside-Out course. "Applying for Inside-Out was the most terrifying decision I have ever made. I'm not a very outgoing person, and I was never particularly keen to participate in group work, so I just didn't think I would be able to offer anything to the class. Ultimately, I made my decision based on the fact that it was a once-in-a-lifetime opportunity, and I wanted to take a risk."
He recalls that when the "super-loud, super-outgoing [Inside] guys" walked into the classroom, he decided there was no turning back. "The thing I enjoyed the most about the class was that half-way through we would always have a break and have an opportunity just to chat and get to know one another. It gave us the opportunity to chip away at the social barriers that separated us. It didn't take long before I began to see the residents as people more similar to myself than different," Wong says. He also realized that he wasn't ready for policing. "I'd never had experience dealing with homelessness, addictions, mental health."
Inspired by the class, Wong recently applied to be a corrections officer at the NCC. He intends to pursue his policing dream with the RCMP or Victoria Police Department after getting more real-life experience. "Being a police officer is such a huge responsibility," he says.
Derosier was released from the NCC in June 2016 and celebrated one year of being drug-free later that summer. He says it was important for the Outside students to understand that "warehousing" people in jail doesn't work. "They get out, only knowing what they learned before," he says, adding that the counselling and support he got at Guthrie House and through the Inside-Out Program, and his lasting relationship with Falvai and McLin have been huge benefits. Now he wants to study social work at VIU, to help others get a second chance like he was given.
Vancouver Foundation's $30,000 has in effect laid a cornerstone of what could be a framework that turns neglected talent and abilities into success. "My great hope is that we can continue to build a bridge from the prison to the university. It took so little to create community for Ian," says Falvai. "No matter what the exclusions—crime, addictions, poverty, disability, mental illness—we all want to belong."
| | |
| --- | --- |
| Story By: | Shannon Moneo |
| Photos By: | Nik West |