You are here
Black Book Sessions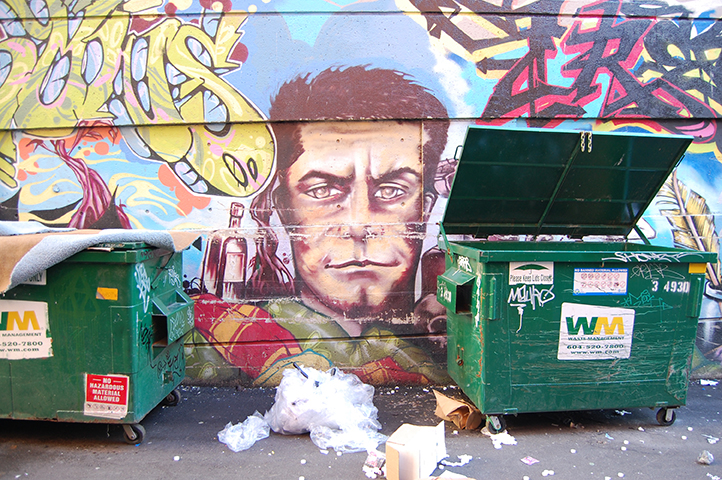 Alleys are the back end of urban life. Unlike the shiny, clean-scrubbed storefronts they serve, alleys are places rubbed raw by delivery and transport: goods in and garbage out. They're full of wires, poles and mysterious containers; the sounds of exhaust fans and dripping water – the haunts of wild-eyed binners and home to all manner of unsavoury activity.
At 14, Seva Mitrofanov, a graffiti writer, is a connoisseur of alleys. Five minutes with him and you'll never look at these narrow thoroughfares the same way again. For Seva, an alley is a blank canvas, full of electrical boxes to be stickered or tagged, poles just begging to be "bombed" and pristine walls waiting to be painted. Instead of a bunch of stacked barrels and a dented container, Seva sees stepping stones to a wall up high. That power pole next to the building? It's a virtual ladder to the rooftops.
"I can show you a million ways to get up on the roof," Seva says calmly, shaking his shoulder-length hair from his face, his somber expression breaking into a grin.
A year ago, he would have been up there, spray can in hand. For years he was part of a hidden society – a group that operates in alleyways; that has its own language and arcane rules – heroes, even. A group whose impact is seen only when the sun comes up.
Seva started tagging at 11. He sprayed his signature line, or "tag," over much of Kerrisdale and Kitsilano. On weekends, he would be up till the early hours walking the streets, looking for places to make his mark.
Eleven is younger than most involved in Vancouver's graffiti subculture. The average "writer" is male, 16 to 34 years of age, and – surprisingly – probably lives on the West Side, with his parents. He has few role models and his parents usually have no idea he's into graffiti. Often he also has few friends, and no specific interests or hobbies – at least until he gets involved in graffiti.
Seva points to his first tag, on a hydro box, in an alley behind 41st in Kerrisdale. "Way back then," he says, his tag was "hoodie." "You can just see the outline of the 'H' and the 'O' here," he says. "Twenty-four-seven, I always carried something I could tag with – markers, paint. It was all about the next piece, and coming up with concepts."
During this impromptu tour, Seva is surprisingly literate about graffiti. "Most people think graffiti is all about vandalism, or it's all about art. Graffiti is culture, art and vandalism. It's all three, and I would get a sense of accomplishment from expressing that culture." A little over a year ago, Seva was caught expressing that culture in his high school. He was given an option to do community service and enrol in a program called RestART, and he might not get charged.
Seva hasn't touched a can of Krylon in almost a year – at least for illegal painting – and props go to Kristina Copeland and the Black Book Sessions for that. Copeland is mural program coordinator with the province's Great Beginnings Program, and before it fell victim to cost cutting, she worked with staff from the City's Graffiti Management Program.
She's been helping Vancouver graffiti writers kick the habit for about six years. One of the keys to her success is the Black Book Sessions, a program she helped start at Kitsilano Community Centre.
Copeland's words are as direct and as steely as her gaze: "Graffiti isn't art. If you don't have permission, it's vandalism. And it's often a gateway to other illegal activity."
For the novice writer, the process starts innocently enough, probably with just a couple of tags. Small stuff like fences and mailboxes. It's kinda cool, seeing his name out there. Then it progresses – to more tags, bombing and eventually bigger projects. These require more time and more paint. So he stays up later, cruising locations, often "throwing up" till 4 or 5 a.m. – it's an adventure. Soon he needs more money for supplies, so he starts racking paint, or maybe dealing to pay for it. He finds other writers doing the same thing. He joins a crew and suddenly he's got friends. Next he might start creating "pieces." He's getting "up." And for the first time he has goals – he wants to go "all city."
No wonder graffiti's addictive. It gives him almost everything he lacks: self-esteem, a social network, goals, adventure and a nightly rush of adrenalin. It takes a strong personality and a strong program – like the Black Book Sessions – to get writers to give that up.
"Black booking" is when graffiti writers get together socially. They drink, smoke, draw and plan their projects, often sketching them out in little black books that are jealously guarded. "We turned that notion [of black booking] on its head," says Copeland. "Our Black Book Sessions are month-long workshops where graffiti writers get together and learn to apply their energy and talents to legal activities – something they can be proud to put their name on."
At the Kitsilano Community Centre, a group of about a dozen young people are drawing. A local artist is discussing shadow and light, passing on tips. There's food, laughter, the buzz of learning new skills and sharing info. The sessions are a joint project between the VPD, Kitsilano Community Centre and Copeland. They're free, but the program is run on a shoestring. They have no funding except for a $5,000 grant from Vancouver Foundation donors, for which they say they are exceedingly grateful.
Twelve to 15 youth meet once a week for a month. With help from a facilitator and an artist/mentor, they develop their artistic skills and are introduced to related trades and potential business opportunities. They learn silk-screening and other techniques. Grads of the program have done logos for community centre tournaments and had their work emblazoned on T-shirts, snowboards, skim boards, posters and legal murals around the city.
In an alley near Britannia Community Centre just off Commercial Drive, Seva is spraying paint on a blank grey wall. He is working intently on a mural that stretches the full length of the building. He is using his skills legally for a change, and enjoying it. "I took two or three RestART sessions, and I learned a lot ... I didn't really like art when I was bombing," he says. "They taught me how to go into other mediums – not just words and tags and bombs and pieces – but trying to do people, and abstract stuff. And they had all the painting tools and resources. Everything you'd need. "Before, I didn't even like art. I just liked tagging. Now I like it. I'm going into Grade 9 and I'm going to take art."
Seva's (and others') work is on display in murals at 2846 West Broadway, and in the lane leading to Britannia Community Centre, just off Commercial Drive. Odd Squad Productions also recently produced a documentary on RestART that aired in October. In the work it's clear that for these talented artists, the long route – and the transformations along the way – are a source of inspiration. Seva says he owes much of his own transformation to the Black Book Sessions. Many prefer to take the front door to a career. Others, like Seva, take the alley in the back.
If you would like to support youth programs like the Black Book Sessions, call Vancouver Foundation's Donor Services at 604-688-2204 or visit our website at www.vancouverfoundation.ca.
If you would like more information about the Black Book Sessions, call Jessy Wollen at the Roundhouse: 778-320-8587.