You are here
Born to be wild
Vancouver Aquarium - Marine Mammal Rescue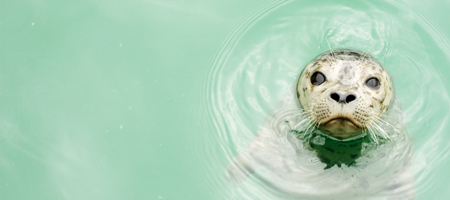 August 13, 2007. Afternoon, a beach near Victoria, hot sun, clear blue sky. The rhythmic plash of small waves on sand. The sea is flat, the horizon a knife edge in the distance. The only interruption to this summer day on the BC coast is a faint mewing sound – but not a kitten in sight - and near the water's edge, a lump. Like a ball of seaweed.
The lump moves ever so slightly, cries, and tries to raise its head. It's a baby seal pup, only a few days old, abandoned by its mother. Weighing only 8 kg, weak with hunger, and severely dehydrated, the pup will be dead within hours.
Two months later…    
"Creevey" is long-whiskered, his coat shiny, eyes bright and curious. He now weighs almost 29 kg, and is plump as pudding. The transformation is remarkable.
Creevey is one of the lucky seal pups rescued by the Vancouver Aquarium's Marine Mammal Rescue (MMR) program. Abandoned, injured, or orphaned, each pup has been taken in, fed, treated, and cared for by a dedicated team of staff and volunteers at the MMR facility on Vancouver's waterfront. Now healthy and rested, Creevey and six other pups will be released back into the wild.
In 2007, MMR staff rescued 151 animals– most of them young seal pups – from all parts of the BC coastline. "Occasionally we do get other mammals like sea otters, porpoises, dolphins, sea lions, we even get calls about killer whales," says Sheryl Barber, Rehabilitation Coordinator with the MMR program, "but 99 per cent of what we see is newborn harbour seal pups."
Most harbour seal pups are born in July and August, but the phone calls to MMR start in May or June – usually from a member of the public, or another animal rescue organization, who has seen an abandoned seal pup on a beach. MMR staff will first assess the situation and the animal to make sure it's actually in distress. If it needs help, the animal will be treated on-site or transported to MMR's rehabilitation facility in Vancouver harbour (many local airlines transport distressed animals, like Creevey, to MMR for free).
Depending on their injuries and condition, pups will spend 2-4 months recovering. It's an intensive process. First, they're cleaned, wounds dealt with, given IVs or X-rays and re-hydrated if needed. Then they're fed five times a day. It takes 4-6 weeks to get them weaned from formula to eating fish on their own. When they are healthy, they are moved to two large outdoor pools where they can be socialized with 8-10 other pups. Eventually they are released back into the wild.
Barber is passionate about her job. She's been with the MMR program since 1993. "In many cases," she says, "these animals are in trouble because of the actions of humans, be it pollution, fishing, separating pups from parents, dogs on beaches, or just our increasing use of the coastline. We feel a moral obligation to help out … At the same time, we try very hard not to form any bonds to the animals. But it's hard to do after taking care of them for a few months."
It costs a lot to maintain the MMR -- between $100,000 and $200,000 per year. All of this money comes from private donations. Thus each year, MMR does a fund-raising seal release party, where families can 'adopt' a seal pup and take part in its release (the 2007 release party raised almost $5,200).
Vancouver Foundation is one of the organizations that recognized the importance of MMR's work. The MMR program fits perfectly with the mandate of the Foundation's Animal Welfare Advisory Committee, which is to support initiatives that improve the lives of wild, domestic and farm animals in British Columbia.
In 2005, the Foundation gave MMR a grant of $15,000 to help MMR buy much-needed triage equipment. A new centrifuge, electronic thermometer, and various other pieces of medical equipment enable the team to do initial on-site blood analysis. It's used with every animal that goes through the facility, and has improved the speed of care dramatically.
October 11, 2007. Creevey and six other pups are transported to Smuggler's Cove on the Sunshine Coast for release. When their carrier is opened at the water's edge, some are reluctant to leave, and have to be coaxed out. They cautiously slide on their bellies down to the water, sniffing, not quite sure what to make of it. They look back, and slip into open water for the first time.
Others are not so tentative. They launch themselves out of the carrier and frantically head for the water -- without a single look back. A few splashes and they're gone. Some linger in the bay, their sleek heads popping up occasionally. Noses sniff the air; heads turn this way and that, curious, looking for something. Soon they too disappear beneath the blue rippled sea. They are home again.
To find out more about the Vancouver Aquarium's Marine Mammal Rescue Program (MMR), visit the website at    www.vanaqua.org/mmrr/. To donate to the Vancouver Aquarium's endowment fund held at Vancouver Foundation, visit the website at www.vancouverfoundation.ca
(Story written: 2008)