You are here
Caring for Briana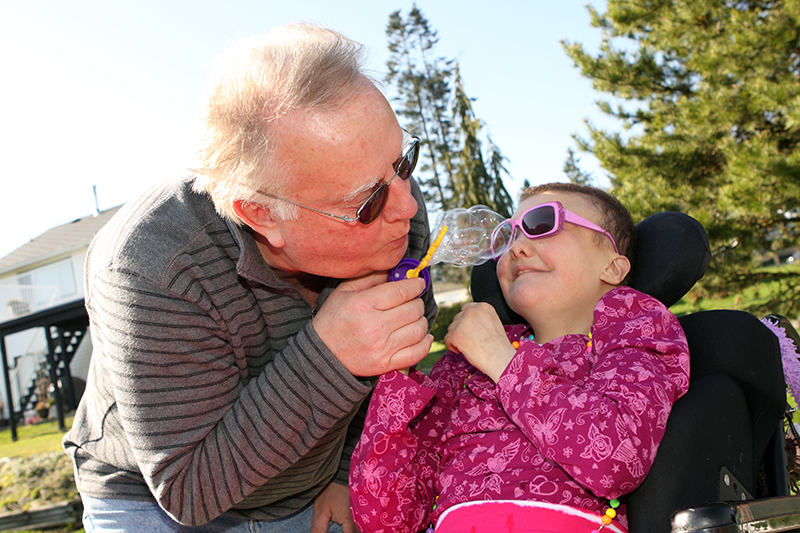 "Everyone that looks after her falls in love with her. They just get hooked. We call it the "Briana fix"—they all want more, more, more," Bernie Shephard, laughing with his wife Marilyn.
Some people might think the Shephards don't have much to laugh about. While their 20-year-old granddaughter Briana is indeed adorable, with angelic wide-set eyes, tightly curled hair and an irrepressible grin, she was also born profoundly disabled. She's deaf, blind, in a wheelchair and completely dependant on others to meet every physical need.
Taking care of Briana was hard enough for her young parents, who were both tragically killed in separate car accidents when she was young. The Shephards became Briana's caregivers 11 years ago, and that's when their exhausting daily routine began.
"We have to spoon feed her seven times a day, and change her diapers all the time. At night, Marilyn sleeps in a chair beside her until two in the morning, then I take the next shift and sleep on a cot beside her. Someone has to be close by in case she chokes, needs a diaper change or has a dream -- or just needs a hug," Bernie explains, his face creasing with concern. "Caring for her is a 24/7 kind of thing. Our last vacation was 11 years ago, before her mother died."
In addition to the constant attention Briana requires, a litany of medical conditions has required her to undergo seemingly endless surgeries and hospitalizations. It isn't how most couples would want to spend their "golden years."
But the Shephards aren't looking for sympathy. "We don't feel put upon, because she's such a beautiful child," Bernie says quickly and earnestly. "In fact, we feel honoured to have her and to look after her. She wasn't supposed to live very long, but she just turned 20. In 2005 we spent six months living at [B.C.] Children's Hospital while Briana had all these major operations. She wasn't expected to live, and the doctors told us to prepare for the worst. But Briana proved them wrong, because she's a fighter. She really enjoys life. She's laughing 98 per cent of the time. She just exudes love and let's us know it every day."
There's obviously a lot of joy in the Shephard household, but there are also some harsh realities. Briana is outgrowing her grandparent's physical abilities and old equipment; their home now presents some formidable barriers. Though Briana only weighs 62 pounds, Bernie struggles to lift her frail body in and out of the tub safely. When Bernie's back goes out, the task becomes impossible.
The back steps are another problem. Briana loves to be outdoors. But there are eight steps from the house to the backyard. It's only six feet, but it might as well be 60 – Bernie simply can't get Briana up and down those steps anymore. And she no longer fits into the car-seat in the family car, so transporting Briana outside the home has become another major issue.
So the Shephards say they are immensely grateful for the Giving in Action grant from Vancouver Foundation that will pay for a wheelchair-accessible shower and van, and a lift to access the backyard.
"With the van, we will be able to transport her safely and without a lot of discomfort for her. She has rods in her back and hip stabilizers, and problems with her bladder that make it hard to move her around, so the van will be a huge help; we will be able to just wheel her in and out of it. The lift to the backyard will mean she can be out there all summer with us; she'll just adore that. And with the shower, I won't have to worry anymore if my back goes out; she'll still get bathed properly and safely."
"We're both retired and on fixed incomes, so there is no way we could do this ourselves," says Marilyn. "The help that we're getting is going to improve Briana's life immensely ...  I just don't know how or who to thank, but we are so very grateful."
With support from the Ministry of Children and Family Development, and Community Living BC, Giving in Action provides grants to families for projects such as home renovations -- including lifts, elevators, ramps, flooring, door widening --  and to purchase wheelchair-accessible vehicles. To find out more, contact GIA at 604.683.3157