You are here
Collingwood Kids Go Digital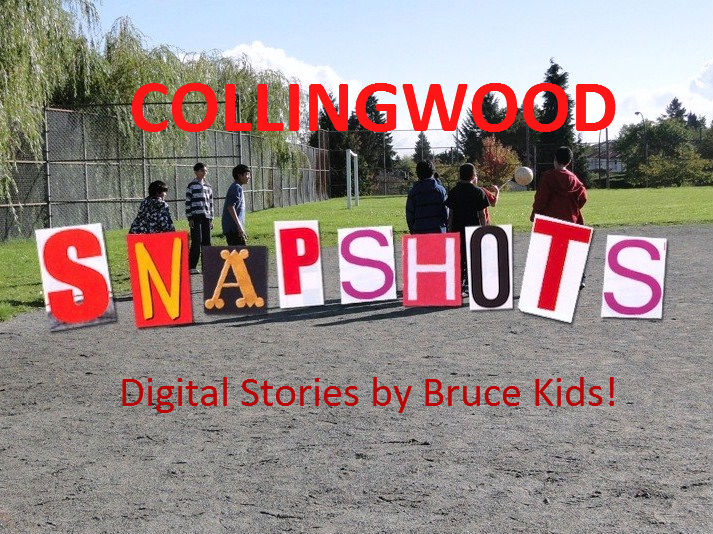 Traditionally, children have told stories through drawings, written reports, and oral presentations. What happens when you combine all these pieces, throw in music, moving images, and some imagination? You get a digital story – an exciting new form of creative expression that kids at Graham Bruce Elementary School in Vancouver discovered first-hand, thanks to the inspired initiative of Collingwood resident and mom, Rosanne Lambert.
Lambert applied for and received funding through the Collingwood Neighbourhood Small Grants Project (or NSG for short), a program funded by Vancouver Foundation. The kids at Bruce Elementary participated in a digital storytelling workshop in the fall of 2010. Led by Lambert and co-artist Janet Mcleish, they learned how to create short, first-person narratives by combining recorded voice, still and moving images, music and sound effects. The result was eight digital stories that were later presented by students at a special public screening of Collingwood Snapshots: Digital Stories by Bruce Kids!
The success of that first effort has spawned more digital storytelling workshops in the community. In partnership with Collingwood Neighbourhood House, the workshops have become a forum for expression on issues such as elimination of racism, intercultural development and leadership building.
Almost a year after the Bruce Kids featured their stories, the Collingwood community received another small grant, and came together once again for a public screening of its digital shorts at an experimental outdoor viewing area under the Joyce-Collingwood Skytrain Station.
Much like the support the Bruce kids received from their school's teachers, parents, and neighbours, this year's community event garnered the support of the Collingwood Community Policing Centre, local businesses, and many residents – a true community endeavour celebrating the best of its children, its people and its future.
To see excerpts of Collingwood Snapshots: Digital stories by Bruce Kids, go to http://TakingStock.TV
For more info on the Neighbourhood Small Grants program, visit the program page or call the Vancouver Foundation at 604.688.2204.