You are here
A Conversation with Faye Wightman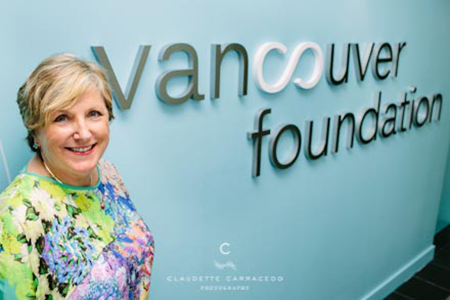 After eight years at the helm of Vancouver Foundation, Faye Wightman has announced that she will retire from the Foundation this year in order to spend more time with family. She describes her time at Vancouver Foundation as being "among the most exciting and rewarding years of my career."
But retirement doesn't necessarily mean Faye will disappear from the philanthropy arena. She plans to continue working in the non-profit sector on a part-time consulting basis. We sat down with Faye to discuss her career, her accomplishments and plans for the future.
Q: What stands out as the biggest change at Vancouver Foundation since you became President and CE0 eight years ago? 
A:  There has been a lot of change over the past eight years, but I would say the biggest change is the increased awareness and profile that Vancouver Foundation now has with respect to the work it does and the role it can play in making our communities stronger, healthier places to live and work. From my perspective, we are more frequently invited into discussions about our communities and the issues we face. To have a voice from the not-for-profit sector at the table in these discussions is very important. This has come about as a result of the hard work done by all the staff and volunteers at Vancouver Foundation.
Q:  As you look back on your term as President and CEO, what are some of the accomplishments you're proud of?
A:  An organization is only as strong as the people behind it, and I am lucky and humbled to have had the opportunity to work with some of the very best people. The milestones we've achieved during that time are a direct reflection of the hard work and dedication of the staff and volunteers who drive the Foundation's programs. 
When I look back on what we've achieved  during this time, I immediately focus on the inroads we made in specific areas such as tackling homelessness in Vancouver.  We set up StreetoHome and the Youth Homelessness Initiative; how we focused on the needs of families who have members with disabilities; we developed  the Giving in Action Society to support these families; bringing to the forefront the issue of employment for skilled immigrants; we started the Immigrant Employment Council of BC; but also the changes in how we approach donors to ensure we can meet their charitable goals. We are extremely flexible and donor focused.  And of course, the work we do in making informed granting decisions always makes me proud of our track record.  We have literally put millions of dollars into this province to make a difference in communities across BC.  You can't help but feel proud to have played a small part in making these things happen.    
Q: What's your fondest memory of your time at Vancouver Foundation? 
A: Hands down, it was hearing the story of Cora  a -–  63-year-old Filipino woman, who received a neighbourhood small grant, and the phenomenal impact that grant had on her life and her family. 
Cora arrived in Vancouver from the Philippines five years ago and was embarrassed at not being able to speak English. When she went out for walks in her Vancouver neighbourhood, she rarely spoke to people even in her own language because her son had warned her not to talk to strangers. To put it mildly, she was very lonely and did not feel in any way part of her community or this country.
Several months after her arrival, she ventured into Collingwood Neighbourhood House and signed up for ESL classes.
She was the only Filipina in the class. The teacher asked someone to read a passage in English. Tentatively, Cora raised her hand. When she started reading, it was clear she needed to be in a much higher-level English class. She then started helping her Chinese, Iranian and Mexican classmates with their lessons.
It was the beginning of her transformation from a frightened new immigrant living in an ethnic bubble to a woman at the centre of her community. Today, Cora teaches ESL to new immigrants. She recruits seniors from the area to join the weekly walks at the neighbourhood house.  In the last two years, she has organized a neighbourhood block party, an earthquake preparedness workshop, a Halloween pumpkin carving contest and costume party.  She is actively bringing people closer together in her community. 
When she told her story to our Board it really hit me what a difference we can make with even a small amount of money. You literally change people's lives.  It makes you want to do more.  
Q:  What do you think the biggest challenges are facing community foundations today? 
A:  People today have an unprecedented number of options available when it comes to giving to charities.  In the last decade, we've seen explosive growth in the number of charitable organizations in Canada and around the world. It's estimated there are 20,000 not-for-profit organizations and 9,000 charities in BC alone. And they are all looking for support.
On top of that growth in the charitable sector, there has been a corresponding growth in technology.  This has affected philanthropy in a number of ways. 
Today, anyone can go online and find out almost everything they need to know about a charity. Information is freely available. Media and communication technologies are creating new ways for people to reach out and connect with organizations, groups and causes. There are new ways to give -– micro-financing, micro-donations, crowd sourcing.  And new ways to inform.
We live in a society of instant information where people expect, even demand, immediate answers to their questions and concerns. This shift heralds a new era of accountability for community foundations and charitable organizations. 
So the challenge facing community foundations moving forward is to cut through all the clutter, to really pinpoint what is needed in the community and demonstrate the impact and benefits they are providing at the community level.  To be relevant in the 21st century, community foundations must regularly canvass their donors and the community to determine what's important to them, what their priorities are, and what the Foundation can deliver to fulfill their specific needs.  
I think the overriding challenge for community foundations will be to offer community knowledge to donors and philanthropists and to provide the advice and share that knowledge to ensure investments are being made wisely. 
Q: What opportunities do you see for philanthropy in the future? 
A:  Charitable giving is no longer the exclusive domain of the wealthy. Anyone can make a difference with the resources they have. There are so many ways people can make donations. I think there's a tremendous opportunity to educate non-donors on how powerful philanthropy is and how it can make a big difference in their own life as well as the lives of others. The old adage "you can't take it with you" rings true.  People need to realize what a great feeling it is to give while they are here, so they can see the impact and the benefits of their generosity.
Q: You've had a very distinguished career in the not-for profit sector. What advice would you offer someone who was interested in pursuing a career in this area?
A:  Spend some time thinking about what your passion is. What field do you want to work in? Because there are a lot of different opportunities in the not-for-profit sector.  To be successful, you have to be passionate about your work, whether it's in the profit or not-for-profit sector. 
I have loved working in philanthropy. I've had the opportunity to meet some amazing people and get involved with some impressive organizations. I've seen heart-warming donations made by both wealthy and non-wealthy individuals, and have seen the impact those gifts have made in the lives of others.  You really can't find a better job to be able to witness the best of mankind.
I know a lot of people feel that the last thing they would ever want to do is ask someone for money. But it is something I have always found relatively easy to do and a challenge to accomplish. From my perspective the worst that can happen is they just say "no".  And if that happens it is an opportunity to explore how to explain it better or discuss it further. It's a door opener to more conversation!  If you believe in something, then it's not hard to ask others to believe in it too.  It's fun, exciting and rewarding.
Q. What are your plans for the future? 
A:  I want to continue to work in some capacity, probably consulting or doing project work. I am looking forward to having time for my grandchildren, as well as a playing a lot more tennis, golfing and travelling. But I can't imagine not working in some capacity. I love working in the not-for-profit sector, so can't imagine not doing something. Besides, there is still a lot to accomplish! VF
 

By Martin Livingston
Photo Claudette Carracedo