You are here
An Evaluation of the Systems Change Grant Program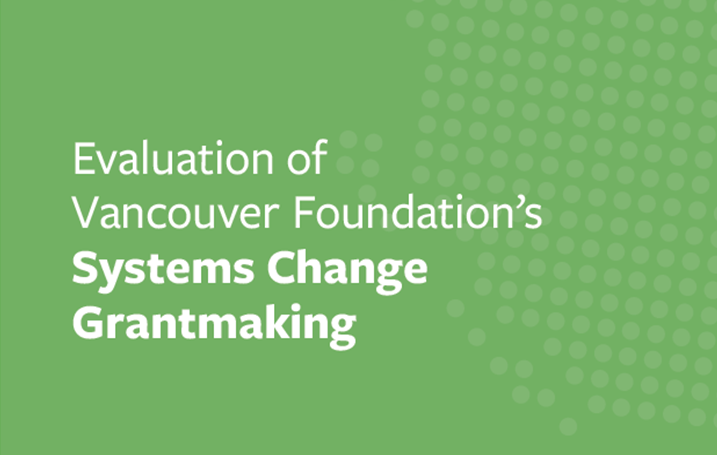 Since 2015, systems change grantmaking has become the primary focus of Vancouver Foundation's responsive, discretionary granting. From 2015 to 2017, Social Innovation Grants (renamed to 'Systems Change Grants' in 2018) funded over 366 projects in communities across BC for a total of more than $27 million invested. Given this, we wanted to better understand if and how this grant program is accomplishing what it was set out to do; that is, to enable community to address the root causes of pressing social, environmental, and cultural issues in BC.
Specifically, we wanted to know
To what extent has the Systems Change Grants program contributed to creating the conditions for social innovation and systems change to develop, test and scale?
What impact is it having on communities' ability to identify and address systemic issues?
How can Vancouver Foundation strengthen its grantmaking approach and process?
Last year, we commissioned an external evaluation to be conducted by Lumiere Consulting and Broadleaf Consulting, which examined the Social Innovation Grants Program from 2015 to 2017, and stakeholder perspectives on the 2018 iteration of Systems Change Grants. It included a series of surveys, interviews, and focus groups with applicants, grantees, advisors, and other funders, as well as reviews of final/progress project reports and strategic reflection sessions with staff.
The findings are both encouraging and enlightening.
The evaluation showed that the program is making a significant contribution to increasing the supply and demand of social innovation and systems change initiatives; a moderate contribution to the culture of innovation and systems thinking among communities and organizations; and has not yet made a notable contribution towards the exchange of knowledge and networks.
While this approach to grantmaking is generally effective in increasing the conditions for social innovation and systems change, we have also learned a lot and have identified opportunities to improve the program and our process of grantmaking. Given that this approach is relatively new amongst funders, we also wanted to share our successes and learnings along the way.
As an organization, the evaluation's results have strengthened our commitment to Systems Change Granting, with a renewed goal of improving and strengthening this work in service to communities and the sector. The Report concludes with a list of comprehensive recommendations that Vancouver Foundation is currently reviewing with plans to begin implementing next year. We've already begun taking strides in addressing some of the challenges we've heard from the sector such as offering a Develop Cohort Program for arts and culture organizations to support work in that sector.
To read more:
If you have any questions or comments, please contact Dave Doig, Director of Systems Change Grants and Trilby Smith, Director of Learning and Evaluation.