You are here
Every picture tells a story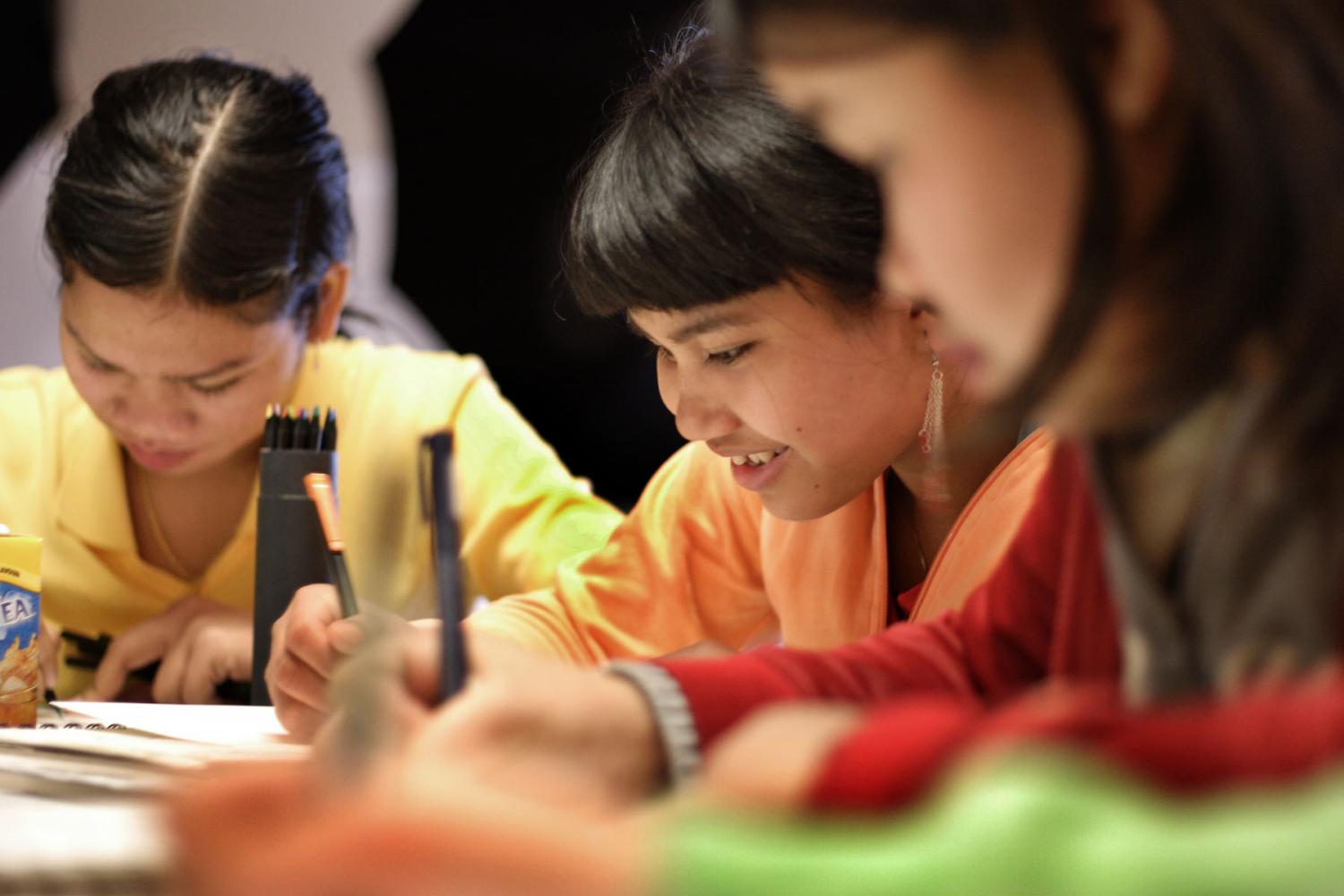 Everyone has a story to tell. Some are more dramatic than others. Some tell their story easily. Others, you have to draw it out of them.
A pilot project for immigrant youth on Vancouver's east side is doing just that. "Illustrated Journey" is teaching 20 immigrant and refugee youth how to draw comic book art. Once a week for eight months, participants gather at Mount Pleasant Neighbourhood House and learn the finer points of composition, line, storyboards and character. Ostensibly, the goal is that each participant will create an illustrated story of how he or she came to Canada and, at the end of the project, these will all be combined into a booklet of stories. The reality is that, at the end of the project, these young people will come away with much more than just a series of pen and ink drawings.
Pascaline Nsekera is the driving force behind this unique project. Nsekera works for La Boussole - a francophone immigrantserving agency in Vancouver. A refugee herself (Nsekera is from Burundi in Africa), she knows the struggles new immigrants, especially young immigrants, face.
She has been working with refugees for years, and remembers four orphans from Burundi who had been having a hard time adjusting to life here in Canada.
"The family had fled from Burundi to Rwanda, to escape the civil war in their home country. But they got caught up in the Rwandan genocide, and the parents died. The kids ended up on the street, and were sent to a refugee camp. Eventually they came to Canada and were put in a foster home.
"These kids were having a terrible time. They were going through so much... adjusting to immigration, to a different school system, trying to learn the language (they spoke only French), still dealing with the trauma that brought them here... and on top of all this, being teenagers - a time of change anyway... it was very difficult for them and the foster parents... and this was not an unusual case.
"We wanted to engage young people in an activity that would help them heal," says Nsekera. "I love storytelling, and I was interested in exploring it as both recreative and therapeutic." Perhaps being able to tell their story and share it with others could be healing for youth. Nsekera organized a oneday session, which was very successful. When a UBC colleague, a comic book aficionado, suggested visual storytelling, the concept for Illustrated Journey was born. "It became so obvious," says Nsekera. "This would remove the language barriers."
Nsekera wrote a proposal and submitted it to Vancouver Foundation in March 2007. The Foundation's Youth Philanthropy Council approved a grant of $25,000 for the project because of its innovative approach. The remainder of the program's budget of $42,000 came from the CKNW Orphans' Fund (which is managed by Vancouver Foundation).
The program started in October 2007. "We advertised for participants in local schools and youth centres," says Nsekera, "and looked for artists/instructors by word of mouth and through art schools like Emily Carr."
They ended up with a diverse group 14 to 24 years of age, all speaking different languages - Spanish, Vietnamese, Jarai, Chinese and French - all with varying degrees of English, and with widely varying experiences as immigrants. Some kids spent years in refugee camps, some are the byproduct of wars. But all share a common need to understand the culture and language of their new country. All share the usual experiences of teenagers - growing bodies, changing roles within the family, growing up, parental pressure - combined with the problems of many immigrants - feelings of isolation, language barriers, even racism.
In the first phase of the project, the youth were introduced to comics. Over three Saturdays a month, they learned the basics of visual storytelling and how to create their own stories. In the second phase, they have 30 minutes of lessons, and the rest of the time they write and draw their comics with the support of seven of Vancouver's top comic book artists/illustrators.
Each story is unique
"Feliz cumpleaños a ti... Feliz cumpleaños a ti... Happy birthday to you..."
It's Lorena's birthday today - she's 14 years old, and the students and instructors in the multipurpose room at Mount Pleasant Neighbourhood House sing happy birthday in various languages. There's a cake and candles. Lorena smiles self-consciously, blows out the candles and waves her hand, wafting the smoke from her face. Everyone leaves their drawings for a moment for a piece of cake.
Lorena is from Mexico City. She has been in Canada for only a year. Her English is surprisingly good after such a short time. She's shy and softspoken. But that shy exterior conceals a formidable talent. Her drawings, after only a few months of practice, are strong, self-assured, and brimming with energy.
Until last year, she was the only one in her family who didn't draw. In Mexico, where they lived there was corruption, unemployment, and drugs. In search of a better life, the family immigrated to Canada. For Lorena, the transition was difficult at first.
"My problem was that I couldn't speak English. I had no friends. It was so different. And it was so cold!" Last fall, a multicultural worker came to Lorena's Grade 8 class at David Thompson High School and told her about the Illustrated Journey program. She applied, was accepted, and is now one of the 20 youth who meet regularly to learn the skills of comic book illustration. "I feel better because I draw my story," says Lorena. "How was my life in Mexico. And how is my life now in Canada. There is a big difference...
I like this program because there are many people from other countries. I like the people from other countries...I want to learn more languages, to study languages when I grow up. Because in Canada it's a multicultural country."
Shane is another immigrant youth who is taking the Illustrated Journey. He's Montagnard, from the central highlands of Vietnam. Overflowing with energy, he is quick to smile, and talks fast. Whether it's rapid-fire English or the bubbling, glottal tones of Vietnamese or Jarai (the language of the Montagnard people), the words spill out as if there's no time to get his point across. He also has a maturity beyond his 17 years. Being imprisoned and then spending two and a half years in a Cambodian refugee camp may have something to do with it. The central highlands of Vietnam have been home to the Montagnard people for centuries. Montagnard is French for "mountain people." They're also known as the Degar. Over the past 75 years, the Degar people's lifestyle has been threatened by colonization, first from the French, then from the Vietnamese. Since the Vietnam War, when the Montagnard sided with the US, there have been many allegations of persecution, torture and killings. Montagnard land has been expropriated and whole villages destroyed.
Being Montagnard, and Christian, is two strikes against you in Vietnam. Shane encountered this first-hand in school. While Vietnamese children had books and school supplies given to them, Shane had to buy his own schoolbooks and supplies. His family was too poor to afford these, so he quickly grew bored at school.
When he was 13, Shane and his 17-year-old brother were bow-hunting for food in the forest, when they were accosted by Vietnamese soldiers. They were taken to a detention centre and held there for two days. It was only by luck their parents found out where their sons were. A friend of Shane's passed by the detention centre, saw them, and got word to the parents. Because he was so young, Shane was released, but his brother was badly beaten.
Not long after their release, Shane and his brother ran away to Cambodia. They lived in the forest, and then in a refugee camp. The UN transported them both to a much larger camp in Phnom Penh -- the capital of Cambodia -- where they spent 2 1/2 years before being reunited with their family, who escaped via a similar route. Shane is one of the lucky ones. Some Montagnard refugees died of starvation in the forest. Others were shot by the Vietnamese. Shane caught the attention of a lawyer in Phnom Penh who took on his case, encouraged him to learn English, and started the process for him to immigrate to Canada. "She helped me a lot... tried to keep me happy, because I miss my family, and I cry a lot." "I ask my friends 'Where is Canada?'... We don't have any maps in the camp."
When he finally saw a map of the country he was to call home, Shane said "Wow, it's too big,"
In 2005 Shane came to Vancouver with his family. "I don't think Canada had any trees... it was all buildings... when the plane landed, it was raining and I couldn't see the mountains...when I see the mountains, it's like my home." Shane's life here is a whirlwind "It makes me so busy here." In Grade 10 at Sir Charles Tupper High School, he plays in what may be Canada's only six-piece Montagnard band. Called "Cornerstone", the band comprises other Montagnard youth. Shane plays guitar, and sometimes sings when the band performs at church functions.
He also translates for other Vietnamese children in the Illustrated Journey workshop. "Their English is not good so I am happy to help them... My English is still low," he says. And he wants to finish high school. "Most Montagnard in Vietnam don't read or write.... When you go to school in Vietnam, there is no music, no drawing. That sucks," he says.
"In Canada, there is drums, music, many courses... and if you finish your high school, you can find a job."
Coming together
Almost every weekend, the multipurpose room at Mount Pleasant Neighbourhood House becomes the UN in miniature - there are kids from Vietnam, from south Asia, from Africa, from Central America... instructors from Ireland, the U.S. and Canada. And the air is filled with English, French, Spanish and Vietnamese.
Illustrated Journey is an exciting collaboration between immigrant-serving agencies (La Boussole), educational organizations (UBC School of Social Work), funding agencies (Vancouver Foundation and CKNW Orphans' Fund) and local artists. It's a multicultural, multi-ethnic, multilingual, multidisciplinary experience.
It's no coincidence that "boussole" is French for "compass." These 20 youth may not know exactly where they're going on this Illustrated Journey. But Pascaline Nsekera and a group of local artists are giving them a sense of direction.
To support children, youth, and families in BC, visit our Donation page, or to apply for a grant visit our Children, Youth and Families grants page or our Youth Philanthropy Council page. 
(Story written: 2008)