You are here
Food for Thought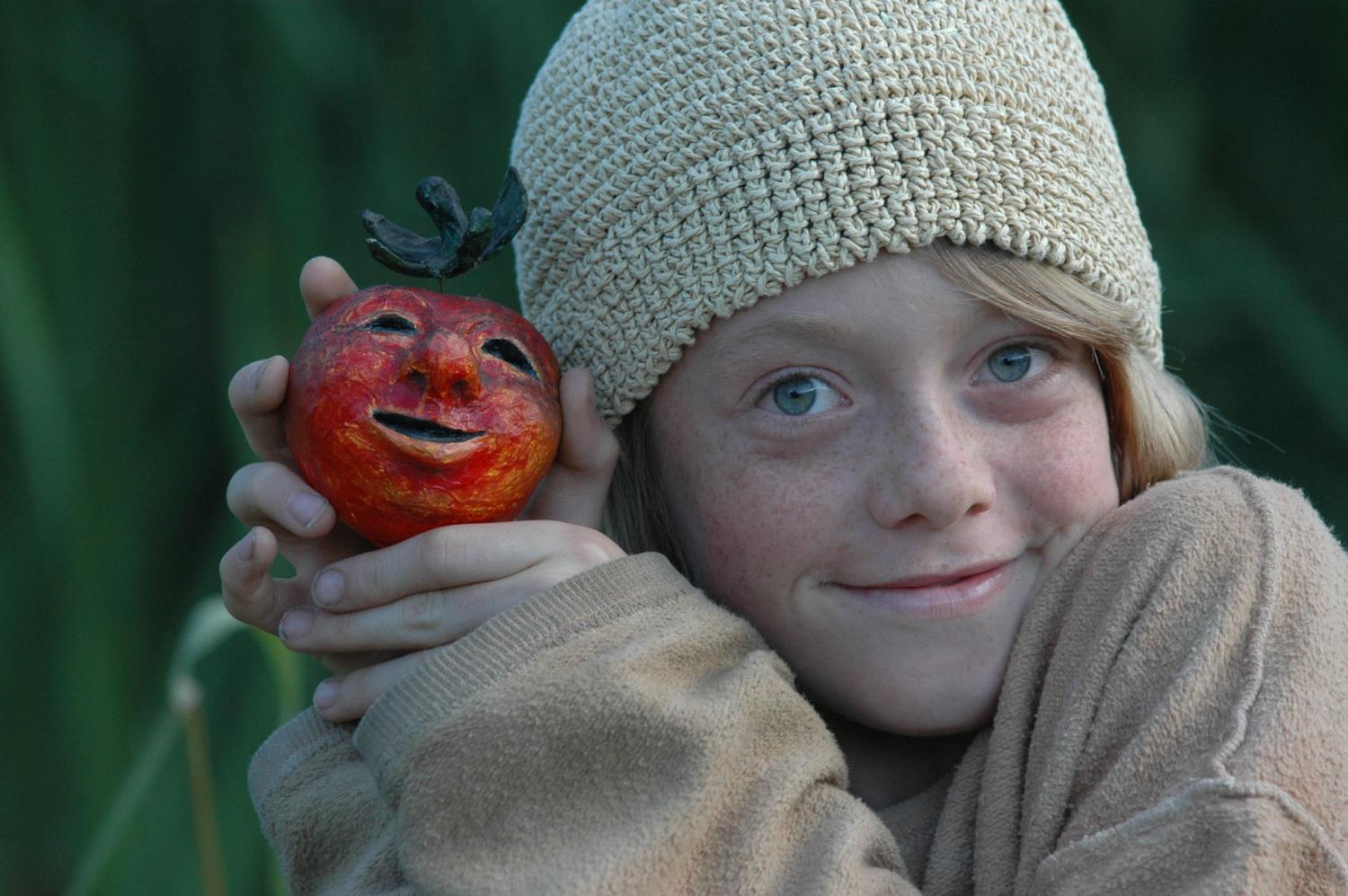 You can learn a lot on a farm. At the Curly Willow Farm in Grindrod (just an organic carrot's throw from Enderby) you learn that raspberries make good greeters; that beets have British accents; and, after a short but intense conversation with some asparagus, that they're quite enlightened. Over the course of the evening, you will be accosted by corn, overwhelmed by a multiple personality tomato, disarmed by an 11-year-old blueberry, and buzzed by some three-foot-tall mosquitoes. You may also help return an errant squash to the fold … and learn the real meaning of grass roots.
Curly Willow is a 5-hectare working organic farm in BC's Interior. It's also the home of Runaway Moon Theatre, and the principal site of Food for Thought – a two-year, community-based art project that celebrates food, art and community through collaborative art projects and events marking the seasons.
In July 2008, Runaway Moon staged an hour-long spectacle called "A Lot on Your Plate" that featured a smorgasbord of masks, costumes, music, singing, stilt-walking, theatre, and of course, food. All served up by a cast of 50 amateur and professional performers…
150 people show up on a warm summer evening to experience this event. Some come from Kamloops and Kelowna, but mostly it's a local crowd from the north Okanagan/Shuswap. Ranging in age from two months to mid-70s, they are relatives of the performers, parents, grandparents, aunts, uncles, numerous diehard fans, a smattering of local artists, and even some curious tourists.
The farm itself is an important part of the production -- almost another character – and we are led around it, from dusty road, to berried lane, through tall grass, open field, to tangled, nettle-strewn wetland, to a market garden of growing corn and beets. There are performances at various locations along the way.
Shepherding the crowd is the job of the mosquitoes, and the fields are positively abuzz … with four- and five-year-olds sporting kazoos and outrageous papier-mâché probosci. The older mosquitoes dutifully lead and herd … it's the little ones that get distracted, and stray from their mission. But an army of frogs suddenly appears … hop hop hopping … till their little green faces are red with exertion … and the mosquitoes fly off through the high grass, leading us to the next part of the show.
This anarchic, colourful, and utterly charming event is the brainchild of Runaway Moon's Artistic Director Cathy Stubington, Director Varrick Grimes, Musical Director Murray MacDonald and General Manager Jaci Metivier, along with input from the performers.
Runaway Moon specializes in puppet theatre and community art projects. Food for Thought was conceived as a series of events around food, around the relationship of people, the land, and the food it produces. Sessions were held in different venues, where local artists were invited, along with members of the community, to create collaborative art pieces inspired by locally grown food. Performances were held in each season, and eating food together was part of the event.
"We were trying to work on so many levels with this project," says Metivier. (We're walking through a field of corn that was planted by the audience for the spring show.)
"People get a sense of the seasonal changes in the land -- fields that were once dirt are now full of flowers and crops… It's like making a stew in a way…  So many layers."
"For each of the community spectacles, we planned and created it with the people who showed up," says Metivier. "Whoever shows up, and wants to be in the scene, can be in the scene…. That means casting changes constantly. And because we're dealing with community participants, the level of commitment varies. That can be very scary for the lead artists. Also, we have groups of children, so things get created for kids. … You just have to be fluid. We often create scenes that don't rely on individual people knowing their parts."
The array of talents and skills a community art project draws upon is staggering. Among the volunteer performers, there are belly dancers, software engineers, retirees, carpenters, professional musicians and virtuoso amateurs. The strength of the project is the people involved, and the various skills they bring, their enthusiasm, energy and talent.
The asparagus nods in agreement…
(Marianne Domarchuk is a public health nurse in Enderby. This is her fourth show with Runaway Moon, and she has played an assortment of vegetables.
"I like the way they get the community involved," she says. "It's an open invitation, and it draws all types. They're all super….I read In Defense of Food, and got quite excited about the whole food thing." She has children performing in the show as well. "The raspberry and the watermelon are mine …"
Runaway Moon also provides employment for local artists. They hire production staff for the show, which might include key personnel such as musical director, production manager, stage manager, and technical director.
Phase 1 of Food for Thought was funded by ArtsNow, BC Arts Council and BC Gaming. For the second phase, Metivier approached the Vancouver Foundation. The Foundation granted $15,000 towards the project. 'It seemed like a perfect fit," says Metivier. "Vancouver Foundation has a really good understanding of the time a project like this takes. The Foundation also does a good job of supporting projects that don't fit into a neat box."
The sun is starting to set, and a tousle-haired moppet asks for direction ... "Because I'm corn do I have to go with the vegetables?" …
The performers finally gather under a huge maypole, in a field planted by a previous audience many months ago. They form a circle, sing a round, and invite the audience to join them. People come forward, shyly at first, then join in. Food from the farm is shared.
The distinctions between performer and audience, parent and child, young and old break down. We are three generations, standing on the ground, rooted to the fertile earth, green things sprouting all round our feet. The ribbons of the maypole draw our eyes up, up, along with the voices, raised in song. There is laughter, the smell of dust, a distant buzz of mosquitoes, and the warm breath of summer under a wide, blue Shuswap sky.
For more information about Runaway Moon Theatre go to www.runawaymoon.org or visit the Vancouver Foundation website at www.vancouverfoundation.ca
The final event of Food For Thought will be a collaborative exhibit at the Enderby and District Museum, inspired by locally grown food.