You are here
Fostering change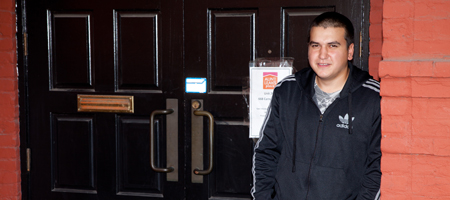 Youth aging out of government care find support as they transition to adulthood, and independence
Robert Davidson, 19, has been fending for himself ever since he can remember.
The youngest of three brothers, the Surrey youth was initially raised by a single mother. A health care worker at Vancouver General Hospital, she contracted Hepatitis C when Davidson was six years old. She was placed on disability and spent the next nine years in and out of hospital, battling the infectious disease and complications from diabetes.
Meanwhile, Davidson and his brothers were placed in various foster homes and respite care. By the time Davidson was 13, his mother's condition turned critical and she was spending most of her time in hospital. His once-secure home environment was turned upside down. With no adult supervision, his middle brother turned the family home into a party house, where cocaine and alcohol flowed freely.
"I knew my mom was dying and I just kind of withdrew," he says. Depressed and unable to cope with his home environment, he left the house, stopped going to school, and started bunking with friends and staying out all night.
His mother passed away when he was 15. Davidson was taken in by the foster family in Cloverdale that was already caring for his middle brother. "It was a good home, but I couldn't take their rules, so I left," he recalls.
He went back to couch surfing. He roamed the streets and got involved in petty crime. "Sometimes I stayed up for 24 hours straight or slept in parks."
Eventually, he reached out to the social worker he was assigned when his mother was in hospital, and was introduced to the Support Link Program at Aunt Leah's Place. "It changed my life," he says. "It brought me out of my shell. I learned to express myself. It was a safe, comfortable environment where I learned how to live independently and responsibly.
For 25 years, Aunt Leah's Place, in New Westminster, has been working to help prevent children in foster care from becoming homeless, and young mothers in need from losing custody of their children. By providing secure housing, financial support, job training and coaching on essential life skills in a safe, supportive environment, Aunt Leah's Place has helped more than 1,000 youth and 500 single mothers to overcome seemingly insurmountable obstacles and successfully transition from foster care to independent living.
Youth in government care are particularly susceptible to ending up homeless. In BC, when youth in care turn 19 they are considered adults and lose all support from the provincial government. The expectation is that these vulnerable youth have the skills to function as self-sufficient, independent adults. The stark reality is that almost half of homeless youth in Vancouver were once in government care. More than two-thirds of youth in care in BC will turn 19 without a high school diploma. Nearly half will be involved in the criminal justice system, and half will go on income assistance within a few months of their 19th birthday.
Gale Stewart, founder and executive director of Aunt Leah's Place, was a foster parent for 10 years in the 1980s along with her husband Paul. She quickly recognized there were massive gaps in support services for young people leaving foster care.
"Most 19- and 20-year-olds are still living at home, and being supported by their parents. On average, young people from mainstream families live in the family home until their mid- to late 20s. Youth in government care, on the other hand, are expected to make their way in the world when they turn 19, with no support structure in place.
"Aunt Leah's is very much fashioned after what a grandmother, grandfather, uncle or aunt would do to support a child who was dependent on them," says Stewart. "That is, to provide the practical life skills needed to launch a young person into adulthood."
Stewart also developed the Support Link Program, which provides teens about to age out of foster care with semi-independent suites by pairing them with a friendly landlord and a support worker who will teach them how to set goals and live on their own.
Davidson entered the Support Link Program two years ago. Support workers helped him find an apartment to rent and he started attending their essential life skills meetings. "I learned how to budget, how to shop, how to cook, basically how to take care of myself," he says. "If I didn't go to those meetings I'd probably still be eating mini pizzas and pizza pops, because that's all I ate when I was younger."
In 2010, Vancouver Foundation gave Aunt's Leah's Place a $175,000 three-year grant to establish its Link Program. "The Link" provides youth who have turned 19 and aged out of care, as well as past participants of the Support Link Program, with a support worker who helps them look for jobs, finish school, find housing and connect with community services. The Foundation provided additional funding this year to extend the program.
The Link Program has been a resounding success. At the end of its second year, more than 80 per cent of the 36 youth enrolled in the program had found secure housing. This year, another 75 young people have entered the program.
The support services available through the Link Program are reflective of the type of policy changes Vancouver Foundation's Youth Homelessness Initiative is hoping the BC government will implement by extending foster care support services beyond 19 to provide a continuum of care for foster youth into adulthood.
After turning 19 in February, Davidson entered the Link Program. Aunt Leah's provided a tutor to help him brush up on math skills as well as a $150 monthly housing subsidy so he could complete his high school education.
After graduating Grade 12 this year, Davidson received certification in Health Canada's Workplace Hazardous Materials Information System (WHMIS). He's now working full time in waste disposal and plans to move to northern BC to work in the resource sector.
"Being a foster kid can be tough some days," reflects Davidson. "Some days all you're looking for is something to lift the weight off your shoulders. The Link Program does that.
"Sometimes I see kids standing around the same street corner I used to hang out on," says Davidson. "I just want to go up to them and give them a shake and tell them to get their life together."
These days, Davidson has his sights set on starting a family and one day owning his own home. "The Link Program helped me mature," he says. "Before becoming involved in the program, I was basically a hoodlum. Now I'm more responsible and know how to live independently. I'd like to take what I've learned and raise my children a lot differently from how I was brought up." VF
By Martin Livingston
Photos Brian Hawkes