You are here
Free to be me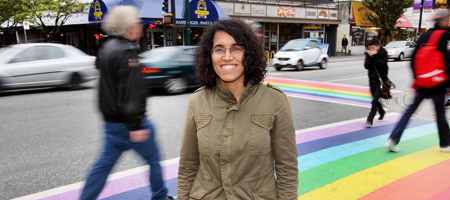 Azza Rojbi moved to Vancouver from Tunisia in 2010
Azza Rojbi moved to Vancouver from Tunisia in 2010. She and her parents and two brothers left behind friends, careers and their extended family in search of a better life. Rojbi, in particular, had her own dreams of a new beginning and a new way of life – dreams she had not even shared with her own family. Rojbi is a lesbian. InTunisia, she was forced to live in the closet, or face harsh punishment.
"People in Tunisia are super homophobic," she explains. "You'll see progress at all kinds of levels, but being queer*is super taboo. You can get jailed for up to three or four years if they find you kissing another woman or man. So everything is underground."
 Vancouver offered the promise of a new way of life. Twenty-year-old Rojbi wanted to make new friends, connect with a community, and explore what it is to be an openly proud, queer youth living for the first time without fear.
 She found numerous programs that offered training, education and networking resources for newcomer youth. But she couldn't find anything for the "double minority" of LGBTQ (lesbian, gay, bisexual, transgendered, questioning) immigrant youth of colour.
Her search led her to QMUNITY, British Columbia's queer resource centre. QMUNITY works to build a more inclusive future for the LGBTQ community free from discrimination. The centre offers education and training, advocacy work and community programming.
Rojbi was particularly excited about the prospect of attending youth drop-in sessions offering a casual, inclusive environment for any  queer youth under 25. On her first visit, looking around the crowded, multipurpose room at QMUNITY, she felt nervous and out of place. Most of the youth were Canadian-born – laughing and speaking English quickly and sticking with people they knew. The unfamiliar language and culture was overwhelming and Rojbi stopped attending the drop-in sessions. She wasn't the only one.
The high dropout rate among queer immigrant youth wasn't lost on QMUNITY's youth workers, and they set out to uncover why. "We were responding to a need identified by the youth as this is an incredibly diverse community where some voices are more dominant than others," says QMUNITY executive director Dara Parker. "We want to ensure all voices are included."
QMUNITY's research indicated that this group wanted a more inclusive, safe space for people like themselves. They wanted acceptance and understanding from their community. They wanted a voice, one that also connected back to their roots. This was the foundation for the Routes to Roots program.
In the fall of 2012, Vancouver Foundation's Youth Philanthropy Council stepped up to the plate, providing $10,000 for QMUNITY to establish Routes to Roots, a youth-led project for LGBTQ new- comers of colour dedicated to creating more inclusive spaces for the celebration of diverse identities.
In late 2012, Routes to Roots formed a committee of five queer immigrant youth. QMUNITY also sought a part-time project coordinator to lead the program; someone who possessed passion and commitment to the cause. Azza Rojbi was the right person for the job.
Over the course of the year-long program, Rojbi and the Routes to Roots group connected youth of all backgrounds, from Southeast Asia, Africa, the Middle East, South America and China. They hosted social events and provided a forum to share stories and experiences.
Routes to Roots created training programs for organizations on how to better understand the specific needs of queer immigrant youth. QMUNITY already had robust education and engagement programs where businesses, corporations and the public sector could better understand, work with and serve the LGBTQ community. Routes to Roots added another layer, introducing organizations to the unique needs of queer workers who aren't from Canada.
The most tangible and far-reaching outcome of Routes to Roots was the creation of a comprehensive, 26-page online resource guide for queer immigrant youth on how they can live, work and thrive in Vancouver. The guide directs youth to re- sources ranging from settlement services and language training, to sexual health and LGBTQ events, to employment and community resources.
Through all the planning, the events and the connections made over the year, one moment stands out for Rojbi. "One of my highlights was a Muslim family coming to one of our events to sup- port their daughter." She smiles as she recounts how she felt at the event. "The whole goal of the event was to bring families and com- munities together. I was super excited at the first event to show sup- port for all the people that came." Being from a Muslim family herself, she saw that as a strong, symbolic gesture of the progress and acceptance that envelopes her life in Vancouver.
More work still needs to be done, but in one year Routes to Roots created resources, strengthened partnerships and built an inclusive community for young, new Canadians. The leadership, courage and passion of Rojbi and a dedicated group of youth created a voice that, until now, had not been heard. Young, queer, new Canadians can now be introduced to a city that offers tolerance and opportunity, rooted in a community that is truly diverse, and a safe space to finally be who they are. VF
(*The word "queer" used to be a derogatory term for a homosexual male. The LGBTQ community has successfully reclaimed the term, and it has become a positive reference to any member of that community.)
To support programs like QMUNITY's Routes to Roots, or other projects funded by Vancouver Foundation's Youth Philanthropy Council, visit vancouverfoundation.ca/give
By Robin Russell
Photos Tiffany Cooper