You are here
Fresh Voices
Youth Philanthropy Council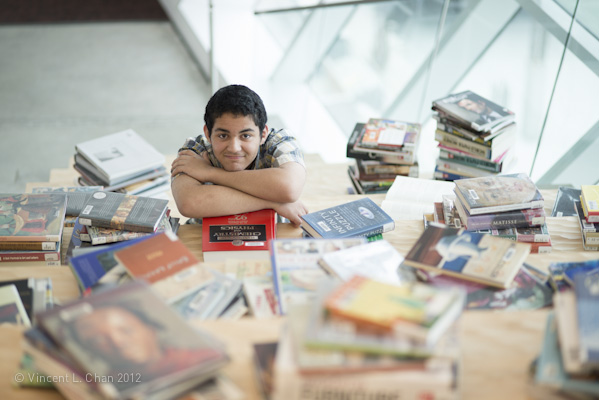 The summer sun streams into the Teen Lounge at Surrey's City Centre Library. The "hangout" room is designed specifically for youth. It's a fitting location to interview Saad Al-Samarrai, a participant in Vancouver Foundation's youth engagement work.
With his dark eyes and round cheeks, Saad has the face of a boy who is growing into a young man; he just celebrated his 15th birthday. The soft-spoken teen settles into his chair, declining the offer of a glass of water. "I'm fasting," he says with a shy smile, a subtle hint at his observance of Ramadan, a holy period of prayer, fasting and charity for Muslims. He is self-conscious about his English, but what he communicates in earnest more than makes up for his search for the right vocabulary.
Saad was born in Iraq and grew up in Dubai. He and his family arrived in Canada four years ago after waiting a decade to be accepted into the country as immigrants. A self-professed "nerd" who has a love for physics, Saad hangs out at the library to read – a penchant inherited from his dad, who has "stacks" of books at home.
After arriving in Surrey, Saad started in a new school. He didn't know any English, and it wasn't until he started to understand what the kids were saying that he realized they were making racist comments about him. "It's a daily occurrence still, to this day," he says. Getting angry would be an understandable response. But Saad chose a different path – one grounded in a hope for greater understanding between people, rather than a fleeting verbal comeback. In this, and many things, he shows a wisdom beyond his years.
Saad began attending educational workshops on racism, and he connected with organizers of the 2011 Fresh Voices Summit – a two-day conference for immigrant and refugee youth. Vancouver Foundation, with the B.C. Representative for Children and Youth, helped Sa'ad and a group of youth from across metro Vancouver to harness the power of their stories and common experiences to help plan and deliver the 2011 summit.
It was here that Saad discovered he was not alone in his struggle to find a voice as a newcomer. He heard similar stories from other youth who shared their experiences of racism, isolation and frustration with bureaucracy. Ensuring a dedicated "space" for sharing experiences was, and is, important for Vancouver Foundation. It was the "game-changer" for Saad.
According to Mark Gifford, director of grants and community initiatives at Vancouver Foundation, "The Fresh Voices project is just one of many ways the Foundation has been deepening its investment in youth engagement work. Our Youth Philanthropy Council; Youth Vital Signs (the first comprehensive youth-led report card on their city and region, now replicated in a number of cities across Canada); Generation Green; our Youth Homelessness Initiative; and grant support for numerous community-based programs. These are all ways we put youth back at the centre of the story.
"By developing and supporting programs that encourage youth growth and dignity, inclusiveness, fairness and equality, the Foundation promotes youth voices and increases opportunities for youth participation."
Jorge Salazar, a former member of Vancouver Foundation's Children, Youth and Family advisory committee, who facilitated at the Fresh Voices Summit, agrees. "Through YPC's advocacy it's the first time in the province, and in the country, for a conference to focus on immigrant youth, led by immigrant youth, for immigrant youth."
For Saad, opportunities for youth empowerment, like the summit, have given him a sense of purpose. He is now a part of the summit's Youth Advisory Team, which is leading the follow-up work from the conference. "This is youth engagement to me – having the same power as an adult, the same voice as an adult. Not being looked down on for your thoughts just because you're younger," Saad says resolutely.
While most 15-year-olds spend their time locked in a power struggle with the latest video game nemesis, Saad is thinking of ways to engage youth like him who struggle to find a voice. How does he convince them that this matters? He shrugs his shoulders. "It's better than playing PlayStation in your room," he says. "Try to do something with your life. You know that saying, 'if life gives you lemons, you make lemonade?' Well, I believe that when life gives you lemons, you use them; and you give back."
At 15, Saad is already set to live a purposeful life. He wants to change the world. And he's determined to do it by helping youth find their own voice. He has already found his.