You are here
Fresh Voices Youth Advisory Team talk to the media about welcoming new refugees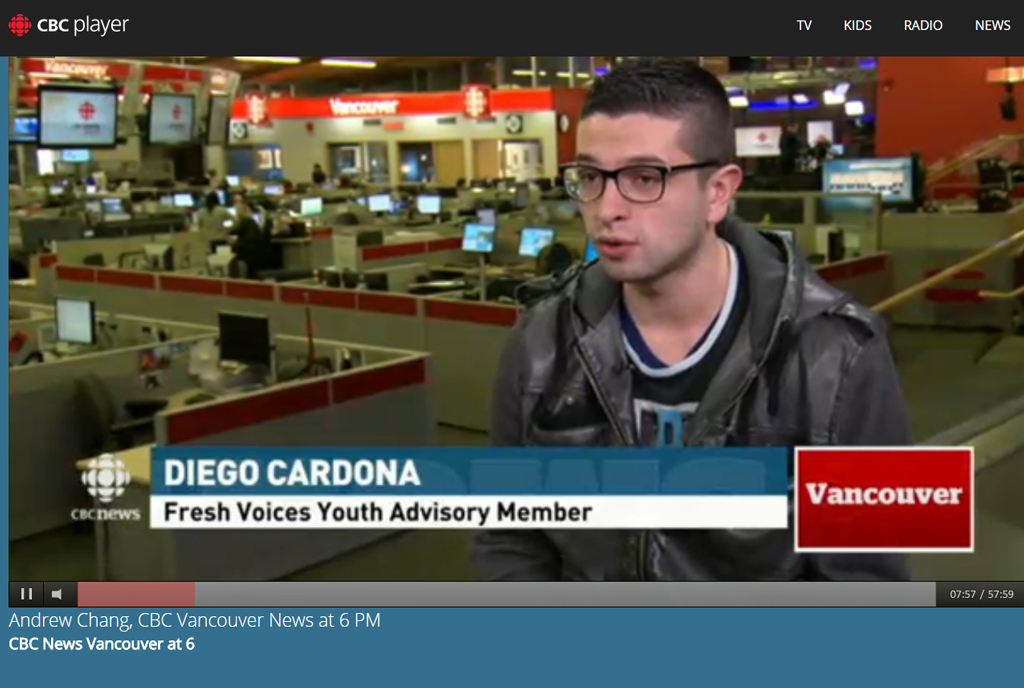 With the arrival of Syrian refugees in B.C. high on the mainstream news agenda, Fresh Voices Youth Advisory Team members Dina Ganan and Diego Cardona have been speaking to the media about how the community can come together to support new refugees.
Recognizing what refugees will bring to our communities
"It's really important that we embrace [Syrian refugees] as people. That we integrate them into our circle as people that are not only defined by a tremendous conflict…that they are not just defined by their experience, but by who they are, what they need, and what they bring as individuals and as a community." - Diego.
In an interview with CBC News Vancouver, Diego stressed the need to think about new arrivals in terms of what they bring, as well as what they need.
Watch CBC online: Skip to 07:30 to hear more of Diego's thoughts based on his personal experiences and his work through Fresh Voices.
More training and support for teachers and school staff
As B.C. schools and communities prepare to accept approximately 1,000 young refugees from Syria, the media has been keen to find out how well prepared is the community.
Speaking to The Tyee, Fresh Voices Youth Advisory Team member Dina Ganan highlighted the need for training and resources to support teachers in their work with young refugees.
"Have the teachers and school staff provided with anti-oppression, anti-racism, and cultural awareness [training]," she said, emphasizing a recommendation that comes directly from the Fresh Voices 2013 report.
Read the full article: Are BC Schools Ready for Syrian Refugees?, published by The Tyee on November 21, 2015.