You are here
Growing Trust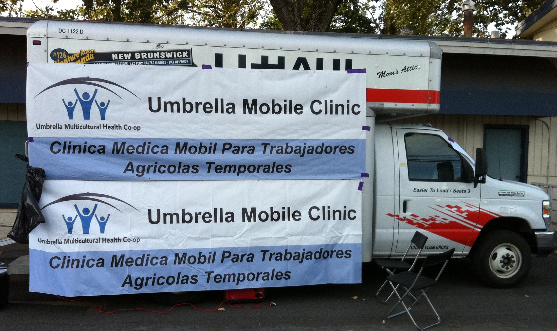 Every year, approximately 2,000 temporary farm workers from Mexico come to the Fraser Valley on a government work program. Most of us never see these men, working on tree farms, in nurseries and greenhouses, and in fields far from the main roads. But they are out there, sunrise to sunset, planting, weeding and picking crops like strawberries, raspberries and blueberries.
These temporary workers play a vital yet invisible role in providing us with affordable berries all summer long at our local grocery stores. Their tremendous contribution to the local food system entitles these workers to basic health care services. But "being entitled" and "having access" to health care are two very different things.
Two obstacles stand in the way of these Mexican farm workers accessing basic health care when they need it. First, the distance they work and live from medical clinics, on rural roads without public transportation, requires taking an unpaid half-day from work to reach a clinic during regular hours. And second, a cultural and language barrier that makes it next to impossible to communicate their health concerns to local doctors.
That's where the "Umbrella Mobile Clinic" comes in – an innovative program supported by Vancouver Foundation that brings health care to the men who work the fields. On weekends during the eight-month growing season, the part-time staff and volunteers of the Umbrella Mobile Clinic rent a cube van, trans- form it into a medical clinic and park it in a central location where farm workers gather on their day off.
When they enter the clinic, the farm workers are met not just by the volunteer doctor but also by the clinic's "cross-cultural health broker," Jorge Perales, a youthful-looking 32-year-old.
Perales came to Canada in 2010 as an international student to improve his English. Being Mexican, having recently immigrated to Canada and holding a degree as a general practitioner and surgeon back home, he is much more than a simple Spanish- English interpreter. And his passion for helping others shines through when he talks about his role with the clinic.
"The farm workers are out of their realm here. It is my job to grow their trust so they feel safe in a medical appointment. These men have all left their homes and their families. They feel isolated and their experience of the rules in Canada is sometimes difficult," says Perales.
"They are trying to navigate a very different culture and have no idea how to work with the health care system here. Most are too shy to even ask for a straw at a fast food restaurant. How can they have the confidence to talk to anyone about their health care needs? So my first job is to build confianza, trust, to get them to open up."
Like any population of physical labourers, the farm workers have a variety of health needs, from the flu to minor infections to repetitive injury damage to their muscles and nerves. In many cases, a trip to a pharmacy is needed after the doctor visit. Again, Perales and other Umbrella Mobile Clinic team members are there to help the farm workers fill prescriptions and understand possible side effects, dosing and other concerns.
In some situations, the doctor will recommend further tests at the hospital: an X-ray or a blood test, for instance. In these cases, Perales' second critical job as the cross-cultural health broker is to help negotiate what the doctor would like the patient to do as follow-up, and what the patient is actually able and willing to do.
For instance, if tendonitis is suspected, one of the treatments the doctor will recommend is rest. But taking a week or more away from work is an impossible request of a temporary farm worker whose family at home is relying on his income to maintain their own health and well-being. So Perales helps the doctor and the patient agree to a middle ground where the medical condition can be addressed, perhaps not perfectly, but enough to allow the worker to keep planting, weeding and harvesting.
"I empathize with this situation and I help the patient make an informed decision about his treatment," explains Perales. "I continuously follow up. I give them my cell number and they call me when they need more information or support. Being a cross- cultural health broker is something important I can provide to society."
Standing behind Perales and all the volunteer doctors and staff of the Umbrella Mobile Clinic is Vancouver Foundation and its donors, who provided grants in 2011 and 2012 totalling more than
$73,000. This support has a ripple effect, far beyond the health of the individuals who access the clinic's services.
Mexican migrant farm workers play a critical role in building local food security and providing us with the fresh, B.C.-grown ingredients that we rely on to make our own healthy meals. Food is one of the many things we take for granted here, and most of us have no idea where our food comes from or how it gets to market. Health care, too – for most of us, medical help is as close as a phone call, as near as the nearest hospital. But some don't – can't – take either of these for granted.
When we buy berries grown in the Fraser Valley, there's a good chance Jorge Perales and the Umbrella Mobile Clinic saw the workers that picked them. They are keeping these workers healthy, so we can have healthy food and the workers can continue to send money home to their families. VF
This project funded through Vancouver Foundation's Health and Social Development committee. To help support projects like this, call Vancouver Foundation at 604.688.2204.