You are here
Henderson School Garden
Henderson Elementary School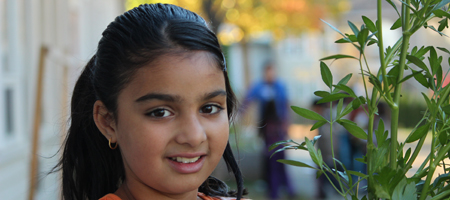 You can be forgiven for thinking the Henderson Spirit Garden is an eerie place full of cobwebs, ghosts and apparitions. Actually, nothing could be further from the truth. The garden takes its name from the students' council of a south Vancouver elementary school—the Henderson Spirit Team. The spirit they refer to is anything but ghoulish—it's the enthusiasm and energy that the students' council, the 490 students they represent, and the teachers, seem to bring to everything that they do.
The Henderson Spirit Garden is on the southwest side of the school, and consists of two large raised beds built in 2011. Just off  53rd Avenue, it follows the west side of the school up to three brand new composters.
The Henderson Spirit Garden started with a Vancouver Foundation Generation Green award in 2011. This year, Henderson School was one of six projects to receive a grant from the Greenest City fund—a program co-sponsored by the City of Vancouver and Vancouver Foundation, which supports community-led green projects in Vancouver.
The grant of $1,260, together with $1,200 from the school's parent advisory council, enabled Henderson to increase the size of the garden and to double the number of students, from 100 to more than 200, who could take part in the school gardening projects.
Marguerite Leahy and Manjit Gosal are teachers who help with the Spirit Leadership team at Henderson School, and they encouraged several other teachers and classes to take part in gardening projects such as worm composting, planting, weeding, and watering. The Spirit Leaders also introduced a green waste composting collection into the new school composters in May 201.
"When you start something that works," says Leahy, "it draws people in. Interest starts building, and soon other students, teachers, student teachers, even neighbours, want to be involved," says Leahy.  "A lady across the street from the school grows tomatoes from seed.  When she saw us building the garden, she donated a bunch of tomato plants.  Another woman donated all of our bulbs last year, and wants to add some rocks this year.
During 2011, we had a garden club. The students came out on Friday lunch breaks to help with weeding and watering. During school time, we garden in small groups or some teachers bring out their entire class. I find that team teaching with another colleague works well as one teacher can work with groups of six students at a planting station and while the other students work in small groups on big art projects.
"We're just so glad that the Vancouver Foundation would take us on again. They were very encouraging, and we have so many plans. And now we can accommodate more children because we want to build three more raised beds at Henderson."
Leahy is looking into what's called a hoop garden, which could keep the Henderson Garden going right through the winter.
For Leahy, these raised beds are not just a place to grow everything from arugula to zucchini. For many of the children she introduces to the Spirit Garden, gardening—getting your hands dirty—is a transformative activity.
"You get to see a side of the children you don't normally see," says Leahy. "Some students really struggle in the classroom. But you get them out here with a trowel—get them out here growing things—and they become gentler, and they notice things. They're quite different people in a hands-on setting outside.
For Leahy, and the Henderson School gardeners, spirit garden sums up the experience perfectly.  "As soon as we touch the earth we're better for it."
If you would like to support similar programs and projects in neighbourhoods across metro Vancouver, contact Development and Donor Services at 604-629-5357.
The Greenest City Fund is a fund for community-led green projects that support Vancouver's Greenest City 2020 Action Plan goals. A partnership between the City of Vancouver and Vancouver Foundation, the goal of the Fund is to help make Vancouver the greenest city in the world by 2020. Full program and application details can be found at http://vancouverfoundation.ca/initiatives/greenest-city-fund
To donate to the Greenest City Fund, visit https://s.vancouverfoundation.ca/GreenestCityFundDonate