You are here
High-tech treasure hunt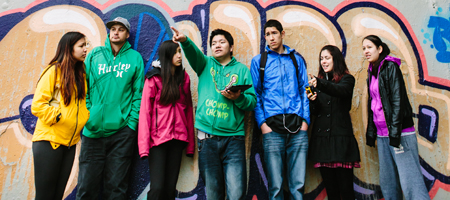 Throughout the year, visitors flock to parks in British Columbia for the fresh air and lush greenery, along with the opportunity to walk, hike, camp, swim and reconnect with nature. But now, our parks are also becoming a popular stomping ground for a growing trend called "geocaching" – a high-tech treasure hunt where participants use GPS devices and smartphones to unearth hidden containers called "geocaches."
And one Vancouver non-profit is using geocaching to help aboriginal inner-city youth explore the outdoors, maintain an active lifestyle, and learn valuable employment skills that will improve their futures.
In January 2012, Red Fox Healthy Living Society partnered with metro Vancouver parks and began a pilot geocaching project to get youth excited about discovering the wide array of recreation resources available to them. It was an instant success.
"Once we all tried it, we were hooked," says Amber Morgan, one of Red Fox's youth leaders.
Morgan and her Red Fox comrades are in good company. More than four million people around the globe have also discovered the joys of geocaching. It's a simple game to play: using GPS co-ordinates, participants navigate the outdoors to find hidden geocaches and then log their discoveries online. Geocaches can be anything, from dollar-store trinkets to educational information about the location where the geocache is hidden. The fun is in the hunt, not the find.
Emma Sutherland, executive director of Red Fox, says that geocaching is one of the organization's many programs designed to incorporate the aboriginal medicine wheel, a sacred health and healing model. On the medicine wheel, the colour red represents the body and physical health, and each Red Fox activity aims to show youth how to stay active in the face of life's obstacles.
Unfortunately, the challenges that many young Red Fox participants must tackle are numerous, including poverty, lack of food security, unstable housing, substance abuse and depression. Activities like geocaching offer them a reprieve from their burdens at home, teach them new skills and provide them with inspiring, positive role models.
"For a lot of aboriginal youth in Vancouver, their worlds are pretty small," Sutherland says. "They don't get out of the city; they don't have a lot of the experiences that more mainstream suburban families pursue. We're really trying to increase their awareness of what's out there."
Armed with GPS devices and iPads, Red Fox youth leaders guide children and their families throughout metro Vancouver parks, teaching them the ins and outs of geocaching. They've led groups at community events around the city, and enjoyed exploring a host of gorgeous spots, from the shores of Burnaby Lake to the snow-capped peaks of Cypress Mountain.
Along the way, youth leaders have learned skills like project planning, public speaking, leadership and communication, gained valuable work experience in the recreation field, and developed bonds of trust with their young charges.
 Verdann Evans, a youth leader who has been involved with Red Fox for the last four years, says that leading geocaching programs is a fun way to escape the craziness of urban life and connect with nature. "What I really like is us going out as kind of like a family, acting really goofy and running around trying to find geocaches," she says. "It's just a good time, with lots of laughs. For me, it's a spiritual thing, too. When I'm out in nature, I feel calm, serene and at peace with myself."
Evans credits her involvement with Red Fox with helping her find the courage to graduate high school, enrol in college, and participate in aboriginal youth committees in the city. "It gives you positivity, something to look forward to," she says. "No matter how bad your day has been, you can go geocaching and just feel so much better about yourself. Your situation doesn't seem so bad; you can have a clear head and think things through a little better. It helps you make healthier decisions."
Joe Posey's role as a youth leader has allowed him to gain new technology skills, learn how to instruct others and experience the pride of being a positive role model. "These are skills I never thought I'd learn at all growing up. Being able to teach the kids is an awesome feeling – you see their faces and their expressions when they're all excited, and a lot of them know me by name," he says. "It's made me want to work harder. We're not here for ourselves; we're here for the kids. It's a really awesome feeling when you're able to connect with someone."
A $10,000 grant from Vancouver Foundation will support Red Fox's geocaching activities and fund program essentials like transportation, equipment, food and prizes, allowing more youth to explore nature and experience an active lifestyle. And the best part? Youth are welcome at Red Fox as long as they'd like to participate, a comforting guarantee for young people who want to continue overcoming challenges and thriving in the community.
"We don't kick anybody out, and youth don't graduate from Red Fox," Sutherland says. "They get really invested, they bring their siblings, they bring their friends, and then they take on greater leadership roles. It's almost like a family setting. If youth are showing commitment and eagerness, we'll let them continue as long as they want." VF
 If you know a young person who is looking for direction and might benefit from this program, call Red Fox Healthy Living Society at 604-319-2571. If you would like to support innovative programs for youth like this one, you can find Vancouver Foundation at N 49º 16.888' W 123º 06.955' or on the web at www.vancouverfoundation.ca Or, call Peter Jackman in Development and Donor Services at 604-629-5357.