You are here
Household Houdini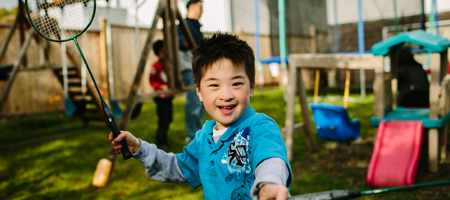 With Braeden, who is almost three, seven-year-old Jacob, and their big brother, eight-year-old Matthew, parents Jeanne and Dan Moy don't get much time to sit and relax.
In a perfect world, on a sunny day the Moys could take their three energetic boys out to play in their backyard or to ride their bikes and scooters in the driveway. But until the Giving in Action Society helped the family replace their small chain-link fence with a new solid-wood fence, there was no relaxing in the backyard – no matter how sunny the day. Matthew, who has Down syndrome and autism, loves to run. He also has an uncanny ability to read his parents' body language – to know the exact moment Jeanne and Dan will look away to talk to one of his brothers. Then suddenly the chase is on . . . Matthew somehow gets through the fence, and is sprinting into the street or down the lane.
Matthew has no fear and doesn't understand the dangers of traffic, so allowing him the thrill of a game of chase outside the backyard was something the Moys couldn't afford to let happen. Both parents had to watch the boys, and one always had to be within arm's reach of Matthew. They didn't get to spend much time playing outside.
Before the new fence, sometimes playtime outdoors would last 30 minutes, sometimes only two. But it always ended the same way: with Matthew trying to bolt. And once that happened, playtime was over and all the boys had to go back inside.
When Jeanne describes life before the new fence, you can feel the tension in her voice. "My husband and I would be constantly saying to each other, 'Do you have him? Do you have him?' It was hard on Jacob, too. Since he turned three or four years old – old enough to tattle – he's shared the responsibility for watching his older brother. If I turned my attention to one of the other boys, Jacob would often scream, 'Mom! Matthew's running away!' Ironically, the boys have much more freedom now that there's no possibility for them to get out of the backyard."
How is life different with the fence that a Giving in Action grant helped them build?
"It's actually relaxing. We feel safe. Matthew is able to play more happily since I'm not hovering over him. And knowing that he can't escape, he is actually enjoying the yard better," says Jeanne. "He used to pretend to be looking at bugs to use that as a distraction before he'd bolt. I notice now that he's learning how to play and discover and concentrate since he's not always plotting about how to escape. He has so much more independence now." The benefits touch every member of the family. Jacob is happier and has more freedom to play on his own with his brothers and other friends. Jeanne's mother, who used to be too afraid to take the boys into the yard, now plays badminton with them. Everyone is more relaxed.
It might seem odd that a fence could help teach a child responsibility and the joys of helping with household chores, but it's provided that to Matthew as well.
"Last weekend Jacob and Dan were washing my car," Jeanne says. "Matthew looked out the window and said, 'Help, please. Car.' In previous years it was hard for Matthew to participate in this fun chore since he'd get distracted and dart down the alley. Then he'd get upset that he had to come inside while Jacob continued to help Dad. So many young boys are proud to help their dad wash the car and now Matthew is one of them. It may seem like a little thing to most people, but to our family it's a big deal to see our child happy to help, in a safe place."