You are here
Karate Kids
Richmond Committee on Disability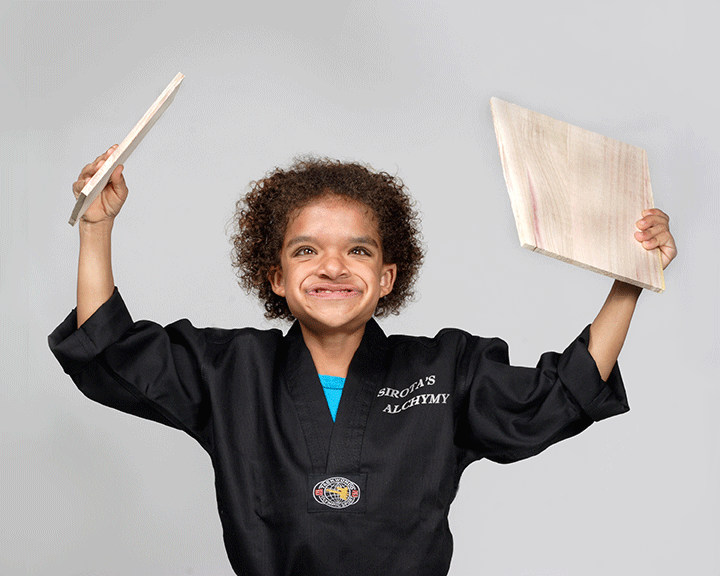 Never in her wildest dreams did 10-year old Kelyn Clowes think that breaking a board would be on her list of summer accomplishments. But after summer camp training at Master Sirota's Martial Arts Centre in Richmond, Kelyn was effortlessly chopping boards in half with her tiny hand.
In her second year at the summer camp for children with special needs, operated by the Richmond Committee on Disability, Kelyn has not only mastered her kick, punch, and middle stance, she's also taken part in a variety of other adventures that include a visit from the firefighters with their fire truck, field trips, and activities like arts and crafts, song and dance, games, cooking, sports activities, and science projects.
Although Kelyn is small for her age, her personality and affection towards others makes her seem bigger than life. And lately, she has big dreams: a recent trip to the Vancouver Aquarium with her summer camp friends sparked new ambitions.
"I'd like be a veterinarian so that I can help animals when they are sick, and I also want to adopt a dog from the SPCA."
It is all about helping people to break out of their shell and feel a sense of belonging and accomplishment that has driven the work of the Richmond Committee on Disability.
In 2001, the Disability Resource Centre, a program of the Richmond Committee on Disability, designed a summer camp that catered to the special talents and interests of children with disabilities.
Working with a diverse group of children who have conditions ranging from autism and hearing impairment to Down's syndrome and physical limitations, this summer camp project has been recognized as a resounding success and consequently has garnered significant public support.
With initial funding from Vancouver Foundation and the Vancouver Sun Children's Fund, the Disability Resource Centre was able to get funding from other organizations. This additional funding enabled them to build stronger and more varied services. By 2005, the Centre was even able to offer scholarships to children from low-income families to help ensure that all types of children have an opportunity to participate.
Besides the obvious benefits of being exposed to new adventures and building new friendships, the time spent at this special summer camp helps children develop meaningful social connections and a sense of inclusion and purpose.
Through learning martial arts and self-defence the children also develop important life skills such as courtesy, perseverance, concentration, respect, and focus.
Master Sirota, the summer camp instructor for marital arts says, "After two weeks of training I find the children listen better, have more self control and have improved coordination."
Ella Huang, Executive Director for the Richmond Committee on Disability says the participants adjust quickly. "Usually, during the first week of camp, the children are timid and reluctant to participate in activities. By the end of the summer, they are fully participating in the planned activities, and even the parents are amazed at how much fun their children are having."
Sixteen year-old Kim McKie just finished her fourth year with the summer camp. When Kim started camp in 2004, she was quiet and often cried. Four years later, Kim now regularly tells her parents about the fun she's had at camp and the friends she's made, as well as her plans to see some of the world's most famous landmarks.
Meanwhile, six-year-old Evan Ma, better known by his peers and instructors as "Casanova," enjoyed his first summer camp in 2007.
At the beginning, Evan's parents were concerned about his participation in programs outside of his normal routine. However, with his boundless energy, it didn't take long for him to adjust and enjoy the programs. He quickly became the charmer of the group, showing his affection to everyone, especially the girls.
The positive impact of the summer camp put on by the Richmond Disability Resource Centre cannot be measured in dollars. But it's obvious in the smiles of the children and in their sense of accomplishment and belonging that something special is happening.
If you are interested in learning more or would like to support a child with special needs with a summer camp scholarship, visit www.rcdrichmond.org
(Story written: 2007)