You are here
Legacy Donors go behind the scenes at the Vancouver Opera
Vancouver Foundation, Vancouver Opera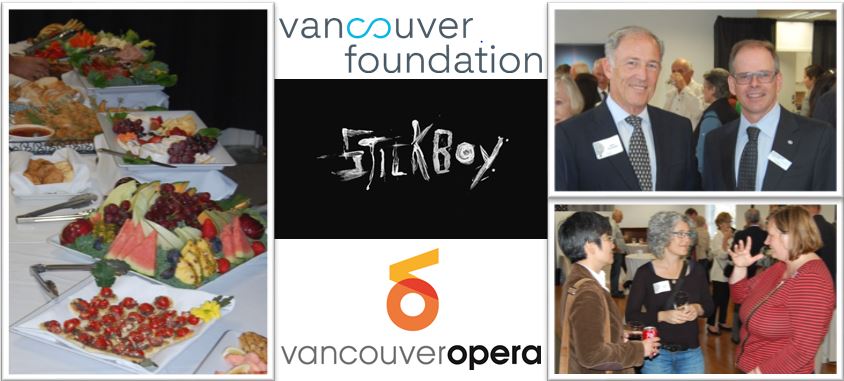 Vancouver Foundation
held our annual Legacy Donor Appreciation Event at the Vancouver Opera's rehearsal space on Tuesday October 7th. The
Vancouver Opera
graciously offered their space and a sneak peek, behind the scenes performance of the
Stickboy Opera
that debuts on October 23rd. Guests mingled in an elegant reception space above the rehearsal studio where they could hear echo's of the Opera singers practising the first production of this opera. 
The musical performance was powerful to watch as they performed a selection of scenes for our guests.  Several attendees commented on the unique experience of getting to see the production staff and stage monitors in action as well as the rawness of seeing the floors taped so the performers knew where to position themselves for each scene. After the musical performance, our guests were offered a tour of the wardrobe room. As guests exited they raved about seeing the seamstress making Stickboy costumes as well as seeing the walls of gowns, costumes and over 15,000 shoes. This was a rare experience for any Opera attendee.
Every year Vancouver Foundation partners with one of our grant recipients for the annual appreciation event. We aim to showcase to our Legacy Donors how their support makes a valuable impact in the community. Today we beam with pride at the generosity they showed us with this coveted experience.
A special thanks goes out to our event sponsor, Murrick Financial Planning Services, a member of the Nakamun Group. 
If you have any question about becoming a Legacy Donor by including Vancouver Foundation in your estate plans, please contact Kristin at 604.629.5186 or at
Kristin.helgason@vancouverfoundation.ca
.