You are here
Light in the Shadows: documenting the Downtown Eastside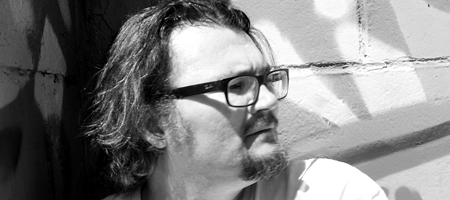 Living in Vancouver's Downtown Eastside (DTES), suffering from schizophrenia, battling emotional trauma and dealing with an all-consuming heroin addiction, Andrew Fiore has seen his share of despair, heartbreak and tragedy.
Yet rather than turn his back on a troubled past following a long road to recovery, Fiore chose to cast some light on the darkest streets of Vancouver by producing a series of documentaries about the numerous challenges facing residents of Vancouver's Downtown Eastside. "I beat the odds and turned my life around," says the 47-year-old filmmaker. "I know other people who made it out as well and feel compelled to tell their stories to break down some of the prejudices people may have about living in what's often called Canada's most dangerous neighbourhood."
Fiore has received three separate grants under the DTES Small Arts Grants program to produce documentaries chronicling the lives of marginalized people in the Downtown Eastside.
The DTES Small Arts Grants (DTES-SAG) program was created in 2009. It's a partnership between Vancouver Foundation and the Carnegie Community Centre Association that helps local artists build a portfolio of original work, learn valuable entrepreneurial skills and engage with the DTES community. Funding is provided by Vancouver Foundation, and grants of $500 to $1,000 are administered by Carnegie. The program is designed to help artists take their career to the next level and contribute to a healthier, more inclusive and more engaged community.
"The DTES Small Arts Grants program has helped many artists take significant steps forward in their careers and instil a sense of pride in the Downtown Eastside," says Lidia Kemeny, Vancouver Foundation's director of grants and community initiatives. "Through this program, there's been a lot of support for artists from local businesses. Many artists have gone on to partner with local art galleries."
Since the inception of the DTES-SAG program, Vancouver Foundation has funded approximately $300,000 in arts projects in the Downtown Eastside ranging from film, painting and photography to writing, fashion design and music.
Fiore received his first DTES Small Arts Grant of $1,000 in 2010 to produce a 25-minute documentary entitled Just You, Me & God: Recovery in the downtown east side. The poignant film chronicles the story of Tammy Tonashiro and Kelly Flanagan, two former sex trade workers who struggle to remain drug-free while still living in a drug ravaged neighbourhood. The film follows the two women over a six month period, documenting Kelly's climb out of the DTES to become a paralegal, while Tammy makes her way to a transition house for recovering drug addicts.
"It's an important film because it lets you see all the services in the Downtown Eastside that the women use," says Fiore. "It also gives people, government and organizations a good look at what support services are missing and should be implemented." With eight documentaries to his credit covering addiction, mental illness and homelessness, in many ways Fiore's own story could easily be one of them.
Born in Italy, Fiore moved to the Bloor and Dufferin area of Toronto with his parents when he was two. He acquired a keen interest in film at an early age – he was eight when he borrowed his father's video camera and started filming his pet hamsters.
In high school, he forged a close relationship with the school's audiovisual technician who encouraged him to pursue his passion for film. And after graduating from Ryerson University's Radio and Television Arts program, Fiore immersed himself in his craft, producing everything from wedding videos to corporate infomercials.
By age 29, however, he fell into a deep depression and decided to take a break from film work. He applied for and was accepted by a Korean school to teach English on a one-year contract. It was in Korea that his life unravelled. Plagued by paranoid delusions, he suffered a "psychotic episode" that prompted his return to Canada, where he was diagnosed with schizophrenia. Fiore ended up in a single-room-occupancy hotel in Vancouver's Downtown Eastside, his life spiralling out of control from a growing addiction to heroin.
He credits the support of his current life partner, Sue, for his recovery, as well as the Carnegie Community Centre Arts Program where he made important contacts in the arts community that reignited his passion for the arts and his film career.
Following the release of Just You, Me & God, Fiore produced four more documentaries covering sex trade workers, schizophrenia, the "Occupy Vancouver" movement and an inspiring film about individuals who triumphed over bipolar disorder.
In an effort to gain a wider audience for his work, he sent emails to 50 university librarians, informing them about the availability of his films. Within two months, 38 libraries had ordered DVDs, many following up with praise and encouraging words of support.
Last year, two Surrey schoolteachers contacted Fiore and asked if he would make a presentation to at-risk students following the screening of his film 10 City Blocks: Survival Sex Trade in the Downtown East Side, a gripping documentary that features candid interviews with sex trade workers who share their struggles with addiction, mental and physical health concerns, and the fear of violent assault.
"This film features real people in Vancouver, so kids get to see exactly how they'd end up on the Downtown Eastside if they continue on their present path," says Fiore, who now regularly presents to students, community groups and not-for-profit organizations on prominent social issues.
His latest film project, for which he also received a DTES Small Arts Grant, is titled The 100 Block, a follow-up film to 10 City Blocks updating his original story on sex trade workers on the DTES living near Main and Hastings streets.
In recognition of his efforts to raise awareness of DTES social issues, Fiore also received a 2013 Courage to Come Back Award in the mental health category, presented by Coast Mental Health. The award honours individuals who have demonstrated inspirational achievements overcoming the challenges of living with a major mental illness, and who have given back to their community.
"To receive any validation for the work I do is encouraging," says Fiore. "It makes me feel like I'm on the right path and making a meaningful contribution." VF
To learn more about Fiore's films, visit www.healthchampion.blogspot.com for more information about Vancouver Foundation's DTES Small Arts Grants program, visit www.vancouverfoundationsmallarts.ca