You are here
A long and winding road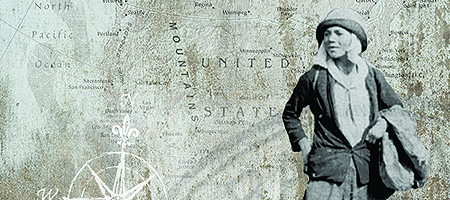 In the early 1920s …
A young woman named Lillian Alling arrives on the east coast of North America. Part of the post-war crush of immigrants from Europe, she joins the hordes of people seeking prosperity, a new world, or just a fresh start in America. Like millions of others, she is processed through Ellis Island, and then dumped, dazed and slack-jawed, on the burgeoning streets of New York.
And like countless others before her, penniless after the trip, Alling works menial jobs just to survive. But she grows increasingly dissatisfied with the unfulfilled promise of America. Unlike most of her fellow immigrants, Alling decides to do something about it -- she will go home. With no money for the boat fare back, she decides to walk home … to Russia.
Over the next three years, Alling is spotted, walking, in Chicago, Fargo (North Dakota), Winnipeg, and Ashcroft (BC). By 1927, she has crossed the continental US, alone and apparently on foot. Almost 4,000 km, with only the clothes on her back (men's clothes at that; they didn't make hiking clothes and boots for women) and a piece of lead pipe for protection.
In the fall of 1927 she stops briefly in Vancouver, preparing to head north another 2,300 km to Alaska and the Bering Strait. She ends up spending the winter on the coast, part of it in Oakalla Prison Farm. Some say she was imprisoned for swearing. Others claim the local constable put her in jail because he was concerned she would try to head north during the bitter winter months.
When spring arrives, Alling is off again, and is seen numerous times on the difficult Telegraph Trail – the only land route between Quesnel and Hazelton. There are rumours of love with a linesman, and occasional glimpses of her travelling with a dog in northern BC and Alaska. There is even an alleged report by two Inuit hunters of the time who claim to have transported a white woman across the Bering Strait.
What happened to Alling? Did she reach Russia and find her way home at last? Or perish en route?
We may never know the answers. For nothing more is ever heard of Lillian Alling. It's as if she has walked off the edge of the earth. Like a trail of footprints in the snow, she disappears; becomes part of the mist, and the myth, of the North.
Now, more than 80 years later …
Vancouver Opera is about to premiere a new work that tells the story of Lillian Alling and her mysterious, monumental journey.
This is really a story of parallel journeys, separated only by time … Alling's cross-country walk, and the effort to bring her to life on-stage, have a lot in common. Both are long, arduous trips, full of risk and adventure.
James Wright, General Director of Vancouver Opera, is the driving force behind the project. He is not one to shy away from a bit of risk; in fact, he seems to embrace it.
This is a very exciting time for VO. Hard on the heels of a new production -- Nixon in China -- for the Olympic period, the company will, in just a few months, give the world premiere of Lillian Alling. This new Canadian work will close the celebrations of Vancouver Opera's 50th anniversary as an organization, and will start the new season. Opening night is October 16, 2010. Wright is basically risking 25 per cent of the season on new work. No pressure.
And he has committed a lot of resources to telling Lillian's story. At $1.6 million, Lillian Alling is the biggest and most expensive production VO has ever taken on. With two hours of music, 14 scenes, 12 principals, a chorus of 36, a 60-piece orchestra, and more than 175 costumes, it's no small undertaking.
"We're really putting it all on the line with these two productions," [Nixon and Lillian Alling] says Wright. "I'm biting my nails just talking about it!"
But you can tell he's also enjoying the challenge. His voice and smile betray more than a hint of glee at the prospect of pushing hard for the next few months and bringing new, original work to the stage of the Queen Elizabeth Theatre.
"There is not much in the way of tonal, post-romantic operatic writing in Canada, in part because it's such a small field, with small audiences," says Wright. "We believe we have a responsibility to refresh the repertoire with new work. At the same time, it's very daunting for a company [even the second largest opera company in Canada], and its Board of Directors, to take that on."
When Vancouver Foundation donors offered support -- in the form of a $100,000 grant over two years – it was a significant boost that came at the right time.
"The donation from Vancouver Foundation is hugely important for many reasons," says Wright.
"It came early. Early enough in the process that it gave us more confidence about this work…
It's also a real stamp of approval from a very respected organization. And I'm not pandering to the Foundation. I know this, because I've served on the Foundation's Arts and Culture advisory committee, and I know there is real rigour to their process. That signals a lot when you get a large grant from the Vancouver Foundation… There are just not that many companies that would consider going out on a limb like the Foundation."
It's taken more than four years to get to this point. Four years of research, meetings, libretto workshops, music workshops -- a gradual process of moulding the production, shaping, filling in the gaps in the story, and giving voice to this strong, shy woman, about whom we know so little.
Does Lillian make it home? Does this long and winding road eventually lead to Russia?
Wright demurs. Librettist John Murrell will only say, "Somehow our words and music will have to convey the madness and also the majesty of one woman's dream of walking home to Russia."
No one is saying. We will have to wait until October 16, and opening night, to find out if Lillian Alling reaches her destination.
For more information on Vancouver Opera's production of Lillian Alling, visit the website at www.vancouveropera.ca