You are here
Muffin U.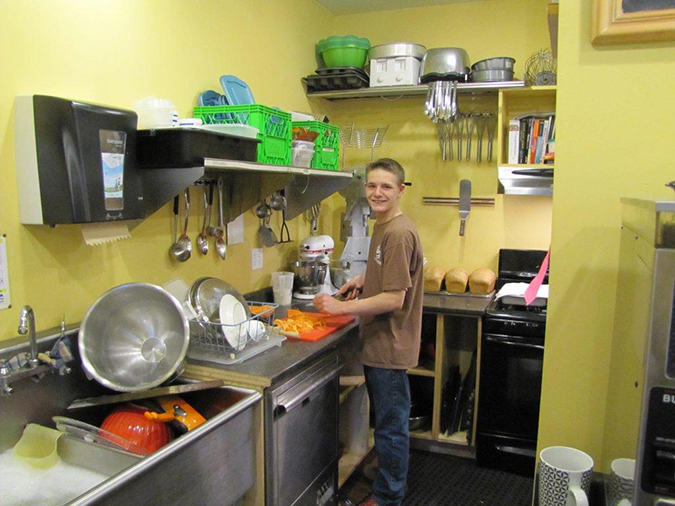 Amy McMillan dreams of opening a 1960s-themed diner. Until that happens, she's having a brilliant time learning the ropes at the COCO Café. When she's not bustling around greeting customers with her unbridled enthusiasm and bright smile, she's acquiring a collection of new talents like food prep, baking, cooking and serving, and improving her math skills by learning to use the cash register.
"It's been a dream for me to work here. I'm learning a lot," she says. "It's just a miracle for me to have something that I can accomplish, something I can do, and use the skills that I have learned. Being here is like being with my family. That's what it really means to me."
These words are like music to Trish Johnston, one of the founding board members of the COCO Café. Five years ago, she belonged to a running group of mothers who all had children with disabilities. One day, they were musing about the lack of employment opportunities available for their adult children, and the idea for a café was born.
"We wanted meaningful employment for our children as they matured into the adult world, and for them to be a part of their community," she says. "With home-based businesses like catering or crafts, it would mean that they would be isolated, and we didn't want that. We want them to be a face, and a voice, and a presence."
The COCO Café, located in the small Vancouver Island community of Cedar (near Nanaimo), opened its doors in June 2011 and has been a thriving hub of activity for residents ever since. In addition to offering fresh fare and specialty coffees, the café hosts a monthly open mic night, caters local events, sells baked goods at the Cedar farmers market, and supports local artists by displaying and selling their work (McMillan is currently selling her hand-drawn cards here).
With its expansive windows, cheerily painted walls, plush couches, reclaimed wood tables and a bookshelf filled to the brim with titles for patrons' perusal, the café's inviting environment is as unique as its mission. Unlike other cafés, here you'll find support staff working alongside 17 people with developmental disabilities to teach them the job and life skills they need to function in any workplace, and nurturing their independence. The staff who have special needs are not volunteers – they are paid employees, a business model that is the first of its kind in B.C.
Café manager Melanie Cadden tailors job responsibilities to each employee's abilities and interests. Some thrive performing repetitive tasks; some enjoy washing dishes, taking out the garbage, cleaning tables; while others love to cook and bake. She begins by scheduling employees for one two-hour shift a week, and gradually increases hours as they become more comfortable in the café environment.
"You see their progression from you having to guide them every step of the way when they start, to their becoming more independent, functional and part of the team," she says. "To see everybody absorb what we're teaching them, and to watch them grow, it's just amazing to watch. I learn from them as much as I teach them."
Johnston has seen a vast improvement in her 22-year-old daughter Carolyn's confidence and skills, and has even discovered that Carolyn's new abilities can be applied at home.
"She has a real pride of ownership. She comes in, she holds her head up high and she greets people. I've learned to push her a little harder, too. I tend to baby her, and when I see her doing things here, I think, 'she should be doing that at home!' " Johnston says with a laugh. "So it's helped a lot in all ways."
Everything at the COCO Café is made from scratch – soups, muffins, pastries, breads (which they sell to the restaurant down the street), sandwiches, wraps and paninis – and each item is made to order. Cadden makes a point of shopping at the farmers market, and purchases items like fresh eggs and blueberries from local farmers, too.
Special adjustments to equipment include a colour-coded cash register specifically designed for people with special needs, which corresponds to stickered items in the prep area. Cadden is also developing pictured recipe books to make cooking easier for those with reading difficulties.
Sometimes, orders take a little longer, but thankfully the café has a slew of devoted regulars who bring their patience with them. They also stop to greet employees by name, and offer a smile, a joke or an affectionate shoulder squeeze. Customers even make special trips from outlying communities to visit, and are interested in replicating the café in their own neighbourhoods.
A $125,000 grant from the Vancouver Foundation (through the Disability Supports for Employment Grant Program) over the next two years will be used for support staff wages, as they play an integral role in giving employees with special needs the skills they need to succeed. By the end of the grant period, the café expects to be a self-sustaining, profitable business.
"The grant takes the pressure off and allows us to function," Cadden says. "I really don't think the café would be open without it."
Your Comments:
November 9, 2012
I had the pleasure recently whilst visiting relatives in Cedar of visiting the Cocco Cafe on several occasions and can't rave about it enough. Fab cinnamon buns, cheese and chili scones, brownies to die for . . . If you are in the vicinity go and support them please.
Susan, Poole, Dorset, UK